Dr. Monique Burton, the medical director of the Sports Medicine Program at Seattle Children's Hospital, wants to pave the way for the patients of color who come through her exam rooms.
"I've had a few who get excited to see a doctor who looks like them," said Burton, who is also the first female chair of the USA Track and Field Sports Medicine and Science Committee, according to USTAF. That role means that she serves as a team physician at competitions around the world, including the Olympic Games.
"I hope they see my career as inspiration and understand that I was dedicated and committed and that they can carry that with them," Burton said.
And her ambitions extend beyond her patients. She also aims to be a role model more broadly in the science, technology, engineering and math (STEM) workforce, where black women only make up 2.2 percent of professionals.
Burton is part of a dedicated team of medical professionals that provides round-the-clock care for elite athletes like Brittney Reese, the gold medalist in the women's long jump at the 2012 Olympic Games in London and silver medalist at the 2016 Olympic Games in Rio de Janeiro.
"The medical staff for Team USA at an Olympics event is always top notch," Reese said. "They end up getting us the best doctors, psychologists, and sports nutritionists, and everything that they can think of to help us be successful."
Burton notes that track and field is a sport that encompasses a wide variety of events, from jumping to vaulting to running, so it brings together a diverse group of people. She wants the medical staff to reflect that, as well.
"We very much try to make sure we are representing our athletes and their interests," Burton said. "It feels very special to have been given an opportunity to work with elite athletes and where I see people that look like me, and I do feel like there's a connection there that allows us to provide the best care and experience."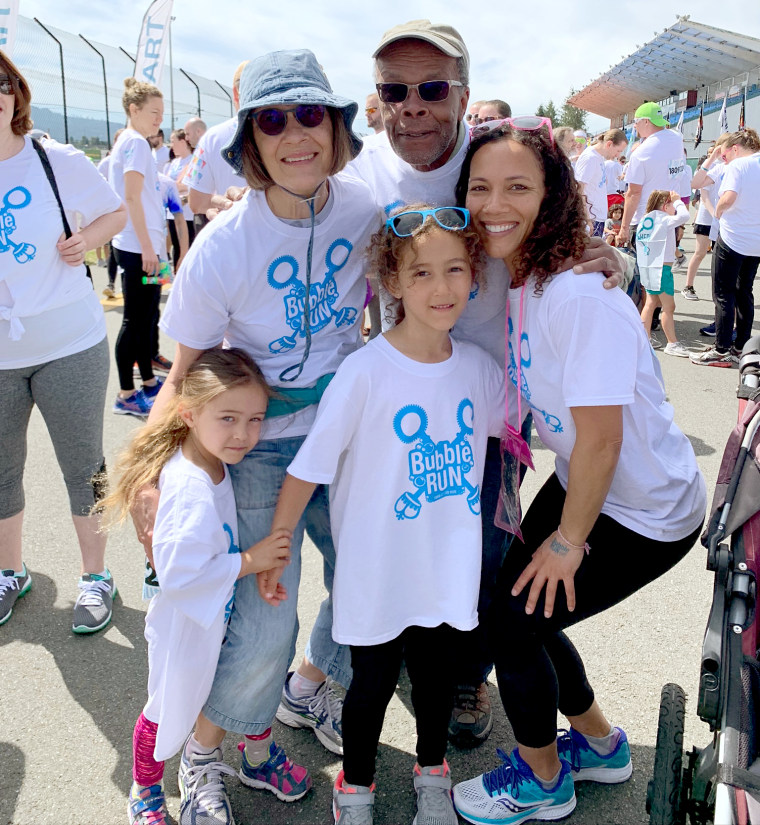 Burton knows firsthand why that matters. Growing up, she was an elite gymnast who competed at the collegiate level for the University of Pennsylvania.
"I wanted to go to the Olympics as an athlete and it wasn't something that I was able to do," she said. "But now I have the opportunity to go in this career that I have chosen."
Burton is part of the diversity in hiring group at Seattle Children's Hospital and works with Odessa Brown Children's Clinic, a community clinic of Seattle Children's that provides medical, dental, mental health and nutritional services to all families, regardless of their ability to pay.
Burton, the mother of Maiya, 7, and Mila, 5, attributes her success as a medical professional to the support she received from her father, who is black and a retired elementary school teacher, and her mother, who is white and a retired high school math teacher. "They went through a lot because of their marriage, and looking back now as an adult, I know it couldn't have been easy," said Burton, who grew up in Seattle along with her sister, Kimberly.
Burton's mother, Ginny, tutored students in their home and was instrumental in leading a summer math program at their local high school, where she was a champion for minority students.
"She taught math as a subject in a way that anybody could access it," Burton said. "Even two weekends ago, I ran into one of her former students who told me he ultimately became an engineer because of her."
Along with her father, Charlie, her mother instilled in her that she could do or be anything she wanted to be regardless of what she looked like. Now, she hopes to inspire other young girls of color to pursue their dreams as well.
This story appears as part of "Changing the Games: Women in STEM at the 2020 Tokyo Olympics & Paralympics," a 10-part video series produced by NBC News Learn and NBC Sports in collaboration with Lyda Hill Philanthropies. To view the series, go to nbcnewslearn.com/changingthegames.