A Miami police officer has been suspended after drawing outrage for claiming at a public meeting last week that he identified as a black man due to the "one-drop rule," despite having previously identified himself as a white Hispanic man.
Miami police Capt. Javier Ortiz was named at a meeting of city commissioners on Friday as part of a complaint made by other officers that there is a disparity in the treatment of black officers in the department. Ortiz was accused by Sgt. Stanley Jean-Poix of having identified himself as a black man on police exams to get a promotion.
"So the question is why is it that every time he finishes an exam, he goes back to white Hispanic male?" asked Jean-Poix, the president of the predominantly black Miami Community Police Benevolent Association.
Ortiz was allowed to defend himself against numerous accusations at the meeting and insisted that he was, in fact, a black man because of the so-called one-drop rule. He denied being Hispanic, although he did admit to having identified himself as a white man in previous documents.
"Well, I learned that there are people in my family that are mixed, that are black," Ortiz said. "And if you know anything about the one-drop rule, which started in the 20th century, which is what identifies and defines what a black man is, or a Negro."
The one-drop rule is the assertion that anyone of African descent, no matter how small the ancestry, is considered black.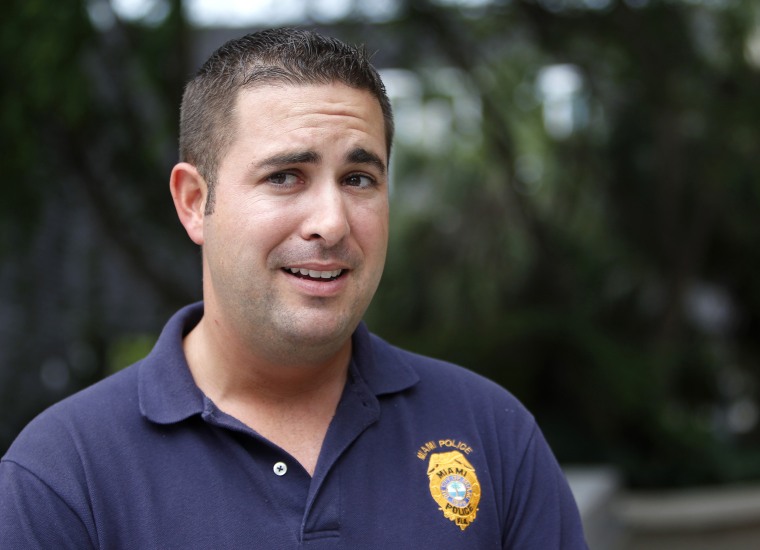 Miami Mayor Francis Suarez said on Wednesday Police Chief Jorge Colina informed him Ortiz has been "relieved of duty."
"In the coming days, I will be meeting with the Chief to further discuss," Suarez said in a statement to NBC News. "In the meantime, all law enforcement involved discipline is handled by the City of Miami Police Department."
Rubin Roberts, chairman of the NAACP's Miami-Dade branch, told The Miami Herald on Tuesday that Ortiz should be fired.
"The city should be made aware that the statement he made is incendiary," Roberts told The Herald. "He's not in any way considerate of black men or women's plight."
The Miami Police Department did not immediately respond to a request for comment.
Ortiz, who is a former president of the Miami Fraternal Order of Police union, has been the subject of scrutiny in a number of past incidents.
Download the NBC News app for breaking news
NBC Miami reported last month that Ortiz was under investigation by the Miami-Dade State Attorney's Office in connection with allegations that he violated city policy regarding off-duty work detail. The state attorney's office would not confirm or deny whether there was an investigation Tuesday.
According to NBC Miami, a woman accused Ortiz of harassment and stalking after he posted her photo and contact information on social media after she spoke at a civilian panel where residents made complaints against officers.
A judge dropped her restraining order against Ortiz in 2017, and Ortiz was allowed to return to duty.
Ortiz also penned a letter four years ago from the police union threatening to boycott Beyoncé's Miami concert performances after declaring her 2016 Super Bowl performance "anti-police." He urged all law enforcement organizations to do the same.