When the 89th Academy Awards rolls out the red carpet on Sunday, you may catch a glimpse of David White seated in the Dolby Theatre audience, enjoying Hollywood's glittering celebration of the film industry.
Indeed, White understands better than most what truly transpires behind the glitz and glamour of motion pictures. Since 2009, he's served as national executive director of the Screen Actors Guild-American Federation of Television and Radio Artists (SAG-AFTRA), the world's largest entertainment union.
The CEO, strategist and chief negotiator is a labor and employment attorney who works on behalf of approximately 160,000 members globally, working in film, TV, broadcast news, commercials, music, video games, and emerging media.
That means everyone from 2017 Oscar nominees like actor Denzel Washington to director Ava DuVernay, not to mention lesser-known faces and voices. He leads a staff of more than 500, including the team that produces the annual Screen Actors Guild Awards.
Related: Why 'Fences' May Be Denzel Washington's Most Timely Movie
"I'm honored to represent such a storied institution," said White of the non-profit union, which resulted from a 2012 merger. "Both were built in the '30s to fight for and provide protections for media artists—those behind and in front of the camera and microphone."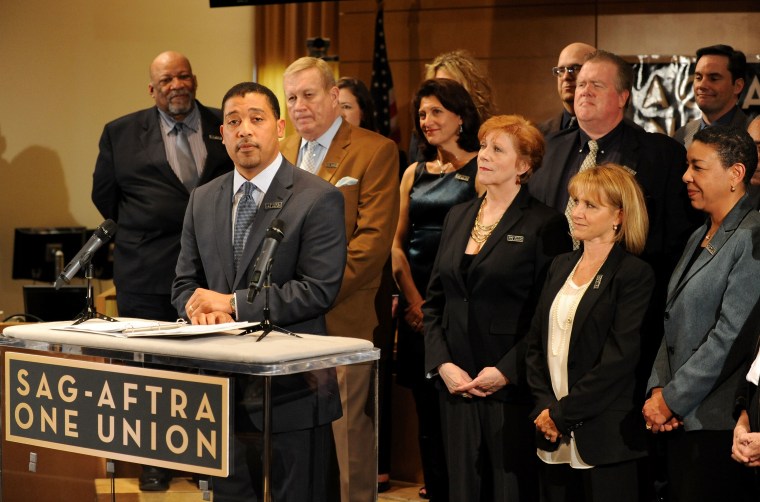 The mission includes preserving hard-won rights of the past, he explains, while continuing to secure and expand protections in the 21st Century.
"By their very nature, creative artists are vulnerable to exploitation. And in the age of the `gig' economy—which we really originated-artists face risks that impact their work and lives.
"There's no guarantee in this business of longevity or loyalty," he adds of the multibillion dollar industry. "What if your kid gets sick? Who makes sure you get your royalty check. It may be for 1 cent, but that adds up and pays for groceries. So our organization has a long tradition of protecting professionals. The social justice aspect of that, I've found very attractive."
White, 48, made history as the first African-American to helm SAG-AFTRA as its National Executive Director. The Michigan native grew up in Kansas City, Missouri in a family with Georgia roots who'd left the Deep South during the Great Migration.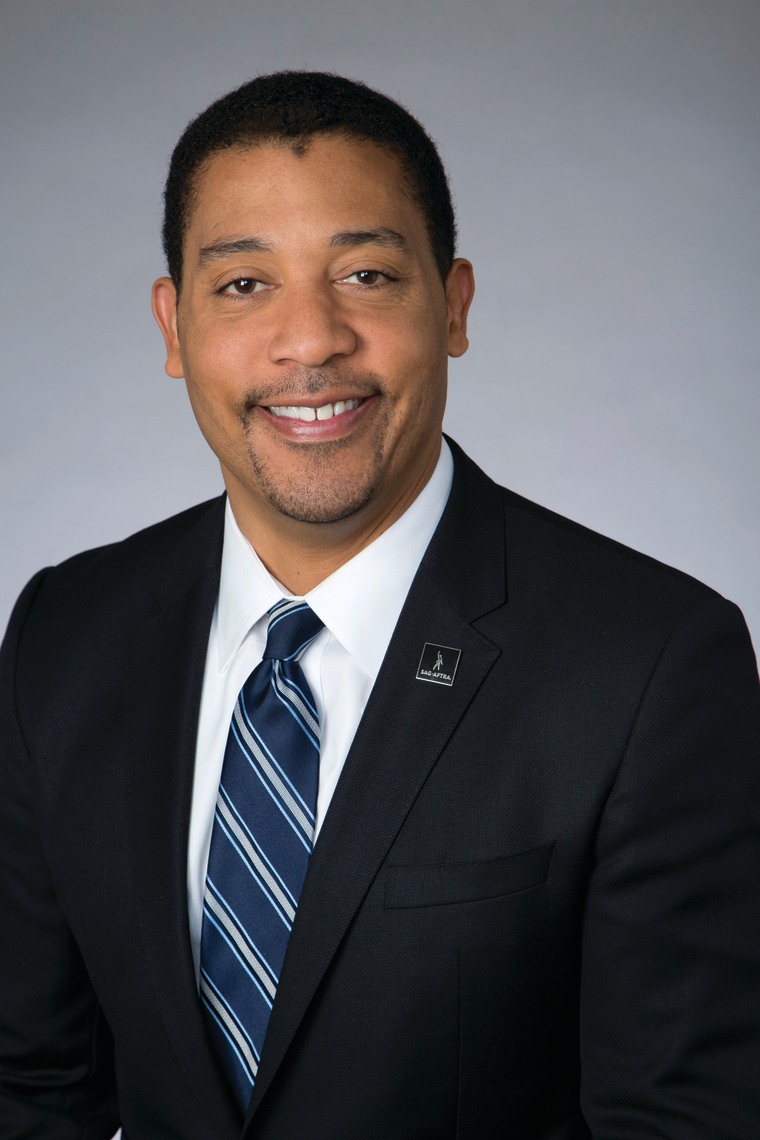 "My father, like many others, had union jobs in the auto industry. They owned homes, sent their kids to college and retired with security. That was a fundamental period of progress for African-Americans," he said. "People often forget the connection of labor, Civil Rights and human rights and its relationship to organizations that have found ways to provide collective action."
Education enabled White to build on the legacy of his forbears and ascend in his own right. A graduate of Grinnell College in Iowa and Stanford Law School, he is also a Rhodes Scholar, who attended The Queen's College, Oxford University.
Professionally, his path has been circuitous. After returning from London, White served as the executive director of a youth services organization in Kansas. After law school, he practiced at top firms before joining SAG-AFTRA's executive ranks.
"If you follow your passion, and try to be excellent in every way, it will open doors."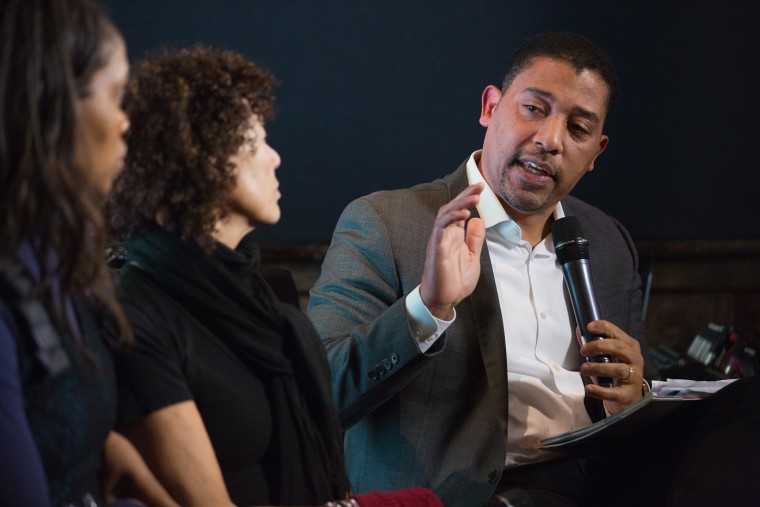 Today, the busy executive clocks 12-to-14 hour days that run the gamut from breakfast meetings with studio heads, to oversight of the union's 15 local offices around the country, to serving as board chair of the SAG-Producers Pension and Health Plans. "This is a collaborative business and every day is different."
A member of both the Academy of Motion Picture Arts and Sciences and the Academy of Television Arts and Sciences, he is also active with causes such as The Actors Fund and Volunteers of America–Greater Los Angeles.
Last but not least, White is committed to greater diversity and inclusiveness in Hollywood, where he notes that "there are thousands of jobs and people behind the scenes whom you'll never read about."
To that end, SAG-AFTRA is among several industry giants—Disney, Motion Picture Association of America (MPAA), AMC Theatres, among others—who have partnered with the Entertainment Industry College Outreach Program (EICOP) and the White House Initiative on HBCUs to launch a groundbreaking internship for students of color in Hollywood.
Known as the `HBCUs in L.A. Internship Program,' the diversity outreach initiative is aimed at building a pipeline of up and coming African Americans and people of color in the entertainment industry. Organizers said there will be workshops, mentoring, industry events, and more.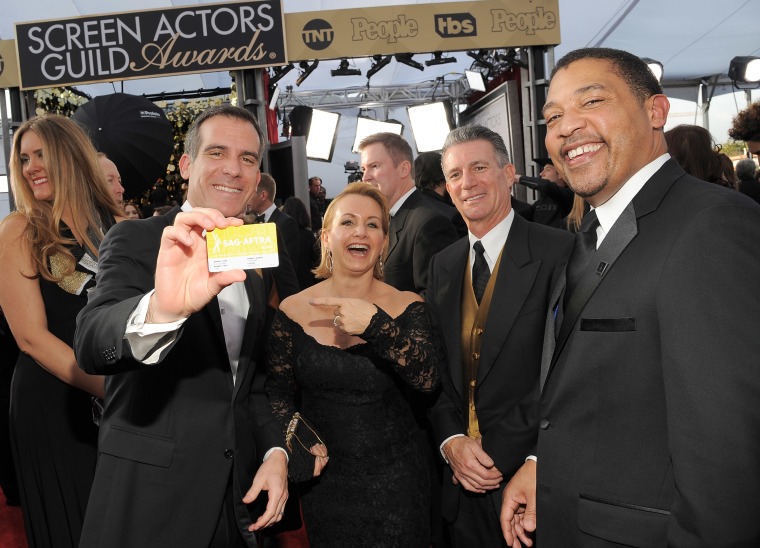 "We want to showcase the talented young men and women produced by our nation's HBCUs," said CEO/founder Stacy Milner, whose background includes working with executives at Paramount and NBC. "Our inaugural class will include White House HBCU All-Star leaders and a select group of the best, brightest and diverse students from across the nation."
SAG-AFTRA plans to host at least one intern. White is looking forward to meeting and supporting what he hopes can be the next generation of black Hollywood writers, directors, cinematographers, executives and more.
"I'll tell them to reach high. Learn the full terrain. See opportunities that are not always self-evident. Work hard, be excellent and believe that there's a place for you."
For more information about the internship program, go to www.eicop.org