After the Writers Guild of America approved a new three-year contract with major studios, Hollywood writers from underrepresented groups, many nervous about their job security in the rapidly changing industry, aim to refocus studios' attention on increasing diversity.
The WGA represents 11,500 film and television writers, but many minority members — people of color, LGBTQ+ individuals, disabled people and women — hoped the negotiations would have made diversifying the business a priority.
The Guild's demands did not directly address diversity. But WGA West board member and negotiating committee member Angelina Burnett said the contract talks were meant to protect everyone's economic stability. The new contract was approved on Monday.
However, some Hollywood minority writers are troubled by what they see as institutional bias after several diversity initiatives suffered during cost-cutting this year. Studios are not as outspoken about the inclusion pledges they made after the police killing of George Floyd in 2020.
Some writers have decided to launch their own initiatives to revive those promises and support other minority writers.
"There will need to be lots of efforts made by writers and companies to make sure that our hiring is as equitable as possible," said writer Luvh Rakhe, who is South Asian American, has worked on sitcom "It's Always Sunny in Philadelphia" among others and was a WGA negotiator.
Caroline Renard, a writer on animated children's show "Bossy Bear," co-founded Black Women Rising after Floyd's death. The group's mission is to help low- to mid-level Black women writers in their careers. Similar groups like Black Women Brunch and Black Male Screenwriters also support Black writers.
Renard said building community and resources remains vital because underrepresented writers fear that studios after the strike will focus on cost-cutting to make up for lost revenue, rather than diversity.
This summer, six Black women executives who led diversity and inclusion initiatives abruptly left their jobs at major Hollywood organizations including Warner Bros Discovery (WBD.O), Netflix (NFLX.O), the BBC and the Academy of Motion Pictures.
Some were laid off while others voluntarily quit. The reasons were not publicly announced, but the exodus occurred as studios including Disney, Warner Bros Discovery and Netflix implemented major cost cuts.
The Alliance of Motion Picture and Television Producers, the group representing the major studios, did not respond to a request for comment. The companies have largely been silent about diversity initiatives since the strikes began in May.
Industry in upheaval
Employment figures for the industry back up claims that minority writers are underrepresented. The share of Black, Indigenous and people of color in screen employment was 22.6% in 2020 while these groups accounted for 42.2% of the U.S. population, according to a WGA report.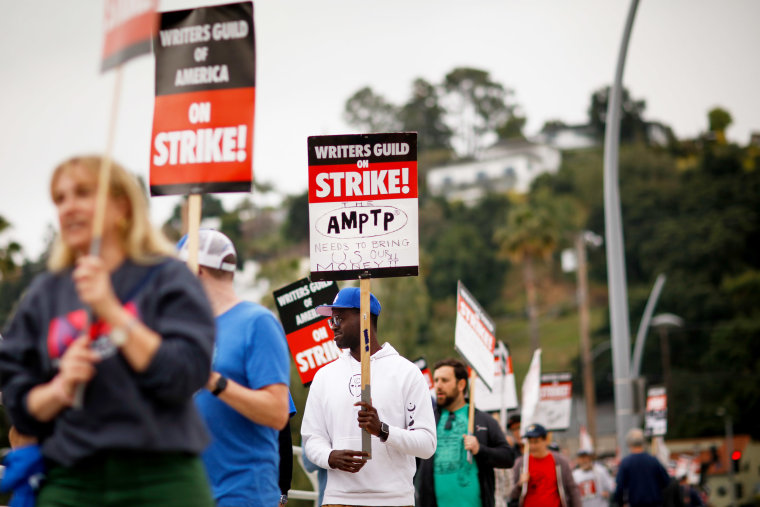 White people held 77.4% of jobs and represented 57.8% of the population, according to the report. People with disabilities hold about 1% of writing roles for TV series, pilots and screenplays, yet 27% of American adults report having a disability.
The drive for greater equity faces a different climate than it did during racial justice protests of 2020. The Supreme Court's decision in June banning affirmative action in college admissions has prompted corporate America to reconsider the issue.
Since May, film and TV businesses shed 45,000 jobs, according to U.S. government data in October. Meanwhile, traditional television viewership is plummeting and streaming video services are struggling to turn a profit.
"I know a lot of people are scared. I am scared, of course," said Renard.
As a Black disabled woman, writer Keisha Zollar, whose credits include family drama "Young Love," worries she and other disabled writers will be "marginalized further."
"It's a lot of emotional stress because I'm in a position where I'm the breadwinner of my family," Zollar said.
The nonprofit Inevitable Foundation provides financial support to disabled writers facing economic hardships and lobbies for more equitable opportunities in Hollywood.
Co-founder Richie Siegel believes many studios will default to the "status quo" as they restart after the strike, paying little attention to employment and accessibility barriers faced by disabled writers.
Kyle Bowser, NAACP senior vice president for its Hollywood bureau, said there are concerns that as pay rises for writers, studios will create fewer shows.
This would make minority writers especially vulnerable as they are often in the most junior positions. "There's the adage that the last hired are the first fired," he said.