Global superstar Beyoncé returned home to Houston on Friday and joined the survivors of Hurricane Harvey at her home church, St. John's United Methodist Church, with Senior Pastor, Rudy Rasmus - affectionately known to the global community as Pastor Rudy.
Joining Pastor Rudy and Beyoncé were her mother Tina Knowles Lawson, daughter Blue Ivy and bandmate Michelle Williams of Destiny's Child, among others who were on hand to provide support and aid to the victims of Hurricane Harvey, which has profoundly impacted the region.
The Houston native and her foundation, BeyGOOD partnered with Pastor Rudy, the founder of the Bread of Life, Inc., a non-sectarian, non-profit organization, which started 25 years old ago through St. John's United Methodist Church. The Bread of Life was set up to specifically respond to crises and disasters such as Hurricane Harvey. Beyoncé has previously partnered with her pastor on global outreach initiatives, including her highly-publicized anti-hunger campaigns and food programs in conjunction with her concert tours.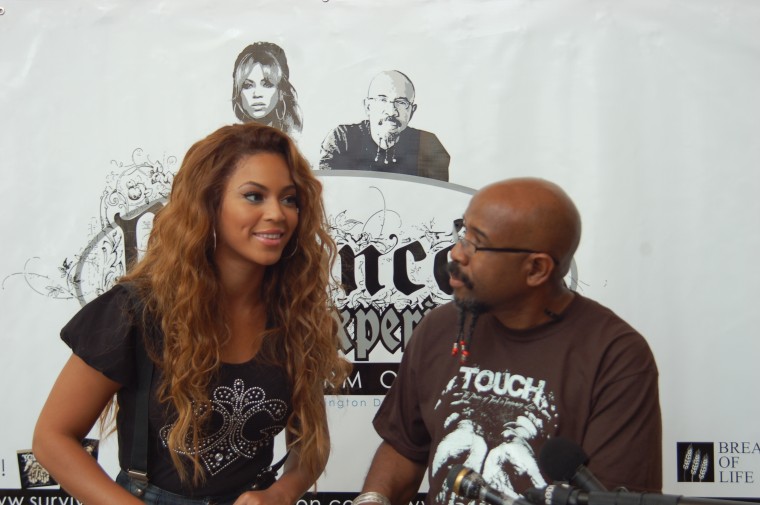 "I'm home, this church is my home. I was maybe nine or ten years old the first time I sat there where my daughter [Blue Ivy] is sitting. I sang my first solo here," she said, emotional as she spoke to a packed church.
Looking to Pastor Rudy, she added, "I just want to thank you for lifting up my family and praying for me and for being such an incredible example of what life and love is."
Speaking to the audience full of survivors, she continued. "Today is a celebration of survival. Y'all are my family. Houston is my home. I thank God that you're safe, and your children are safe. The thing that really matters is your health, and your children, and your family. And I just want to say I love you. I'm so, so thankful to God that I've been blessed, so that I can bless other people, and I ask God to continue to do that for other people."
Though Pastor Rudy would not disclose the financial donation that Beyoncé made on behalf of Hurricane Harvey, he did say that it was sizable. "Over the years, I've worked with Beyoncé to help coordinate various humanitarian opportunities to impact places in the states and all over the world," says Pastor Rudy. "She has partnered with Bread of Life to do food drives. We have addressed food insufficiency around the world, including countries in Africa and India, where people are really suffering. We've done great work with her."
His relationship with the superstar goes back many years. "I've known Beyoncé since she was a little girl," Pastor Rudy continued. "She grew up at St. John's. I've known her mom [Tina Knowles Lawson] and dad [Mathew Knowles] before they had kids. Beyoncé has been an amazing friend and generous supporter. She has helped us do some significant work in the Houston area and she is totally committed to the recovery efforts on behalf of Hurricane Harvey."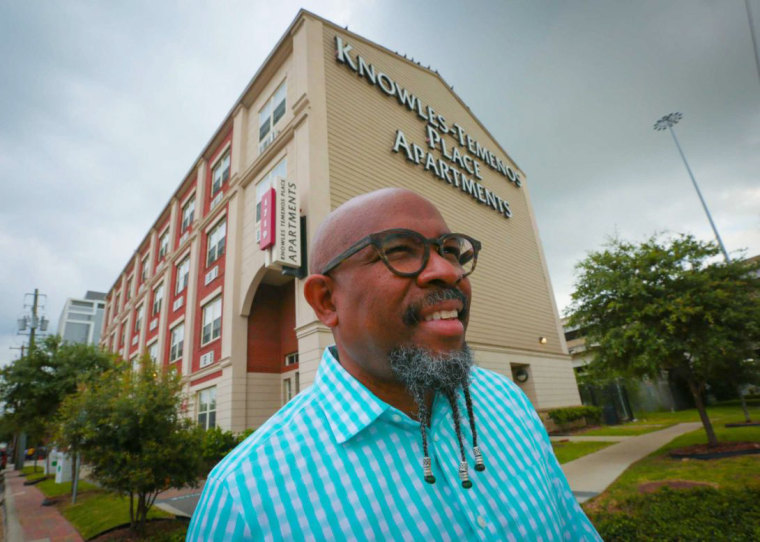 He noted that Houston has long benefited from many contributions made by Beyoncé and the extended Knowles family, including the Knowles-Rowland Center for Youth, which started in 2002 through St. John's Church. "I often say that the Knowles-Rowland Center was built on Destiny's Child hit single, 'No, No, No.' Destiny's Child came through and help [Bread of Life] to build up a gymnasium as an outreach center for young people in our community," says the pastor.
With tens of thousands of people displaced and adversely affected by days of torrential rain and flooding in Houston and the surrounding areas, Pastor Rudy and the Bread of Life team have already begun outreach and recovery efforts. Hurricane Harvey is now considered one of the most devastating natural disasters in American history; with the damage spanning Texas and Louisiana, damages to date are estimated to cost more than $100 billion in clean-up and repair.
Related: Saving Grace: Faith Community Unites to Help Harvey Victims
The Bread of Life has set up a disaster case-management component to walk individuals and families through the process of getting back on their feet. The organization is now receiving support from all over the country, including donations of money and non-perishable essentials and supplies, including personal hygiene products, cleaning supplies, diapers, wheelchairs, blankets, pillows, and other items people we need for the long haul.
Further, Bread of Life is providing temporary and permanent housing and financial support to many, and has coordinated disaster relief cleanup crews, ground transportation needs for individuals and families; cleanup kits; and household appliances. Displaced families will also have access to a tool bank, where they can borrow a variety of construction tools and do the necessary work on their homes themselves.
"One of the things we are finding is that people are going to need transportation to move around and to get their lives back on track," says Pastor Rudy. "We [the Bread of Life] have been in the business of working with the homeless community for 25 years. There are a lot of people who never imagined themselves being homeless, who are homeless right now, and our goal is to help soften the blow as much as we can for those men, women, and children."
The Bread of Life has prepared a Hurricane Harvey Recovery Guide as a resource for those impacted by the storm. The organization is also building and utilizing relationships in the mental health community for people who will experience post-traumatic stress disorder (PTSD) as a result of Hurricane Harvey.
"The recovery process won't be a sprint, it will definitely be a marathon," says Pastor Rudy. "We're carefully building capacity around some areas we believe are vital to individuals and families. Our goal, and our promise to our donors, is to make sure that people who need the help will actually receive the benefit of the dollars being donated."
Though separate entities, both the Bread of Life and St. John's United Methodist Church are committed to providing assistance and normalizing the environment for the people of Houston, the nation's fourth largest city, as the recovery process continues.
"Social justice has been the foundation of the ministry [at St. John's] from the beginning," says Pastor Rudy, who adds that this month marks the 25th anniversary of St. John's and Bread of Life. "We focused on healing the needs of people in pain and that's where we established our mark in this town. Our mantra from day one has been tearing down the wall of classism, racism, and sexism and building a community of recovery with unprecedented hope. When we think about classism, racism and sexism, those are the lines of demarcation that have historically presented themselves in faith communities and in churches; from the beginning, our goals were to eradicate those lines."
St. John's United Methodist Church has church locations in both the downtown and the Northwest sections of the city. Pastor Rudy co-pastors with his wife of 32 years, Juanita; the couple are parents to two daughters. Culturally and ethnically diverse, St. John's has more than 9,000 members with 95 percent being people of color. The congregants span every strata of the social-economics spectrum: 30 percent of its members own franchises or have lucrative jobs and positions; another 30 percent are struggling to get by, and another estimated 30 percent are transitioning out of homelessness, prison, or other precarious situations. In fact, the housing and health and human services divisions of the Bread of Life owns and operates three apartment buildings under the Temenos Community Development Corporation; these were specifically constructed for the chronically homeless, defined as men and women who have been homeless for at least a year.
The first property built under the corporation is the Knowles Temenos Place Apartment, a 42-unit, single occupancy permanent housing unit financially supported by the Knowles family. The corporation constructed two other buildings with help from other donors. The second building is a $14 million project with 80 single units and the latest is a 15-single-unit apartment building.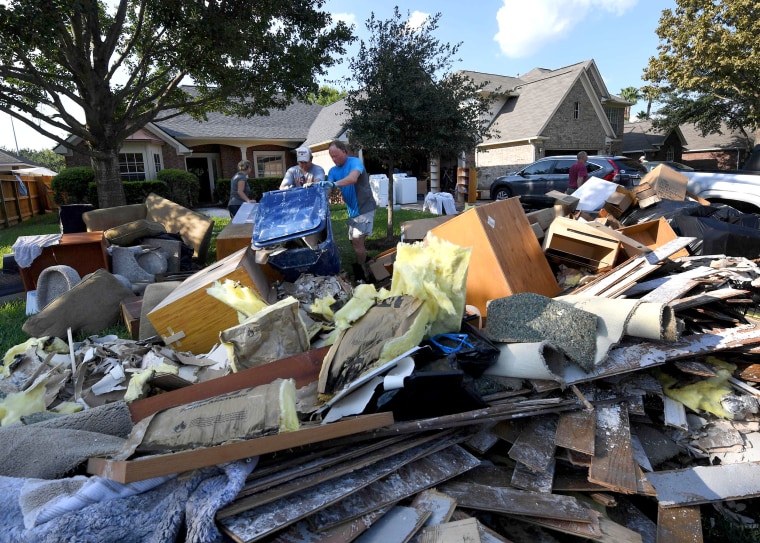 Bread of Life has already start to assist many of the displaced families and individuals with temporary housing. "As the result of this crisis [Hurricane Harvey], the Bread of Life is mobilizing to house people and get people out of the city-operated shelters and into safe, decent and sanitary alternatives," says Pastor Rudy. "The big challenge for our agency and other agencies that do similar work in the community is to find adequate and sufficient housing for residents with nowhere to go. Our goal today is the same as it was 25 years ago, which is to provide the quality of residential environment that anyone would want to live in, not just the homeless; it's first class."
A global humanitarian and the host of the popular radio show, "Pastor Rudy's Love Evolution," which airs weekly on Sirius XM's Kirk Franklin's Praise channel (Sirius 64 – XM 33). He is the author of "Touch: Pressing Against The Wounds of a Broken World;" "Jesus Insurgency: The Church Revolution from the Edge" with co-author Dottie Escobado-Frank; and "Love Period: When All Else Fails." Pastor Rudy is currently working on his fourth book, which will address the issues of privilege and scarcity, and is completing his doctoral work at United Theological Seminary in Dayton, Ohio. He previously attended Southern Methodist University's Perkins School of Theology and the Houston Graduate School of Theology.
As a leader, one of Pastor Rudy's strengths is the ability to mobilize and aid in crisis situations. But Hurricane Harvey has created a challenge for Houston and the nation. "It's a human tragedy of epic proportions," Pastor Rudy concludes. "What we discover in moments like these is how many people are living from one day to the next financially and how many people have no one to call. We often take for granted how many contacts are in our phone and how many numbers we can dial when we are in distress. But imagine, there are hundreds of thousands of people in Houston who has no one to call in the moment of distress and that's what we see. And those are the people we are trying to help."