In the upcoming school year, the Houston Independent School District will eliminate librarian positions at more than two dozen schools and use some of the libraries as centers for students who have been removed from their classrooms for disciplinary reasons. 
The changes are part of superintendent Mike Miles' plan called New Education System, an effort to reform a district plagued by low reading levels and standardized test scores. Under the new system, librarians at at least 28 schools will transition into other roles within the district and some of the libraries will be used as "Team Centers," where students removed from class due to behavioral issues can join the lessons virtually, the district announced. 
Rumors had swirled about libraries essentially becoming disciplinary centers, but Miles said in a news conference last week that wasn't the case. "That's not a place for discipline, that's a place for kids to learn," he told reporters. 
"It's true that we're not going to have traditional libraries," he said. "That doesn't mean we're doing anything with the books. The books are still there and kids can still read them."
Students will have limited access to the books in these nontraditional libraries, with students able to check out books on an honor system, officials said. An HISD spokesperson told NBC in an email that students can access libraries in the mornings before classes or after school.
Janice Newsum, who worked as an HISD librarian for nearly 20 years, criticized the change, noting that she has witnessed the positive impact that a fully functioning library can have on students.
"As a high school librarian, I was able to see students who had not gained the ability to read on level gain that ability by coming to the library and engaging in the activities that we sponsored there," said Newsum, who is now an assistant ​​professor of school library and information science at the University of Houston-Clear Lake. 
"When our students are denied that, it is a tremendous disservice to them," she said.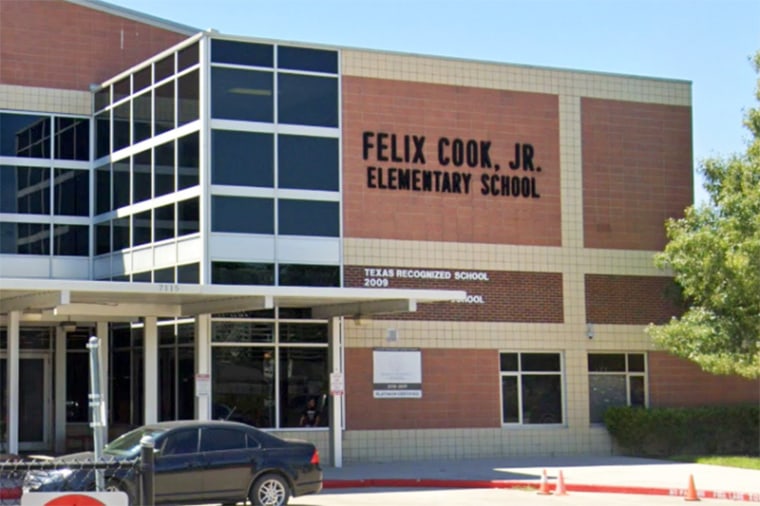 The change comes as the state rolls out new laws that ban education around the topics of diversity, equity and inclusion in public schools. Texas is also playing a prominent role in banning books in schools and libraries through its READER Act signed in June and set to be enacted in September.
In Houston, Miles was brought in to lead the school system after the Texas Education Agency took over the district in June, according to NBC affiliate KXAS. Miles, a former Dallas ISD superintendent, was brought in to lead the Houston school system after poor academic outcomes were reported at several of its public schools. The decision was met with pushback, with parents voicing concerns about the fate of dual language programs and staff jobs in the district. 
Now, criticism of Miles centers around the restructured libraries in his controversial NES plan. 
"We do not want our schools to look like prisons," Houston Mayor Sylvester Turner said at a Monday news conference. "When you close libraries, you deprive all students of resources they need to learn and achieve."
Deborah Hall, founder of the Students Need Libraries in HISD advocacy organization, agreed.
"During a lesson, if a student is disruptive they'll be sent to the library, the 'detention center,' and that sends such a terrible message about a place of learning," Hall said in an interview. "The library is a sanctuary, a safe place, a place to get help and to learn. Now they're turning it into something where a kid sits at a computer and watches his class from afar." 
Latino children make up a majority of HISD students, accounting for about 62% of the student population, according to the Texas Tribune. Black students make up the second largest group in the district at 22.1%. Surrounding school districts have higher white populations, like Huffman, based in an unincorporated Harris County neighborhood, where white students make up  about 67% of the district.
There are currently 28 schools enrolled in the NES, and another 57 are being assessed for possible inclusion, the spokesperson said. There are 274 campuses in the district.
Decades of research have shown that schools with high-quality library programs lead to student achievement, including better test scores and reading skills, according to the American Library Association. Meanwhile, the impact of overdisciplining schoolchildren is well documented. Removing students from classrooms is more likely to exacerbate behavioral issues than to correct them, according to Texas Appleseed, an Austin-based justice organization. 
"We have a school district that is majority-minority and we have a lot of areas where there's poverty and people who are struggling," Hall said. "Many of the schools that are going to be the first ones to experience this new structure and lose their libraries are in the areas that need them the most."