Americans are increasingly telling pollsters that they are worried about "race relations" in the United States. These surveys are taken as a sign of a deepening racial divide. But that interpretation may be wrong.
Hillary Clinton visited Charlotte on Sunday, less than two weeks after the shooting of a black man by an officer there led to intense protests and some riots in the city. The former secretary of state, in a speech at Little Rock A.M.E. Church, was unusually candid for a presidential candidate in speaking about racial issues.
"My worries are not the same as black grandmothers," she said, because "my grandchildren are white, because they are the grandchildren of a former president and secretary of state."
Clinton and Donald Trump are asked often how they will improve America's racial climate, including by NBC's Lester Holt at the first presidential debate last week. The question is a natural one, with polls showing a sharp decline in American optimism on racial reconciliation.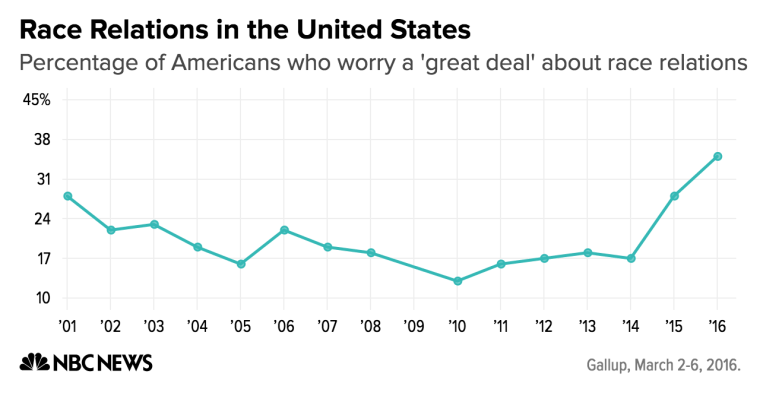 In June 2008, according to Gallup, 68 percent of Americans said relations between whites and blacks were either "very good" (10 percent) or somewhat good (58 percent.) Just 30 percent said relations were either "somewhat bad" (23 percent) or "very bad" (7 percent).
Gallup conducted a similar survey this June. Just 53 percent of Americans said race relations were "very good" (7 percent) or "somewhat good" (46 percent.) Now, 46 percent of Americans say race relations are either "somewhat bad" (32 percent) or "very bad" (14 percent.)
"More than a third (35%) of Americans now say they are worried 'a great deal' about race relations in the U.S.—which is higher than at any time since Gallup first asked the question in 2001," Gallup said in a press release after an April survey.
RELATED: Analysis: Trump Speaks of a Black America That No Longer Exists
What caused this change?
President Obama and his family's presence in the White House, the rise of the Tea Party movement and false narratives about Obama's religion and birth put out by conservatives—all of which had a racial subtext—did not appear to shift Americans' views on race relations.
In a Gallup poll conducted in June 2013, after more than four years of Obama's tenure, 70 percent of Americans said race relations in America were good, compared to 30 percent who said they were not. These numbers were virtually identical to when Obama entered office.
The rest of the country didn't seem to recall these problems, until the videos and the protests in 2014 and 2015.
By June 2015, this enthusiasm had dipped. Only 47 percent of Americans had positive views of race relations, compared to 50 percent who did not.
What happened between 2013 and 2015, of course, was the increased attention on the killings of black men by police—some of which were captured on video—and the resulting protests.
There is little comprehensive data on civilians who die at the hands of police officers, so it's difficult to assess whether police officers have shot and killed more black men in 2015 than in 2002 or 2008. But the more likely scenario is not that there was a sharp surge in the number of officer-involved killings of African-Americans between 2013 and 2015, but that public awareness of these incidents were higher than in previous eras.
Civil rights activists have argued throughout the last two years that the on-camera police treatment of African-Americans was simply visual confirmation of excessive force, stop and frisk-style tactics and other aggressive policing strategies used over the previous two decades, often in black neighborhoods. Data had already shown that African-Americans are more likely than whites to be searched by police during a stop, arrested and incarcerated.
In short, relations between the black community and the police were strained. And there were other, obvious signs of racial tensions before 2015. In the 2012 election, only about 40 percent of whites voted for President Obama, compared to 70 percent of Latinos and more than 90 percent of blacks.
Areas that had been desegregated in the 1970's and 1980's were increasingly returning to having some schools with largely upper-income, majority-white populations, while low-income black and Latino students were packed into other schools. Housing segregation remained a huge problem.
So it's not clear that Americans are more racially divided than in 2008. Race was already shaping how Americans voted, educated their children and chose to live. But the rest of the country didn't seem to recall these problems, until the videos and the protests in 2014 and 2015.
In particular, whites seemed to learn more in those two years. In 2008, 70 percent of whites viewed American race relations as good. Just 55 percent do now.
RELATED: Clinton and Kaine Are Challenging White Americans on Racial Issues
In 2008, blacks were less enthusiastic (61 percent said race relations were good), which has declined to 51 percent now.
This declining optimism about race relations is usually described as a failing of the country and to some extent its president. Conservatives, including Trump, have attacked Obama for this decline in race relations, implying that his election was supposed to be a unifying event that would eliminate America's racial divide.
"I think race relations now are as bad as they've ever been. I guess they have, statistically, the worst they've been in 18 years. I don't know what 18 years means, how do they determine that, but I can tell you they're bad and they haven't been this bad in a long time. And we have somebody that really was in a position to do just the opposite," Trump said in July.
But this greater awareness of the racial divide may not be a negative trend. At a time of worsening "race relations," cities, states and the federal government have all taken actions, from requiring officers to wear body cameras to implementing racial bias training, that could reduce the number of blacks killed by police officers—or at least in the case of the body cameras force greater scrutiny of police conduct.
Influential conservatives are rethinking how they view America's racial challenges. Newt Gingrich, who is a top adviser to Trump, said a few months ago, "If you are a normal white American, the truth is you don't understand being black in America and you instinctively under-estimate the level of discrimination and the level of additional risk."
RELATED: Ava DuVernay's '13th' Puts Both Trump and Clinton on Blast
Even the 2016 campaign, with the two white candidates accusing one another of being racist, could have a positive effect. In 2008 and 2012, Obama, wary of being cast as the black candidate, often avoided discussing racial issues. This at times left blacks, who are about a quarter of all Democrats, silenced in public debates. Mitt Romney used language in 2012 that had echoes of the "welfare queen" critique of blacks used by Republicans in the 1980's. But he rarely addressed racial issues directly either.
Clinton and Trump are both fully aware that Americans are divided by race and running campaigns with that in mind. On policing, Trump is taking a strong stance, defining the problem as one of "black-on-black crime" and calling for aggressive policing, such as stop and frisk, as the solution.
He wants to mandate the death penalty for anyone who kills a police officer. Clinton, in calling for expanding racial bias training, is essentially taking the side of the Black Lives Matter activists, who say that American police officers are making mistakes in their treatment of blacks.
This campaign has made American "race relations" look bad. But it has also brought real clarity to the racial differences in America in a way that Obama v. Romney did not.