Aretha Franklin was a soul-singing global icon with staggering commercial success — notching 44 Grammy Award nominations and 18 wins, and releasing 19 albums in the 1960s, 11 from 1967 to 1969 alone.
She was also an artist whose life and music was intertwined with civil rights and the struggle for black equality.
A gospel singer who was raised in the church, she was the daughter of C.L. Franklin, pastor of the New Bethel Baptist Church in Detroit and a minister who marched with Martin Luther King Jr.. C.L. Franklin had organized the June 1963 Walk To Freedom, which was the largest civil rights demonstration in the nation's history until the March on Washington a few months later.
Aretha's mentor was Mahalia Jackson, the gospel singer whose voice was known as "the soundtrack of the Civil Rights Movement" and who was a good friend of King's and inspired his "I Have A Dream" speech.
Franklin sang "Take My Hand, Precious Lord" at King's funeral in 1968, a song which Jackson had popularized. That same year, Franklin also sang the national anthem at the Democratic National Convention in Chicago, during a tumultuous political campaign and a year marked by civil unrest, protests, police violence and assassinations. Much like her mentor, Franklin provided the soundtrack of an era.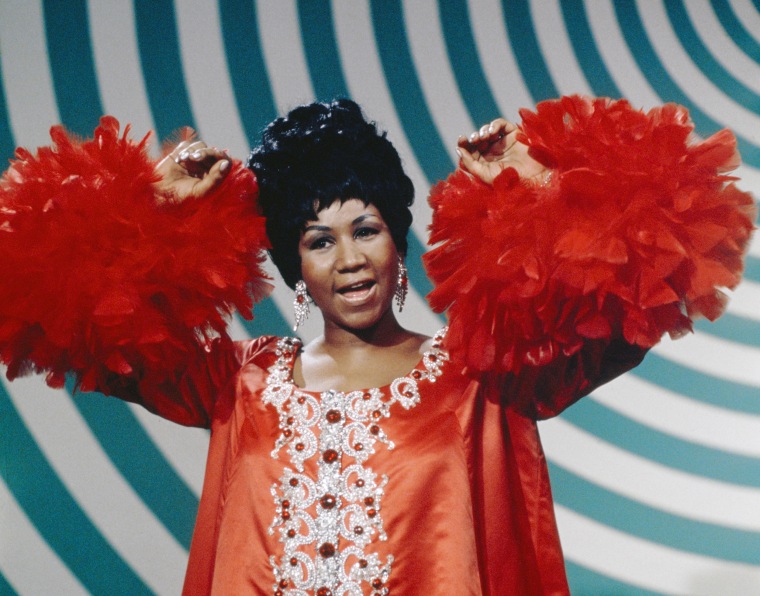 "There's no way to overstate what Aretha meant to the generation that came of age during the Civil Rights Movement," Craig Werner, professor of Afro-American Studies at the University of Wisconsin-Madison told NBC News. "She helped us make sense of experiences, insisting with enormous grace and fire that women's voices had to be a part of every conversation. She holds a special place in the hearts of Vietnam veterans who knew she sung 'I Say a Little Prayer' to help them survive and heal."
Black artists have traditionally been agents of change through their music, reflecting and shaping the issues of their time. Examples include the voice of suffering in Billie Holliday's "Strange Fruit," the audacious rage of Nina Simone's "Mississippi Goddam," and the funky soul of James Brown's "Say It Loud — I'm Black and I'm Proud." Similarly, Aretha Franklin was a voice of pride, hope and freedom. Her rendition of the Otis Redding song "Respect" became an undeniable anthem of empowerment for African-Americans and women.
This week, Beyoncé and Jay Z dedicated their Detroit concert at Ford Field to Franklin. DJ Khaled opened the show by playing "Respect," prompting the tens of thousands in attendance to sing along.
Experts who have chronicled Franklin's life and legacy say this chart-topping hit was just the beginning of Franklin's impact.
"As the Civil Rights Movement led to the Black Power era of the 1960s and 1970s, and black pride emerged as a response to racism and a white-dominated society, and an affirmation of African heritage and culture, Aretha was there," said Daphne Brooks, a professor of African American Studies and Theater Studies at Yale University who has written extensively about how singers like Franklin can transcend oppression through their music.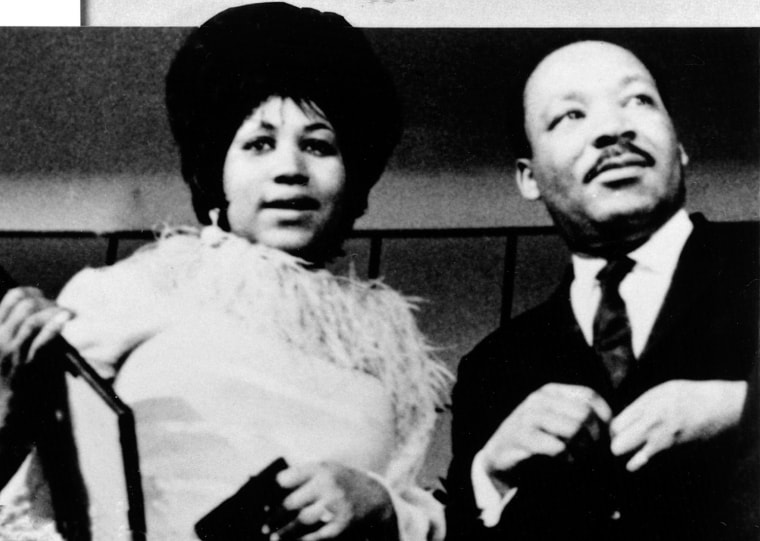 "It is, of course, known that she sang at King's funeral," Brooks said. "Less known is the fact that she put up bail for Angela Davis, political prisoner and Black Power feminist icon. She covered Nina Simone's beloved anthem 'To Be Young, Gifted, and Black,' and her early 1970s sartorial symbolism evoked black diasporic elegance and grandeur. In terms of her musical genius, her vocality sounded out rich emotional nuance, intelligence and depth. It conveyed the complexities of black women's inner-life worlds in ways unheard of before on the pop chart."
Five decades after the civil rights struggles, Franklin's music and message resonate today among a new generation of fans and activists, as the many heartfelt tributes to the "Queen of Soul" demonstrate.
"Her force was both cultural and political," said John Sims, a Detroit native and multimedia artist and producer. "Her love and advocacy for black people was undeniable and her feminism unshakable. Before there were Black Lives Matters and #Metoo, the Queen was challenging us to 'think' and 'respect' ourselves, and to become better partners, better citizens and better humans."
Following the release of her "Young, Gifted and Black" album, Franklin reflected on the Black Power movement and what was taking place in the African-American community and the impact of the times on her own thinking:
"I believe that the black revolution certainly forced me and the majority of black people to begin taking a second look at ourselves. It wasn't that we were all that ashamed of ourselves, we merely started appreciating our natural selves . . . sort of, you know, falling in love with ourselves just as we are. We found that we had far more to be proud of. So I suppose the revolution influenced me a great deal, but I must say that mine was a very personal evolution — an evolution of the me in myself."
Meanwhile, the soul diva never abandoned her community, Sims adds.
"She became extremely blessed and successful, [but] she never forgot her roots, her people, her family, and her hometown Detroit," he said. "Aways staying close to home, when others left, speaks to her loyalty, faith and commitment to a culture that cradled and nurtured her divine genius in a country that did not deserved it."
"We owe Ms. Aretha Franklin our highest respect for being the voice of our most meaningful form of human intelligence: love. To honor her is to follow her many messages and examples of love, grace and community."