Sen. Tim Kaine officially stepped into the national spotlight last night and introduced himself to the nation as a Hillary Clinton's choice for Vice President.
Kaine's nomination was first met by a lack of enthusiasm by some in the Democratic Party. While some point out that while Kaine may not be the most exhilarating personality, (the internet had it's fun with the dad jokes during his speech) others describe him as a steady champion on issues important to African Americans.
Though some have brought up the infamous "Project Exile" program Kaine had a hand in as Mayor of Richmond, many point out his work as a civil rights attorney. Work that dates back decades.
"I've known Tim for quite some time and he's been very faithful to the Black community," said Lamont Bagby, a member of the Virginia House of Delegates representing parts of Richmond. "He's served as Mayor, Lieutenant Governor, Governor and at each point he's made sure that he's not only made time to talk and listen to the Black community -- any time we needed him for an issue or I needed him for an issue personally, he supported us."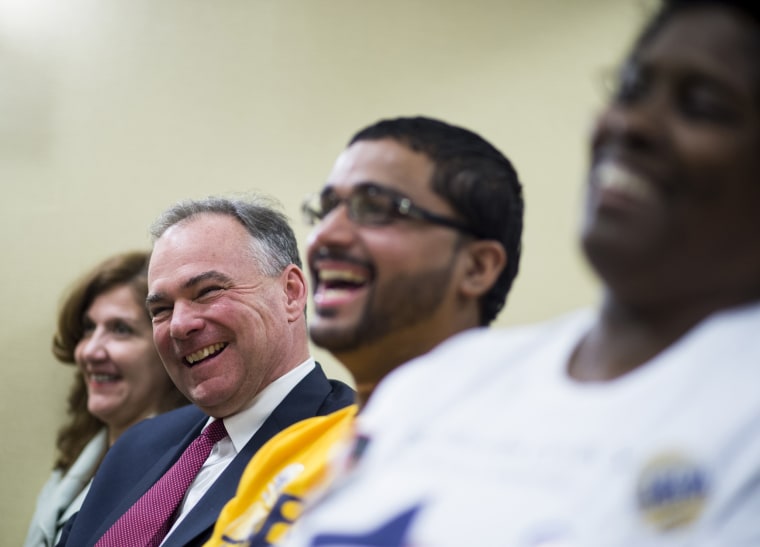 "He's also supported Black candidates. That's why you see overwhelming support for Tim Kaine from Black constituents," Bagby told NBCBLK.
Bagby says he met Kaine when the senator came to visit while he was a teacher at Henrico High School. "From that point on he's been a partner. When I served on the school board when he was governor we were able to raise the number of children that were in Pre-K."
The delegate called Kaine and his wife Ann, who served as Virginia's Secretary of Education, "champions of education."
When Kaine became Mayor of Richmond in 1999, the position was chosen by members of the predominantly Black City Council.
"There was no running against anybody. This was before they had a directly elected Mayor. The Mayor was chosen by members of the City Council. This is when I first met him," Vivian Paige told NBCBLK as she walked into the convention hall of the Democratic National Convention. Paige is a well respected local political guru based in Norfolk, Va. who also blogs about politics.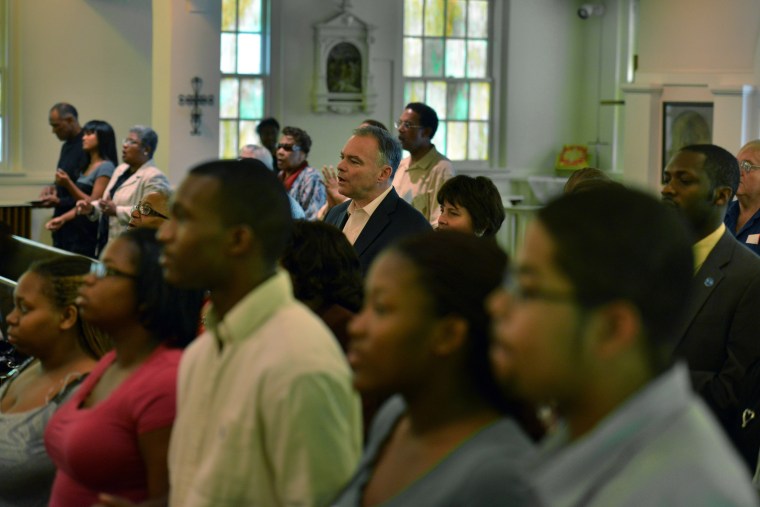 She first met Kaine in 1997. "He was involved with 'Hope in the Cities' which was a national organization based out of Richmond at the time, that dealt with the issues of race relations. They were holding a national conference on the issues and he was brought in to speak."
Though Virginia State Sen. Mamie Locke stated she believed Kaine should not simply be "the voice of African Americans" given that he must focus on all as Vice President, she echoed the view that Kaine has focused on African Americans throughout his career.
Sen. Locke has known Kaine for over twenty years and first met him while serving as a member of the Hampton City Council.
RELATED: 'The Choice Isn't Even Close': President Obama Heaps Praise on Hillary Clinton at DNC
"He was a civil rights lawyer and has great compassion for the area of civil rights. Knowing him personally and knowing where he comes from in terms of where his strength lies," said Locke, who was the Mayor of Hampton, Va. from 2000 to 2004.
Both Locke and Kaine served on legislative advisory committees as part of the local government in Virginia while Kaine was Mayor of Richmond.
"I know he has a passion for early childhood education. He has a passion for housing discrimination and he won one of the largest housing discrimination cases in Virginia. Knowing that's where he comes from I know he's going to use that platform to continue that fight," Sen. Locke concluded.
Kaine was formally nominated for Vice President at the Democratic National Convention tonight by Rep. Bobby Scott (D-Va.) who many believe may be selected by Virginia Gov. Terry McAuliffe to replace Kaine in the U.S. Senate.