Track and field stars and fans recently showed out in their best clothes – and a pair of sneakers – for the USA Track and Field Black Tie & Sneakers Gala's National Track & Field Hall of Fame Induction Ceremony on October 29.
Dining on the Armory's indoor track in New York City's Washington Heights neighborhood, both celebrities and attendees watched some of the sport's fiercest competitors receive high honors.
You hate to say to win an Olympic gold medal was a disappointment but it was somewhat of a disappointment to look at the clock and see that it wasn't a world record - just because that was the goal.
Allen Johnson, considered to be one of the most decorated and successful 110-meter hurdlers of all time, was inducted into the Track and Field hall of fame along with other athletes and coaches including Hollis Conway, Ralph Mann, Al Blozis, Jack Torrance, and Harry Gill.
Highlights of 44-year-old Johnson's career include four World Championships, three World Indoor titles, seven national outdoor titles, four national indoor titles, a 14-year streak of global top-10 rankings, and an Olympic gold medal from the 1996 Games in Atlanta.
He spoke to NBCBLK ahead of the ceremony about his legacy, the sport's doping scandals, and how he came to be a hurdler.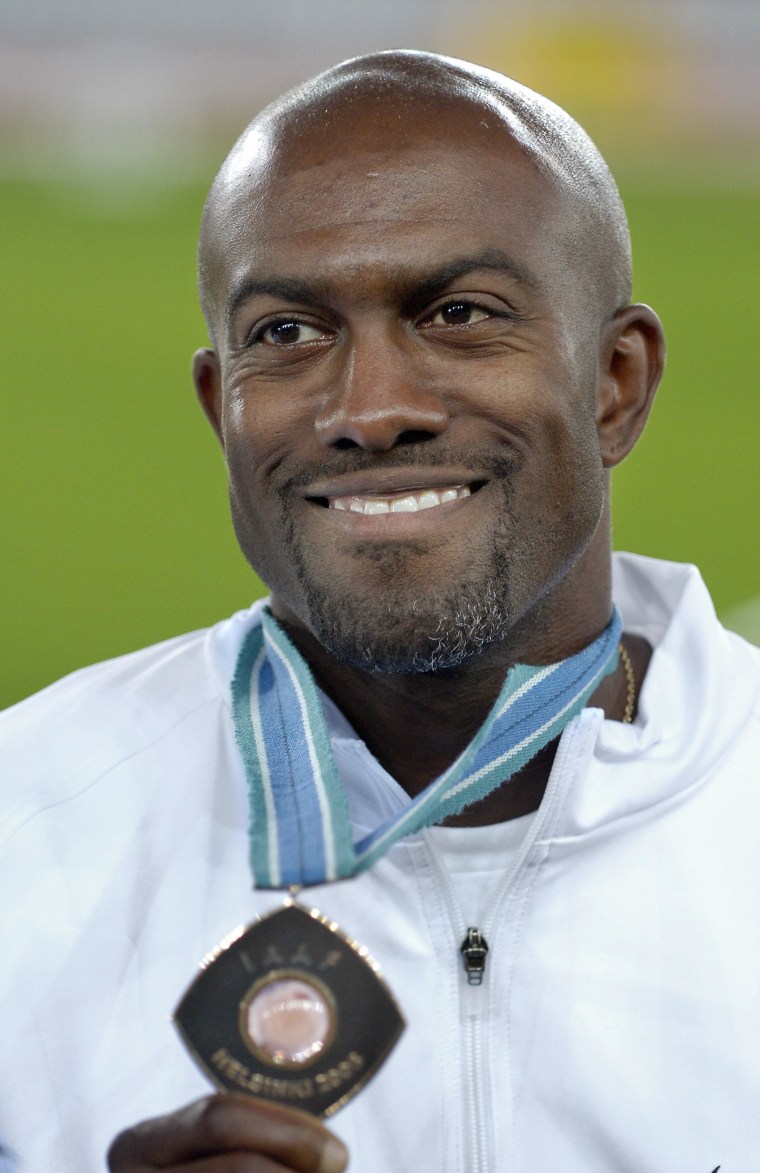 NBCBLK: What does it mean for you to be inducted into the Hall of Fame?
It just feels good. I had a pretty good career. I did things the right way and for the people in the sport to decide that I've been one of the best ever, it's just kind of awesome.
NBCBLK: You've had a decorated career. You're one of the most successful 110-meter hurdlers of all time – what do you want people to remember most about your legacy?
The thing I want people to remember the most is that I had fun. I had fun and I was a tough competitor and I didn't give up.
NBCBLK: How did you end up running the 110-meter hurdles?
When I first joined the track team, I was primarily a high jumper and long jumper. So I came to practice one day and one of my coaches looked at me and said 'hey you have long legs, I'm going to make you a hurdler.' And I thought to myself, oh no, I don't want to do the hurdles. But I just did it. That's how I got started.
NBCBLK: When did the goal of running in the Olympics come into your thought process?
I thought about Olympics beforehand just because that was my mindset. But it didn't really become a reality until my junior year in college when I won NCAAs. I broke the meet record – it was '92 indoor nationals. And I broke Roger Kingdom's meet record. So that's when I thought, well if Roger Kingdom ran 7.08 and I ran 7.07 and he won a gold medal twice – hey maybe I can do something like that.
NBCBLK: What has been the most memorable moment for you throughout your career?
The Olympics games in '96 and winning my fourth World Title in 2003 in the 110m hurdles.
NBCBLK: When you trained for 1996 games did you go in with the mindset that you were going to break the world record?
Honestly when I was training for the '96 Olympics the goal was to go to the Olympics and break the world record. And I didn't break the world record, but I got the gold medal…You hate to say to win an Olympic gold medal was a disappointment but it was somewhat of a disappointment to look at the clock and see that it wasn't a world record - just because that was the goal.
NBCBLK: What are your thoughts about how track athletes are perceived in the media compared to other athletes like football players, soccer players, and basketball players?
I think that a lack of accolade in the media is because the media really doesn't cover our sport that much, as much as they do main sports like football, basketball, baseball, [and] hockey. So media exposure is far below where it could be…Our sport is centered around the Olympic Games which is every four years and a lot of people don't even realize that we have a full season every single year and a lot of that stuff is out of the country in Europe – it's not here in the US. So I think it just kind of gets loss in the shuffle.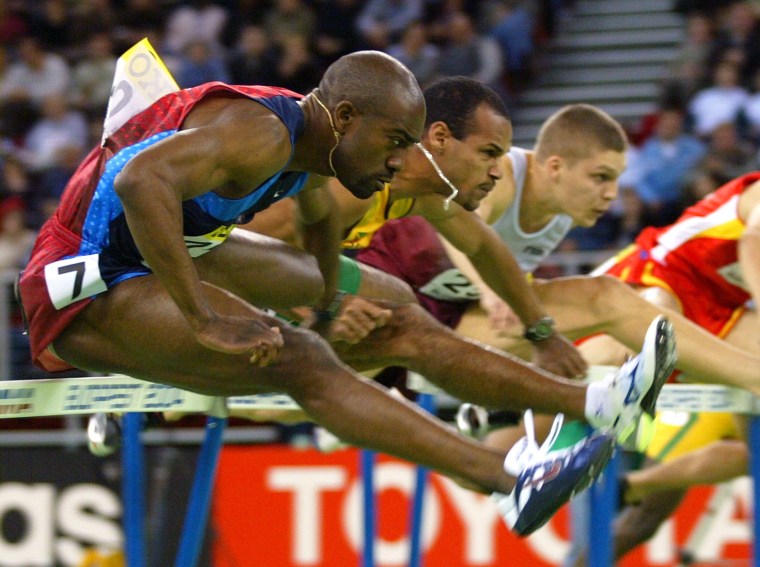 NBCBLK: Do you feel like the sport has recovered from the doping scandals that plagued the last couple of Olympic Games?
I would say yes and no. Recovered – I don't think we have anything to recover from because my mindset is this, we all know in life that you're going to have individuals that are going to decide to cheat. So when you have an effective testing program, you're going to actually catch those people who cheat. Now, in the sport of track and field, we have an effective testing program. We find people who are cheating – but we get killed in the media because of it.
If we were like some other sports and did not have an effective testing program, and we did not catch the cheaters, then we wouldn't have positive tests and then we would not have a problem. That would be the perception. But because we are actually testing, and it is effective, we have a problem. To me, that's always been backwards.
NBCBLK: Going into the 2016 games, who do you think will be the biggest competition for the US?
On the sprint side, it will be Jamaica.
NBCBLK: When you look at the record holders for the 110-meter hurdles in the US vs. other countries, the US has more than other countries. Why do you think the US dominates in that event?
Because we have the best coaches and the best athletes in the world.
NBCBLK: What advice would you give to younger track athletes who want to go to the Olympics?
I think the biggest thing is to have fun. You gotta have fun with what you're doing. Because if you have fun and you really enjoy it, you're going to want to get better at it. You're going to do all the things necessary, you're gonna work hard, you're gonna study your craft, you're going to be diligent – all those things. You're going to have very few of those days where you just not want to go to practice.
NBCBLK: And do you feel like that's the thing that has contributed to your success the most?
Oh yea, definitely. If I could have run a track meet every day I would have. Every day I looked forward to practice because it was an opportunity for me to just go out there and see if I could improve on something.