Just before Muhammad Ali's funeral in Louisville, Ky., his daughter Khaliah Ali-Wertheimer, 41, spoke about her father and the final hours that her 17-year-old son, Jacob, spent at the bedside of the former world heavyweight champion in an Arizona hospital.
The fashion designer, author, and real estate agent lives in Philadelphia with her husband, Spencer Wertheimer, and their son. She is the fifth of nine Ali children. Her mother, Aaisha Fletcher, met the boxer in the early 1970s.
She spoke with her longtime friend Bryan Monroe, a veteran journalist, former editor of Ebony magazine and a professor at Temple University's School of Media and Communication.
What are your earliest memories of your father?
His hugs and kisses. His presence. Of course, when your father is the most famous man the world over, you have to share him with the world, which meant I didn't get to be with him as much as other children get to be with their fathers. It's a whole other way of being. But that meant the time we did have together was all the more precious. When he was with us, we were always on his lap. . . . He was always kissing us on our jowls - as Daddy would call them.
People need to also know how fun he was, how funny he was and how loving he was. He was such a prankster. He'd answer the phone, "City Morgue!" But he was also so loving. As a kid, I struggled with my weight, but he would perpetually tell me how beautiful I was, how smart I was. He used to call me "Madame President."
You are one of his seven daughters. Tell me how he was as a father.
He was the proudest, lovingest, most doting father in the world. All the same, he expected things from us.
What do you mean?
Well, for instance, he wanted to make sure we were dressed in a respectful fashion - he was a Muslim man, after all - that we carried ourselves well. He was trying to make sure that we also respected ourselves.
Also, my father always wanted all of his children to be together. That was really important to him regardless of how big the family was, where they were, and in spite of the fact that there were different pieces of the family. He always wanted us together. We would come together in the summer, we would come together for family events, or we would visit him independent of those larger events. But typically, he was very adamant about all of his children coming together as much as possible, as often as we could.
RELATED: Essay: 'The Greatest' Losses: What Prince and Muhammad Ali Shared
Your father was so admired. Whom did he admire?
My father had a lot of artists that he loved, and one of them was James Brown, who we learned to love through him. One night, James Brown was in Atlantic City and we were going to go, but my sister gave me some lotion that caused me to have an allergic reaction, so I couldn't. My dad stayed home with me and sang James Brown songs with me and danced all night.
"In those last moments, we all surrounded him, and we prayed for hours by his bedside, until he passed on."
And then there was Kevin Costner. This was really my admiration. My dad knew I had the world's hugest crush on Kevin Costner growing up. We were in New Jersey, at a hotel, and he was always teasing me about it, so he picked up the phone and he said to me while dialing, "He's in this hotel, he's coming to this event tonight." I immediately ran into the bathroom and locked myself in, because he was about to embarrass me on the phone with Kevin Costner. My dad goes, "Hey, Kev, c'mon over, come see Khaliah, she's here!" Then he had [Ali friend and personal photographer] Howard Bingham pretend he was Kevin Costner and knock on the door. I remember being in the bathroom; my body was physically shaking, I was sooo scared. I just knew I was not coming out of there. So my dad just let me stew in it, like for a good 20 minutes, until he told me it wasn't Kevin Costner. He got me! To this day, I still have never met Kevin Costner . . . although now I don't know if my husband would appreciate it. . . . It was one of my dad's best pranks!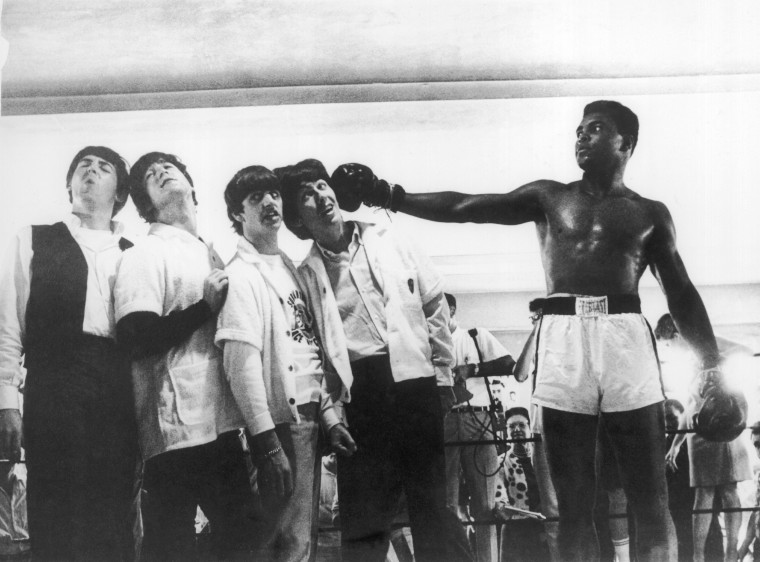 Did you know who your father was, as a celebrity? How did you relate to that?
I never knew he was famous until I came home from school one day and I saw a photograph of him with the Beatles. 'Mom,' I called out, 'Daddy knows the Beatles!' She responded to me, 'Khaliah, they came to see him.' It was at that point that it really became crystal clear to me just how famous he was, how revered he was.
Part of the beauty of being my father's daughter is that obviously he was a big celebrity, but at the same time he was a real down-to-earth man. He had humility, and I think that was part of his openness - and his big heart and his kindness. My father was never a man to say, "Not right now," or, "I'm not doing that." When you were with him, you were just constantly barraged with his love. He was giving that right back to people.
Speaking of family, I know your dad was especially close to your teenage son, Jacob, even came to his bar mitzvah a few years ago.
Yes, his bar mitzvah [in 2012], that meant so much to us and so much to Jacob. My dad, he so badly wanted to be there to support Jacob. And it was beautiful, every religion was represented. And my dad wanted to show his love, his compassion, and his respect for Judaism. He gladly grabbed the Torah - there's a part of the ceremony where you pass the Torah around - and he embraced the Torah and kissed it, as grandparents do. It was really beautiful to see.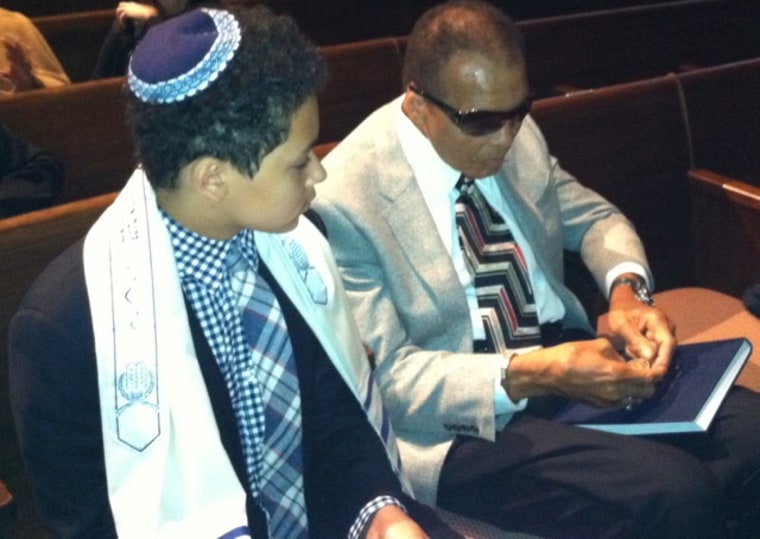 Tell me about the last few days and weeks of your father's life. How did you find out?
I spoke to Lonnie [Ali's wife] early last Tuesday - about 48 hours before I got the second call - and knew that he was in the hospital. We all kind of made phone calls, we had a system. We knew he was not doing well, but at that time they said he was stable, they were taking care of him and he wasn't expected to take a turn for the worse. Then fast-forward to two days later, Thursday, I was on the New Jersey Turnpike, on the way to a photo shoot for my sewing patterns in New York, and I got the call from my sister Miya, and she said: "Get here. Just get here. Get here as soon as you can!" I immediately took the next exit and turned around. Then it was a bit of a blur. I don't even know how I physically got home. I was so shaken. My heart was shaken. I was very concerned and worried, it was as if I knew already. If a parent is that sick and someone says "come," it's going to be nerve-racking.
By the time I arrived home, I had my airline tickets to Arizona, and I had called Jacob at school - he was in the middle of finals and SATs - and we literally threw whatever we could into a very small suitcase. We were in Arizona by 8:35 that night and at the hospital by 9:30, 10 p.m.
When I got there, we were immediately greeted by security and escorted to his room. I was able to speak to my father, and he was able to respond. We knew he was hearing us, we were able to tell him how much we loved him. We stayed with him another two to three hours that night. The following morning we came back, and we were there for about 13 hours. And I have to tell you, Jacob stood by him, by his side, for the entire 13 hours. He never left his side. He never sat down. He never left the room. He didn't eat. He didn't drink. He literally stood on his feet until my father took his last breath. He was right there till the end.
So you were in this amazing position where you were watching your father go through his last moments and watching your son do something remarkable. As a mother - and a daughter - how did you feel?
You know, Jacob really became a man in my eyes on this trip. He really did. You know, I'm a helicopter-crazy mom, and in that moment, I learned to let go. It was really big for me. I have never been more proud of him in my life. He really at that moment put on the mantle of being his grandfather's grandson.
Just watching the two of them together. He had time alone with him. He whispered things to him I will never know.
RELATED: Muhammad Ali Scripted His Own Funeral Plans in 'The Book'
In those last moments, we all surrounded him, and we prayed for hours by his bedside, until he passed on. He had every single piece of his family there, with hands on him. Praying. Loving him through, till the end. He was in absolutely no pain whatsoever. He was completely comfortable.
When you knew he was gone, what was the feeling in the room?
Peace and calm. Peace and calm.
Tell me about this week, these last few days leading up to the funeral on Friday.
You know, he meticulously planned his passing for more than 10 years. And part of that was that he wanted to make sure his kids would be together and would be OK.
So on Saturday, we flew back with my father to return him to Louisville. Knowing that we were taking him home, it felt so good, so right. And then we found out on the plane that 15,000 to 20,000 bees had filled a tree outside of the Ali Center [in Louisville]. It was just the most incredible feeling. It was like they were connecting with him. It was so beautiful.
What do you want the world to know about your dad, Muhammad Ali - as a father and a grandfather?
He was the greatest. Not just as a public persona who spoke up for his beliefs on top of achieving athletic greatness, but as a family man, in those personal, intimate ways that only someone's child could know. We've been so incredibly blessed.
I miss him, I do miss him so.
A version of this article first appeared in The Philadelphia Inquirer and Daily News/Philly.com