To borrow from his soul-stirring ballad "Nothing Compares 2 U," it's "been 8,760 hours and 365 days, since Prince took his love away.
Truth is, nobody knows exactly when the late great musician born Prince Rogers Nelson took his last breath, but for lifelong Prince fans like me, the past 12 months have been a disheartening mix of deep purple and blue.
Sometimes It Snows In April
Over a nearly 40-year career, he gifted us 39 studio albums and four films: sold more than 100 million records worldwide and won seven Grammys, a Golden Globe and an Academy Award. The thought of someone so gifted and giving dying alone, crumpled on the floor of an elevator inside his massive Paisley Park estate, is absolutely heartbreaking.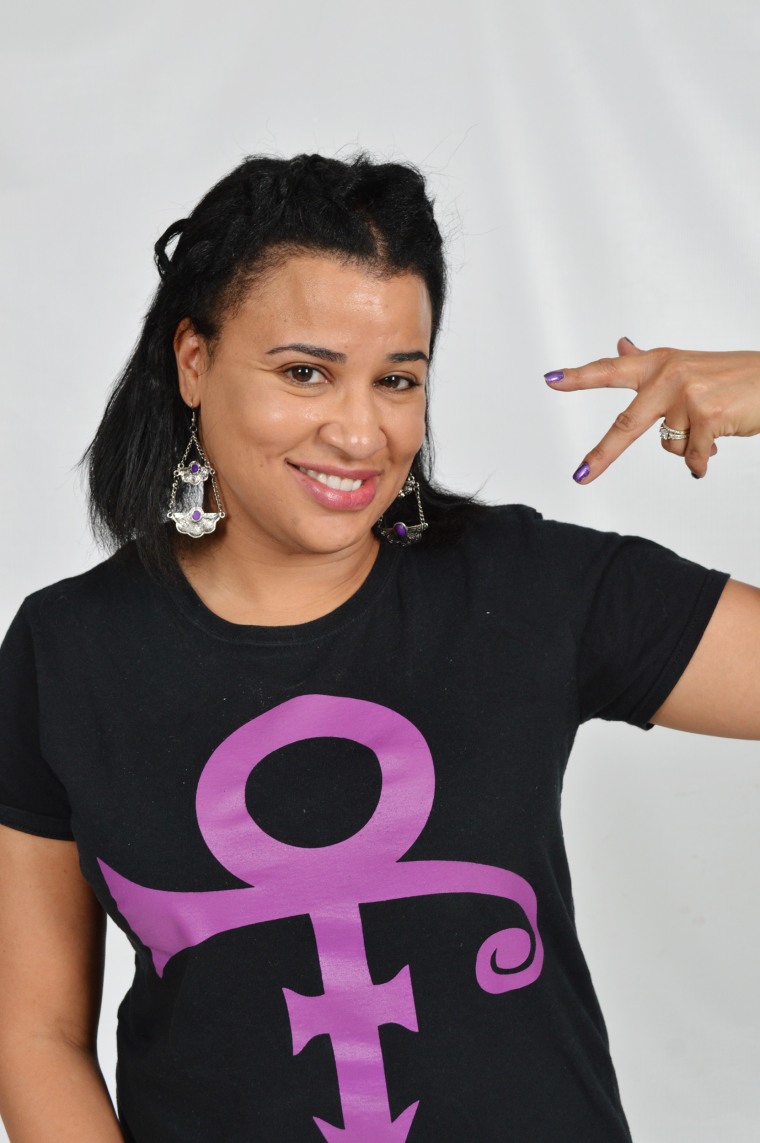 For faithful followers like me, news of his death one year ago today also killed for good the ever-present anticipation of his next public appearance, concert, album or groundbreaking project. And of course, the possibility of one day witnessing one of those epic pop-up performances he was known to do. He always kept us fans on the edge of our seats.
In keeping with The Artist's orders (via "Let's Go Crazy") to not let that whole death on an elevator reality "break us down," I decided to commemorate this melancholy milestone in a way that His Royal Badness would appreciate. Plus, it would help satisfy a childhood dream once and for all.
If I Was Your Girlfriend
See Michael Jackson was my "first love." I just knew he was singing "Lady In My Life" and "P.Y.T" to me and only me. Then "Purple Rain" came out, and that was a wrap for Mike and me.
I set my sights on the pretty boy with the hazel eyes, sexy smile and cascading crown of curls. I remember my childhood BFF Kristen and me playing the LP over and over, incessantly looping "Darling Nikki" (thankfully we were way too young to understand that sultry song).
Once we finagled a way to watch the "Purple Rain" movie at a friend's house (on VHS, of course), my fantasy of being one of those hot chicks on Prince's arm was born. I wanted so badly to be Vanity or Apollonia. What better way to commemorate his death anniversary than by making myself over as a Prince protégé?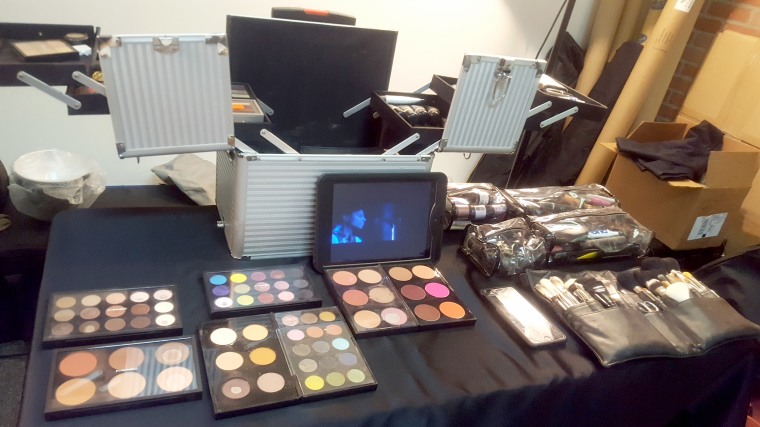 Let's Work
These days I'm more soccer mom than sex kitten; I don't have a glam squad on speed dial. So, I raided my closet for all things purple. Once I found a few keepers I did what most suburbanites do – I went to the mall. Somehow I don't picture Beyoncé trying to cram herself, a double stroller and an armload of violet-hued attire into tiny dressing rooms, but there I was. Four stores in, I found a gown that could work for my fantasy photo shoot. Well, it was more like it fit and it was purple, since my boys understandably had gotten pretty rowdy by then.
Scandalous
Next up was wig shopping. I just might be the only black girl in America who has never had a weave and I know very little about "buying hair." This was daunting, but I found a nearby wig shop and browsed. I guess my selections were on point: the 29-year-old guy behind the counter asked me out, commenting that I looked "pretty enough to take out on a lunch date" in my wigs.
I told him I didn't think my husband would agree. He took my rebuff in stride and rung up my flowy, frizzy tresses.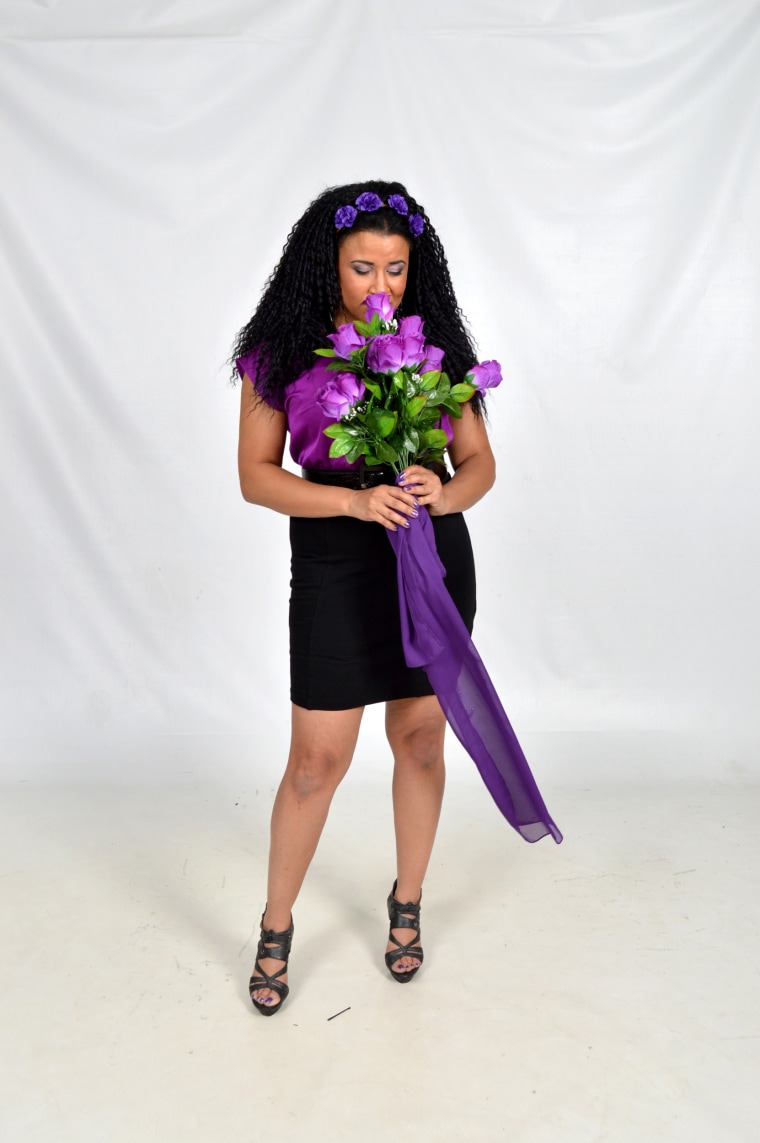 U Got The Look
Next up, I reached out to Snap Shots Photography, an African-American owned and operated photography studio in Aurora, CO. They'd done a great job on some headshots for me in the past and even entertained my youngest while I posed.
Related: That Time I Opened Tower Records Early So Prince Could Shop
Makeup artist extraordinaire Assyri Demmera, who is more of a Mariah Carey and Luther Vandross fan and owner James Rowe, a faithful follower of my ex, M.J., enthusiastically agreed to overcome their musical leanings and capture my look.
On shoot day, James took "before" shots and then Assyri worked his magic, ensuring my face got a generous serving of lavender love. I laid out my purple fashions and makeshift props and got dressed.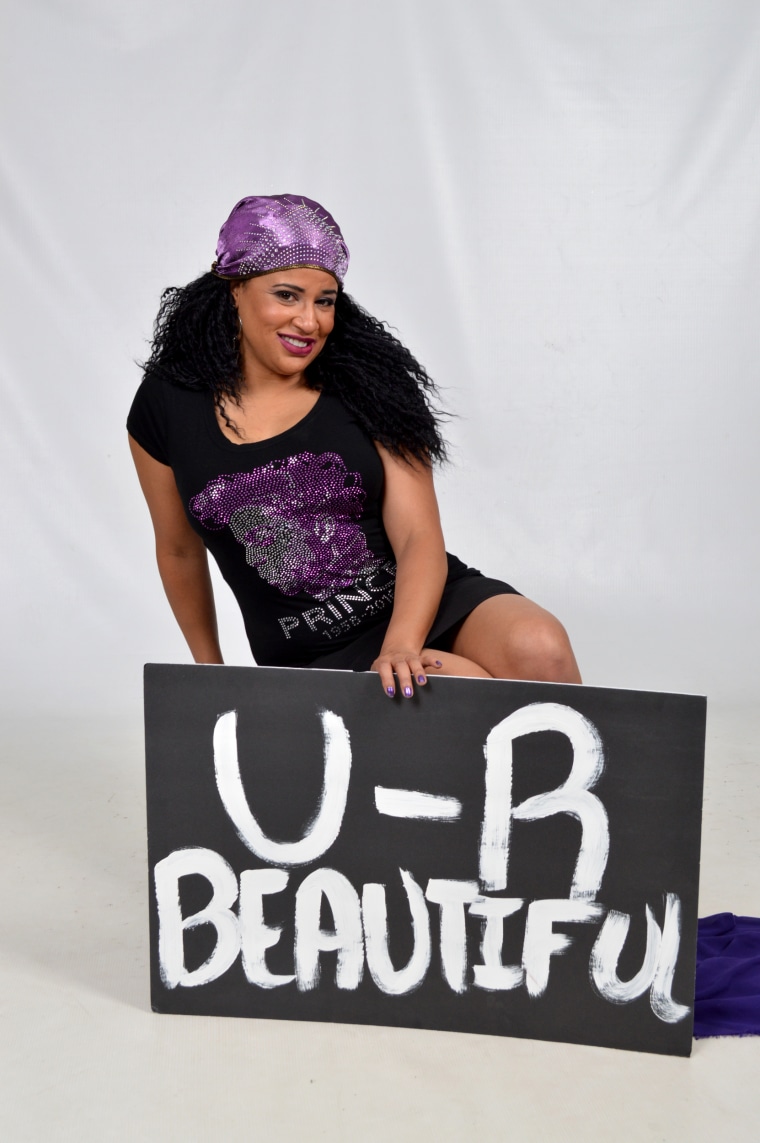 Hot Thing
While the melodious sounds of the Purple One thumped on the tablet, I laughed and giggled my way through a shoot that was more silly than sexy. "When Doves Cry" video crawl. Done. "Sexy M.F." hair toss. Check. No "Raspberry Beret" to be found, but I did pose with a sign that featured what I lovingly refer to as "Prince-speak": it read, "U-R Beautiful."
James and Assyri even rescued me from a "wardrobe malfunction" when the zipper jammed on my gown mid-shoot. Shout out to Tyra Banks - who knew modeling was such hard work?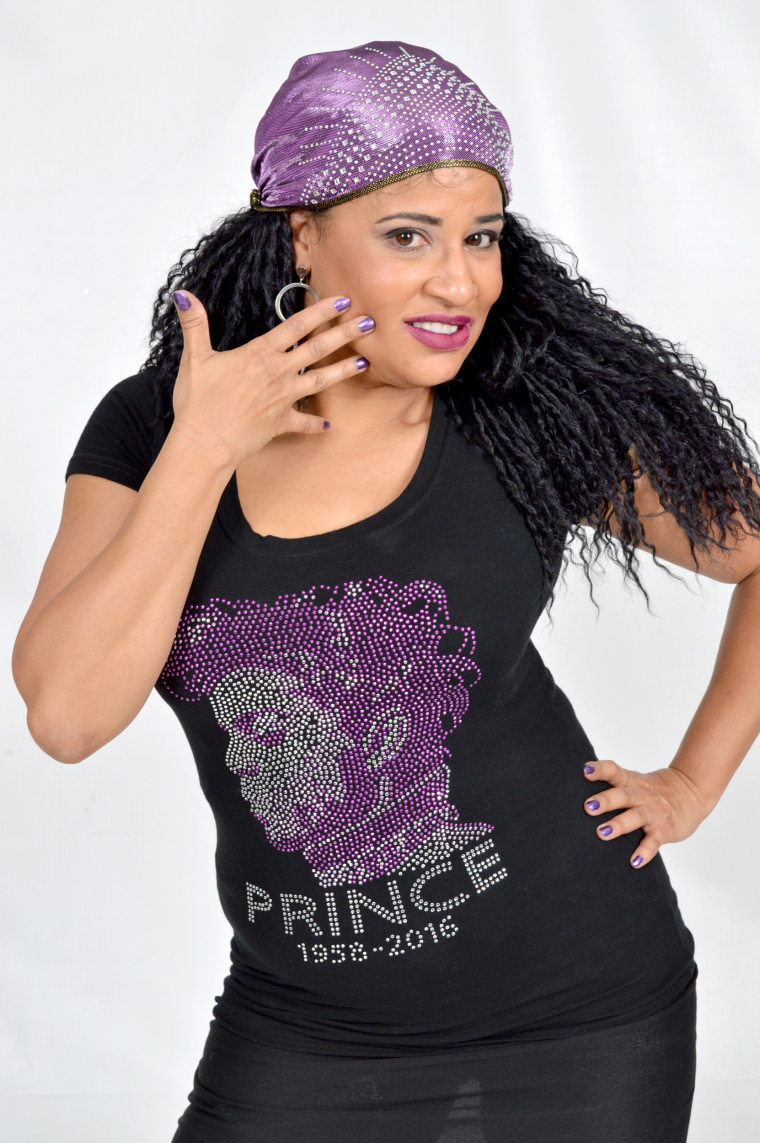 Condition Of The Heart
Overall, this was a fun, cathartic and uplifting way to get through this arduous anniversary, as this tragedy still weighs heavy on my Prince-loving heart. I miss him a lot and a part of me will forever mourn for the songs he never got to write, the videos that won't be made, the concert that will never take place and the intimate memoir he never got to pen.
When the tears well up, I remind myself of all he did share in his abbreviated, but admirable 57 years.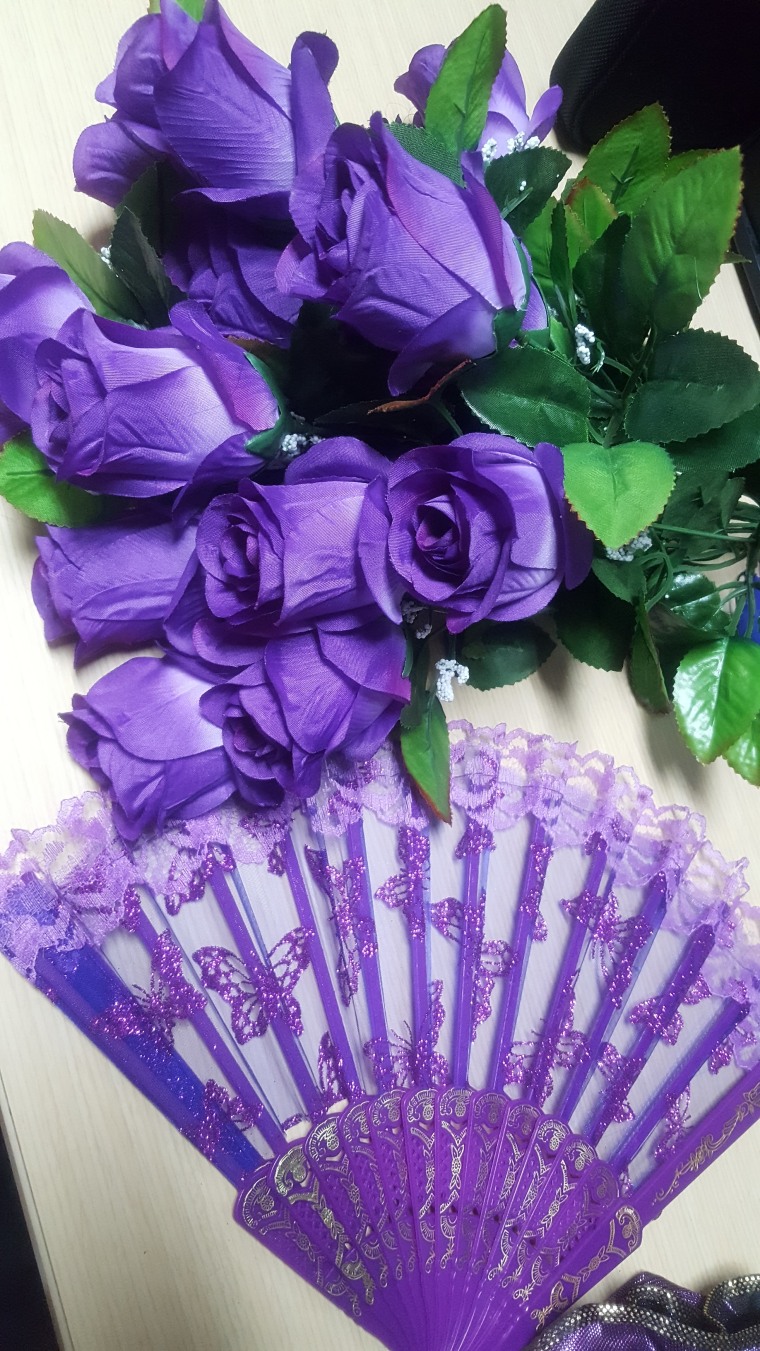 Forever In My Life
Prince was a musical genius, no one can take that away. So now, when his music blasts through my car speakers and my two little fellas scream out, "mommy, is that Prince," I am grateful all over again for the opportunity to share his purple reign with generations to come.
Am I "The Most Beautiful Girl In The World?" Nah, probably not. That would be Mayté. But for one day, I got to be Prince's girlfriend, if only in my mind.