Former rap music icon Irv Gotti has resurfaced and entered the television arena with a new twist on the burgeoning anthology television series trend.
'Tales,' which rolled out this week on BET, is the latest brainchild from the Murder Inc. Records impresario who worked with Jay-Z and DMX in the late 1990s before introducing hit makers Ja Rule and Ashanti to the masses.
The scripted series consists of six different episodes weaving subject matter from classic and popular rap songs — such as N.W.A.'s 'F*** The Police, Meek Mill's 'Cold Hearted' and The Notorious B.I.G.'s 'Story To Tell' — into feature film-styled narratives.
After scoring platinum-plated success in the music business, the audacious auteur said it was time to take his vision to a whole other level.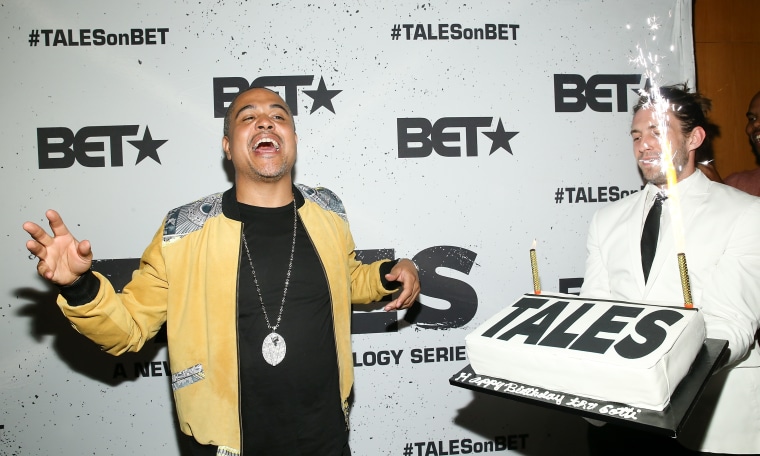 "In all honesty, it came out of a hunger to get in the game, out of a hunger to be successful in the TV landscape, in the film landscape," Gotti, who serves as executive producer, of 'Tales,' told NBCBLK.
During a chart-topping heyday during the late '90s and early '00s, the Hollis Queens, NY native (legally known as Irving Lorenzo) was an in-demand producer of songs by Foxy Brown, Fat Joe, Eve, Jennifer Lopez and Vanessa Carlton among others.
"I said the industry really respects me for what I did musically," he explained. "And when I'm having these meetings with these different [movie] studios and [executives], that's the one thing that they definitely respected was my music."
"So I was at my home and thinking about what to do and I was basically like, 'I need to something with music,'" he continued.
Conceptually, Gotti thought 'Tales' would be a viable vessel for hip hop songs to live on further past their original shelf lives and promotional cycles. "I thought about how to turn them into mini movies or something like that but to also be very descriptive with the song in mind and use it as the catalyst to write the episode basically."
For the first episode of 'Tales,' Gotti literally flipped the script on the controversial subject the seminal N.W.A. anthem tackled involving police brutality in the black community. Using race reversal as a storytelling device, the ubiquitous hot-button issue takes on new meaning where the criminal justice system is run by corrupt blacks that oppress and victimize low-income whites.
He explained his inspiration: "What made me do the race reversal is the simple fact I love this movie called 'A Time To Kill' with Sam Jackson where Matthew McConaughey plays this lawyer and at the end of the movie he depicts a girl, 12 year old girl, who gets beaten and brutally raped and beaten and then he says "Imagine she's white.'"
"It also came behind the concept of 'Hey, how would you like it if that was done to you?' All these things we know doesn't happen to white people," he furthered.
Starring Boris Kodjoe, Clifton Powell, Tyrin Turner and newcomers Parker Sacks, Chet Hanks and Matthew Noszka, 'F*** The Police' revolves around the controversial killing of a young white boy at the hands of two black police officers and a district attorney's struggle to convince one witness to testify in court.
"Making it happen to white people, it makes you feel a little different," Gotti shared. "It hits you differently and hopefully it hits everyone differently and then they will understand that most of what I'm portraying really has happened to black people. Hopefully it hits home and it starts the dialogue and people talking about all of these bad things."
"The unfortunate thing is police brutality is something that is going on and just looks like it's just not stopping," he elaborated. "Every other week you see something that happened or some injustice that happened or someone got acquitted and so it's a ongoing storyline that I hope the episode really brings forth some type of change and we can change these things that's happening."
Though he also has a cameo in the episode (as a no-nonsense judge), Gotti said he gained plenty of experience behind the camera — enough to make a successful leap into full scale directing.
"If you remember with Murder Inc., I shot a lot of music videos that I directed so I had that going for me. It was easy to transition. A lot of music videos that I directed I did with dialogue and stuff," he said. "If you remember Ashanti's 'Foolish,' 'Rain On Me,' 'Baby,' all of those used acting. For years I've been prepping myself for that so I was pretty prepared."
RELATED: The L.A. Riots as Told Through Rap and Hip-Hop
And of his official acting debut, he swore it wasn't intentional.
"I became an actor only by chance," Gotti confessed. "I wanted Ice Cube, Dr. Dre or MC Ren to play the role of the judge. They were busy. They respectfully declined so my son was like, 'Dad, you should play it. It would be hot if you played it." It was only a few lines so I said, "F*** it," and I did it."
Shot entirely in Atlanta, upcoming episodes of 'Tales' will feature a rotating cast of actors including Elise Neal, Jennifer Freeman, MC Lyte, Lil Duval, Lance Gross and 'New Edition Story' stars Woody McClain and Keith Powers. 'Empire' actress Bre-Z and 'Moonlight' actor Jharrel Jerome will also appear.
Filmmakers Benny Boom ('All Eyez On Me'), Jessy Terrero ('Soul Plane') and actress Tasha Smith are slated to direct future episodes of 'Tales,' which will also include storylines based on songs such as Fetty Wap's 'Trap Queen', Jay-Z' s '99 Problems' and the 1980s Slick Rick classic 'Children's Story.'