When the situation in Charlottesville, Va. shifted from tense to violent to fatal during the Rogues' parade of white supremacists, neo-Nazis and other deplorables, photographer Ian Reid says he felt a grave sense of inevitability.
For several months now, Reid, a New York-based freelance photographer, has traveled from city to city chronicling the increasingly violent clashes between the white nationalists protesting the removal of the Confederate Flag and confederate statues from public spaces and the counter-protesters they draw.
Reid has made a name for himself by documenting American counterculture, from music to guns to BDSM. More recently though he has turned his eyes to conflict and struggle at home and abroad. Over the last couple of seasons of unrest in America, Reid has photographed protest and rebellion in response to police violence.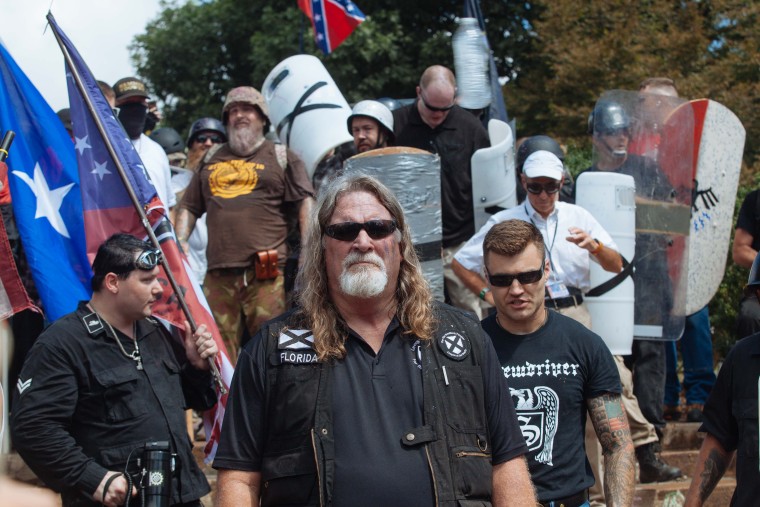 And with the rise of the alt-right and resurgence of more traditional white supremacist and Ku Klux Klan groups in the wake of the flag and statue protests, Reid has found himself at the heart of racial tumult and now violence.
Reid was among just a handful of African-American journalists on the ground in Charlottesville where he witnessed an alleged white supremacist plow into a group of counter-protesters, killing a woman and injuring more than a dozen others. He also witnessed countless beatings, including that of a young black man by a group of presumed racists with sticks and poles, punches and kicks.
Related: 'Is Science Racist?': New Book Takes on Race as Cultural Construct
Reid trained his lens on both sides of the hair-thin skirmish line between the many waving Confederate and Nazi flags and the few who rose to confront them. The images he produced are at once frightening and evocative, an illustration of dangerous times further enflamed by the election of President Donald Trump and his divisive rhetoric.
Reid spoke exclusively with NBCBLK about the hate and rage he witnessed in Charlottesville and being a black photographer documenting the rise of hate and racial violence in America.
---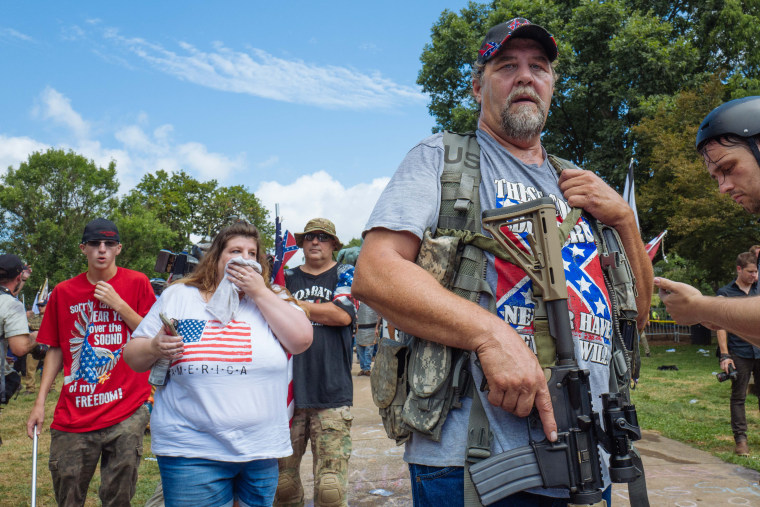 What were you expecting when you first landed in Charlottesville?
I was actually expecting the protesters and the counter protesters to be fenced off and that it would be like a fishbowl type affect, where we would be on the outside looking in at them and not able to get directly to them. That is what I genuinely expected.
Instead of that what'd you actually find?
Oh you would actually just walk directly up to them and walk into the area that they were fenced off into, like there was no real, there was a barricade, but it was open, you could just walk up to 'em an walk in. there was no separation between police and protester/counter protester.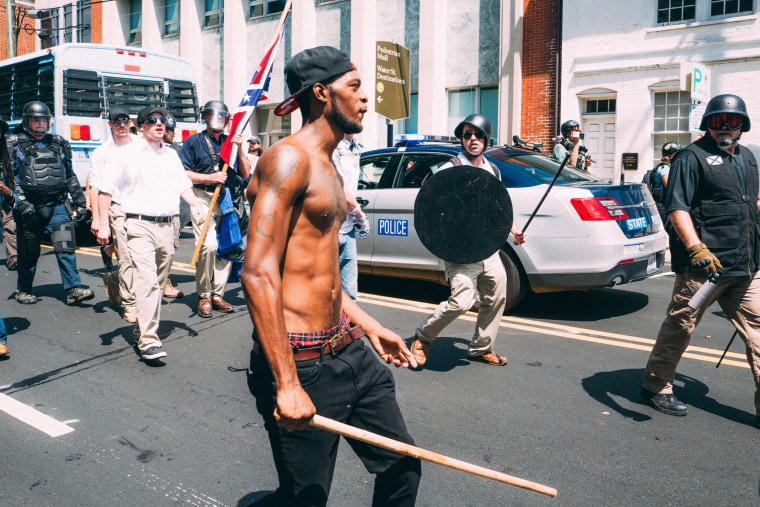 In terms of police, did you see much of a police presence in the beginning and throughout?
Not really. Like, in the very beginning when I first showed up, I got there at about 10:15 in the morning and there were more militia men than police. I could count on both hands the number of actual state police and local police that I saw.
Did that concern you at all?
Uh, no. It didn't, my level of concern wasn't really with that. I wasn't thinking about it at that time. But in hindsight yeah, it should've concerned me.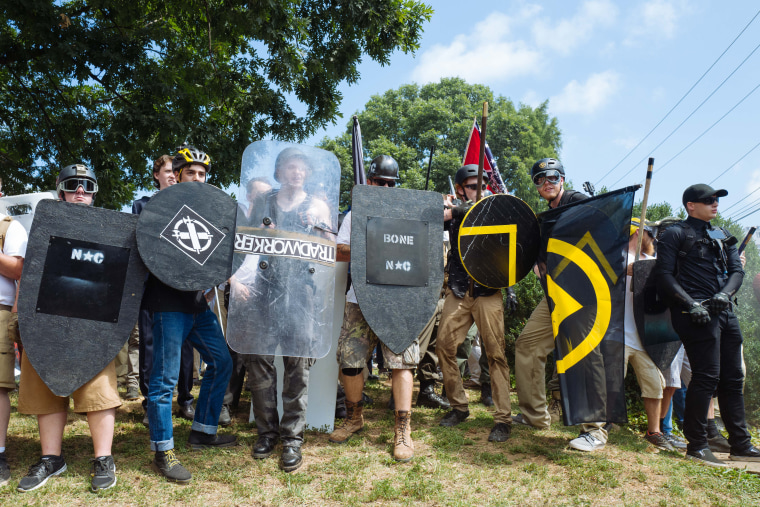 So from the ground, could you tell the difference between say the white supremacist, the Nazi, the Klan? Could you differentiate between the different groups? And some of the counter protesters?
Some Klansmen had on a shirt with Klan emblems on it but for the most part there was no real way to tell them apart. The neo-Nazis had you know the typical neo Nazi wear and if you're familiar with the way they dress then you're able to spot it. But there was a few other groups there which I didn't recognize and they were just all together—it was pretty difficult to tell who was who.
And so being one of, what I would assume to be one of the few black journalists on the ground among a crowd of white supremacist and Klan members, did you ever feel your own safety was in danger?
No, not really. I mean the danger that I saw and felt was mainly from people throwing things and things being thrown back and forth between the two parties.
Like there was a period where the fighting had first started, where they were throwing bottles of water and these bottles filled with a blue substance and they started to throw umbrellas and these metal newspaper holders. That was the only danger I actually felt. Fear of getting hit by one of those things.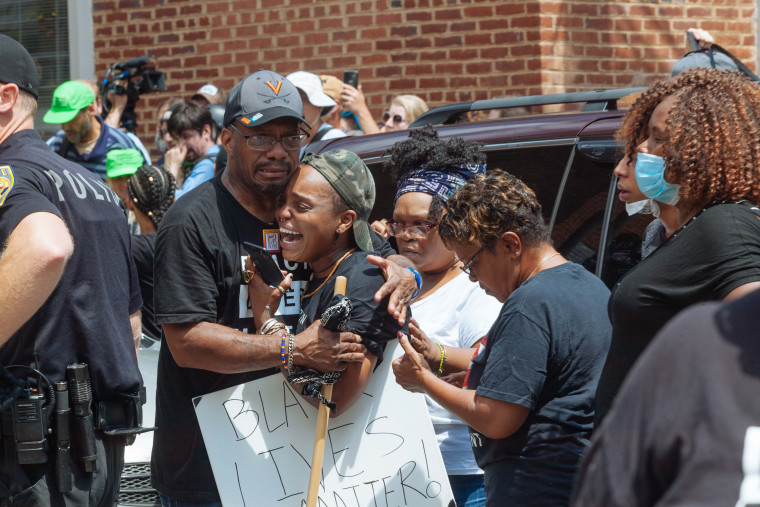 What was the most shocking thing that you saw as the scene devolved into intense violence?
There were a few things that shocked me. The beating of a young black man in a parking garage by Klansmen, white supremacists, protesters, whatever you want to call them.
And the sheer number of Klansmen and alt right members and NSM, neo-Nazis. Like, the number of them is what shocked me and the fact that they were largely unmasked and didn't really care about hiding their identities was the most shocking thing to me.
Like they were just out in the open about it, like they no longer cared and they were saying that they were here to live up to what President Trump had started and bestowed upon them.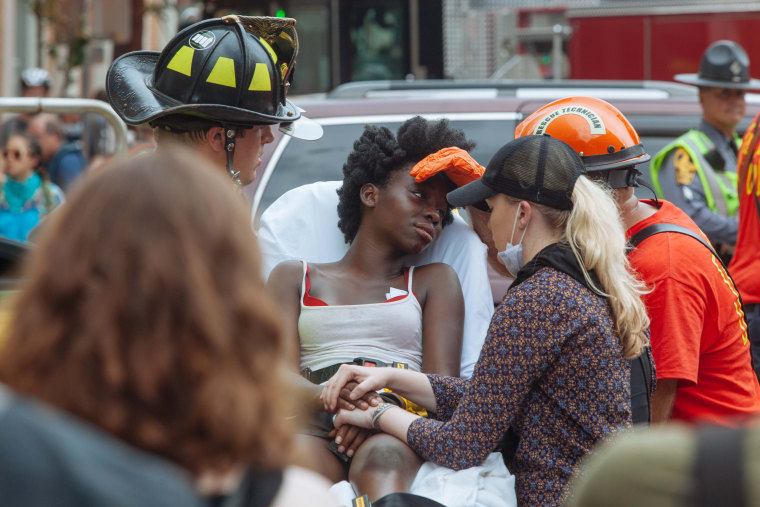 Were you near the scene of the car crash that ended up killing that young woman, Heather Heyer? What happened and what did you see?
I was walking down the block and there was a group of protesters walking towards us. And they stopped at an intersection and in the intersection there was usual traffic that was moving through and there were about three cars stopped at the light and they were chanting stuff.
I don't remember what they were chanting, and then they decided to make a left turn and walk up this street and when they made the left turn that's when the dude in the charger just came down the hill and ran into the back of the car and I heard it and I looked over and I remember I just started to take photos as the car was going through the people.
You hear people yelling like "Ah!" and some of my photos you see a woman on the hood and you see the charger and then you start to see people attack the charger and he just threw it in reverse and backed up. Then there was like a state of disbelief, people weren't really sure that that is what happened and they were like standing there, perplexed and not knowing what just happened.
Once they realized what happened everyone rushed to help the people who were hurt. There was a lot of people just like laying on the floor, it looked like, like dominos almost.
And people had rushed over to give medical attention to those who needed it. There were a lot of people with open wounds. Just a lot of blood all over the ground, it was a very sad time.
Did you get the sense that the escalation of violence was inevitable?
You could tell it was inevitable just by the way the police behaved. There was no separation between police and protester and counter protester. I've been to a few of these hate speech/hate group rallies and usually there's a huge, huge separation between both parties by the police. And in this case there was no separation.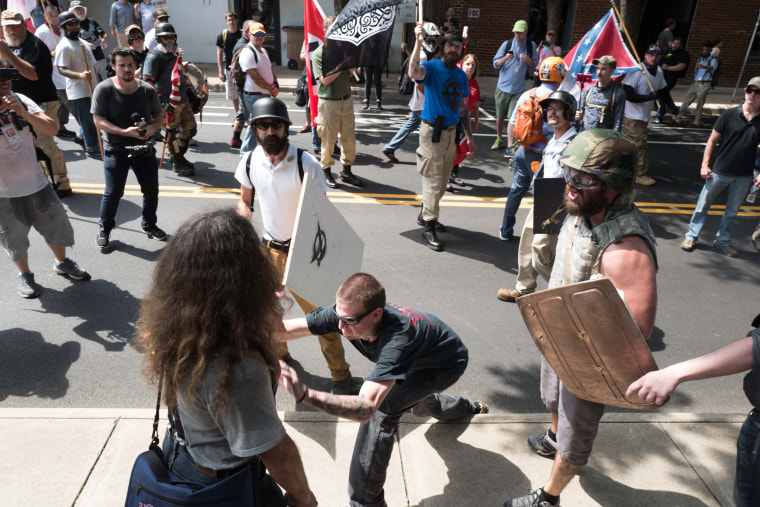 Is there one photo that you made in Charlottesville that stands out to you?
There's about three that are just etched into my head. Two are acts of aggression and one is just an act of compassion. They're just etched in my head because I was right there when it all happened.
One of the photos is of a neo-Nazi man ripping a sign out of a protesters hand and snapping it in half on his knee and then throwing it on the floor and then turning around and walking off. But there's one photo in particular where his arms are extended and you can see the SS tattoos on his hand and the swastikas on his other hand and grabbing a protester's sign.
Another photo is of one of the injured women on the ground. She has a large gash in her leg and she's breathing heavily. And there's a woman sitting on the ground in front of her screaming and crying. That image is definitely etched into my head because of the pain and the suffering that was inflicted, the carnage.
The other photo is a photo of the young black man in the parking garage and in my photograph there appears to be a man holding a flag pole above him as if he is going to stab him with it. It was just traumatic to see that unfold.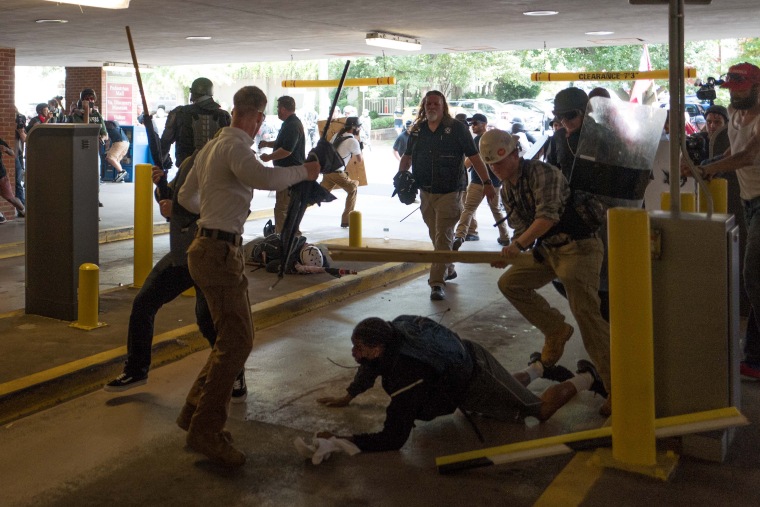 In the past, much of your work has been focused on documenting the counter culture and musicians. What has drawn you to the more hot button political issues and covering some of this white supremacist backlash. And what have you learned since?
Well, it is our American history and I do enjoy history. Sometimes I wonder about the civil rights era and what it would've been like to be alive during those times. And it's almost like we're reliving those times because there's still a lot of oppression and there's definitely a lot of racism that goes on.
I'm drawn to it because it shows the true emotion of some people and true hatred as opposed to some of the other things that I create with my work, which I like to say is a fantasyland, they're not really real.
What do you think it says about America in 2017?
I don't know. America in 2017, there's a lot to be said and a lot that is still unsaid from so many groups of people who live and work in America. Everyone, from the oppressed voices of the black people, the Spanish people, the lesbian, gay and trans community to the homeless community to the mentally ill.
The white nationalists, there's so many voices that have problems. And it seems as if America focuses on the wrong issues to take action against when we should just focus on some of the problems that all these groups have within America. But anyway, yeah, it just seems really tragic that America is spiraling out the way that it is.