From winning the National Junior Pentathlon championships four years in a row, while at East St. Louis Senior High School to becoming the first woman to earn more than 7,000 points in the heptathlon, Jackie Joyner-Kersee has come to be known as one of the greatest athletes of all time — but what she has done off the track continues to be her true legacy.
At the age of 19 and on a full basketball scholarship at the University of California, Los Angeles, Joyner fixed her attention on training for the Olympics and sprinted through the history books.
Joyner made her professional debut at the 1984 Summer Olympics winning silver in the heptathlon, an event comprised of seven different events. In 1988 she became the first American woman to earn a gold medal in long jump as well as the heptathlon. Throughout her career Joyner was able to win three gold, one silver and two bronze Olympic medals. Before her mentee, Allyson Felix won three medals in Rio this summer to break their tie, she was known as the most decorated woman in U.S. track and field history.
After retiring from track and field at the age of 38, Joyner took it back home to the city that helped her grow. She founded the Jackie Joyner-Kersee Youth Center Foundation which is based in East St. Louis, Ill. According to their website their mission "is to instill youth in the Greater East St. Louis area with the dream, drive and determination necessary to succeed in academics, athletics and leadership.
She is currently serving as the national spokeswoman for Comcast's Internet Essentials program, a program that helps low-income families receive discounted internet services.
NBCBLK Contributor Sedria Thomas caught up with Jackie Joyner-Kersee for a discussion about her Olympic career, the Joyner Foundation and the 2016 Summer Olympics in Rio.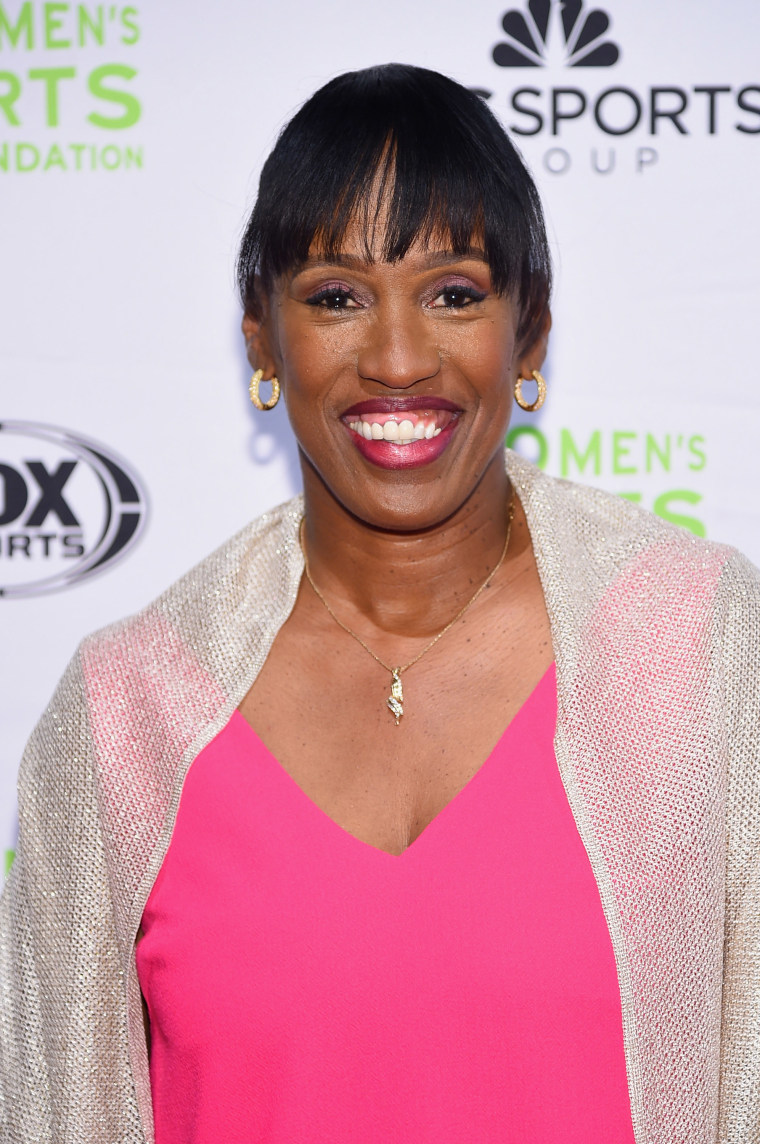 NBCBLK: Being a former Olympian, can you tell us what it feels like to represent your country and how has it affected your life till this day?
Jackie: Yes, it is one thing to dream about trying to make an Olympic team and actually working hard to see it become a reality; it's just a great feeling. And then to be able to go to the Olympic Games and to compete at that level. Also the pinnacle for me was being able to win and stand on the top podium. And it's just not only a great feeling for me but I also keep in mind of all the people who helped me to get there and how proud I hope they are that we were able to do it together.
Black women really dominated the games this year from Simone Biles to the women who swept the 100-meter hurdles. How do you actually feel about black women being in the Olympics and their role that they are playing today?
I think it's great when you see women, and the same for men, who looks like you competing at that level and doing extremely well.
I'm so honored that the women who came before us, Wilma Rudolph, Wyomia Tyus, Willie White, just to name a few, Evelyn Ashford, and Flo Hyman but then instead of it just being one, it was two or three you saw across the board. It was great seeing three women from the U.S.A. go 1-2-3 in the women's 100-meter hurdle. That was just a phenomenal night for Brianna Rollins, Nia Ali, and Kristi Castlin. It was just really great.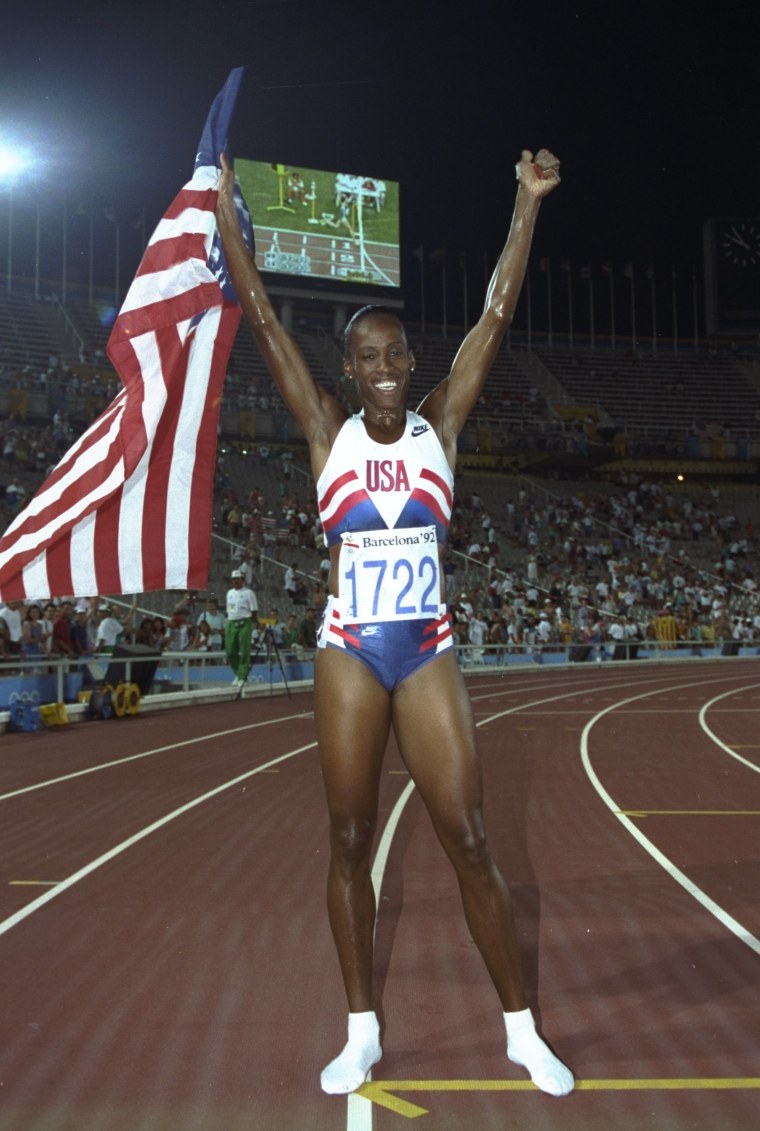 You say your parents have been your role models from the beginning? Who actually inspired you to go on your track journey?
Well my dad who was instrumental in athletes. And my mother, she really didn't quite understand but she wanted me to get an education. It's like, okay you can get a job, but someone like Wilma Rudolph is someone who I really admired and had an opportunity to meet her. She took time to spend with me and I thought that as I continue on my journey how could I do that for young ladies who look up to me?
RELATED: American Hustle: Meet The Roots' Barber Faheem Alexander
That's why I have a great relationship with Allyson [Felix] and some of the other girls across the board. I try to give them my time when they might not think you have the time or you're not going to answer their call. If I give you my number I gave you my number for a reason; I'm going to answer your call.
You've been giving back to your community with the Jackie Joyner-Kersee Foundation for more than two decades. Why do you believe it is important for athletes of color — or specifically black women —to give back to their communities and speak up about social injustice?
I think that for me that's how I was raised and a lot of people paved the way for me. And how can I return or give them a return on their time; it's for me to do the same. Finding the time to spend in the community to help out to volunteer because someone volunteered when I didn't even know what the word volunteer meant when I was a little girl but they were always there. Being in that position has allowed me to do the same.
As the national spokeswoman for Comcast's Internet Essentials program, what is your role and why did you sign your name on this effort?
I think what Comcast is doing and being the national spokeswoman for the Comcast's Internet Essentials is crucial. We talk about having a level playing field and having access to the internet allows young people today to still be able to do what they have to do, their homework or just a family member looking for a place to go or not having a place to go but having the internet in the home and maybe they can fill out different applications.
You could see this really bridging this gap of the digital divide.
After you retired what actually inspired you to do work outside of track, say in your community, with your foundation?
I came through a community center when I was younger and it made a difference in my life.
When I lost my mom when I was a freshman in college I went to that community center and that center was closed and I was thinking about where do the young people go? That inspired me because that had an impact on my life and I wanted the people in our community to experience or feel what I felt in hopes of making them to believe in their dreams and work hard to see their dreams become a reality.
RELATED: Beyond Reading Skills: Helping Black Children Identify as Readers
Do you believe it is important for people of color who make it out to go back home and contribute? Also do you think enough of us are doing this?
I've always been a believer in you can't forget where you came from and it is important to recognize that foundation that you built, built upon.That's one thing to build something and walk away from it but it's another to stick with it and see it through.
That was my choice to come back and go back in my community because that was something I wanted to do. I was motivated and inspired to do it and for many reasons from the same point of when I grew up all I hear is once people made it that they didn't want to say where they were from the area. How can we empower a generation of young people to go and experience the world but then find a way to come back? It's your choice if you decide not to do that but please come back and share what you know or what you learned.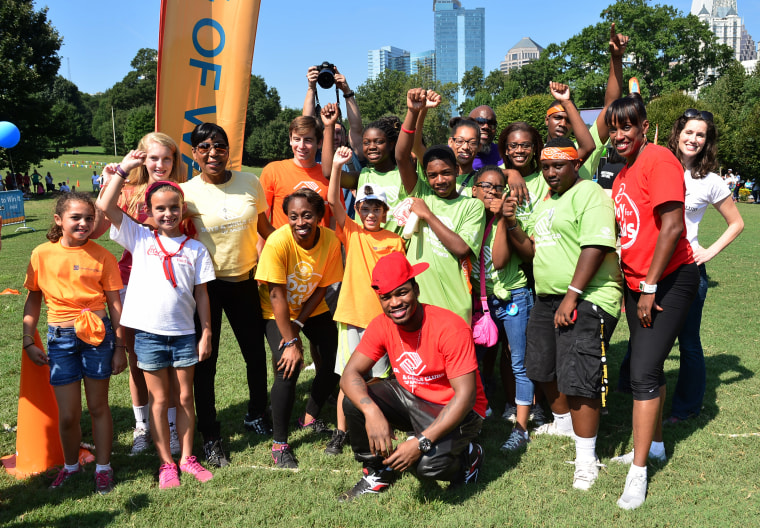 With your foundation are there any future plans?
We have a great partnership with Head Start and just built a 22,000 square feet, eight classroom center. It's always inspiring to be with young people so the work goes on October 27, we have our annual fundraising gala, it's one of our big fundraisers that we do, which will be in St. Louis at the Four Seasons.
Anything else you would like to inform us on about the Olympics, your foundation, or Comcast?
What Comcast is doing with Internet Essentials is truly changing lives and impacting lives from the standpoint of empowering people and bringing awareness to those who don't even know about the internet. We think that might be unusual but a lot of people that are afraid of because they think something bad might happen but it is valuable. Access, access is everything!