On April 15, 1947, Jackie Robinson stepped onto Ebbets Field in Brooklyn as the first African American player in Major League Baseball. He broke the color barrier and began to transform the face of sports.
But filmmaker Ken Burns is on a mission to show that Robinson is far more than an athlete, and Robinson's story begins long before and extends far after that day in 1947.
"Jackie Robinson," a new two-part, four-hour documentary produced and directed by Ken Burns, David McMahon and Sarah Burns, goes beyond the story most know and brings viewers something more. Robinson's accomplishments on the field are well-documented; it's his work as an activist, executive, writer and father that the filmmakers strive to bring to life.
In honor of Jackie Robinson Day, Ken Burns spoke to NBCBLK managing editor Amber Payne about his upcoming documentary, airing April 11 and April 12 on PBS, and how Jackie Robinson's legacy lives on today.
Much has been said and written about Jackie Robinson from the written page to biopics. What were you hoping to do differently and how did you approach it a new way?
I think that Jackie Robinson is obviously one of the most important people in American history. He's obviously the most important person in the history of baseball and probably in the history of American sports. But I think what's happened and inevitably happens to even the most famous of people is they get smothered in mythology. They get smothered in myth. They get smothered in sentimentality. And the real Jackie Robinson is much more dynamic, much more interesting and resembles a human being - not like a statue in the park, collecting pigeon you-know-what.
What David McMahon, Sarah Burns and I - we were the co-producers and co-directors - wanted to do was to get at who he really was. Most of the biopics, focus just on the year 1947. We begin at his birth in 1919 in rural Cairo Georgia, Jim Crow America, where lynchings are common, all the way to his move to Pasadena and his childhood and where he encountered a different kind of Jim Crow to his schooling and early athletics success, his marriage to Rachel.
This film is in many ways a love story, and it's a multigenerational portrait of an African American family which you don't get that often. We also never sort of focus on his post-baseball career. Jackie Robinson - When he [Jackie Robinson] walked out to play first base in Ebbets Field in 1947, Martin Luther King was a junior at Morehouse College.
Nobody had organized a sit-in at a lunch counter. Harry Truman hadn't integrated the military. There was no Brown v. Board of Education. Rosa Parks - she was a decade away from refusing to give up her seat on the Montgomery bus. So you realize that Jackie Robinson is, as Dr. King said, a sit-inner before sit-ins and a freedom rider before freedom rides. And that becomes a different sort of story - a more important one - so Jackie resonates with today.
We're talking about the Confederate flag? There's a scene in our film about the Confederate flag. We're talking about driving while black, stop and frisk? That's happening here. Black Lives Matter is essentially Jackie's message from the very, very beginning. So there is a deep resonance to Jackie's life that if we only let that light shine and not just keep it at this simplistic, sort of children's book level, we'd have a real hero to hang on to, particularly for the African American community in these tough times.
That's a good point about the Black Lives Matter movement. What can the Black Lives Matter movement perhaps take from his example?
I think the message of Jackie Robinson is to don't just talk the talk, but walk the walk, and that's what Jackie did. He had it made. He was an African American in the upper, upper echelons of not only income and class but of notoriety and celebrity, and we see that in our own culture, but very few people are willing to risk that celebrity, willing to risk that notoriety, to help bring everyone else along.
RELATED: DeRay Mckesson on Mayoral Race and Future of Black Lives Matter
We've had a traditional of The Talented Tenth in the African American community for decades, but not that many people follow it. So Jackie's example is saying that 'Yeah, you think I've got it made, but I don't have it made unless every African American has it made.' And that's a message that resonates today for everyone. I think that when movements happen, there's a kind of sort of focus on the uniqueness of this moment. But there's a complete correspondence with what Jackie was going through and with what's happening now.
That's why our interview with the president and First Lady is so remarkable. I mean here you have Jackie Robinson and his widow, Rachel, hurdling through space and time. You have the president and First Lady...yet they're saying the same things. We needed to make our home a refuge. The president says to us, 'It's nice that people are questioning your position. It's nice to go home to someone who loves you and has your back.' So you're beginning to see developing themes, so I think the story of Jackie Robinson can not only be inspiring, it can give sort of help - the battle is not yet won, and it's going to require everybody - even those who have made it to look back and to reach back with their hands and full forward those who have not.
What is the biggest misconception you think people have about Jackie Robinson?
I think the biggest one is that we always try to give agency to everybody else in the story. Branch Rickey, the white general manager of the Dodgers, did have good conscience and also good business senses that he was going to bring up African American players. But this is not like Michelangelo's painting of Branch Rickey being God, reaching down with his finger his lone son who comes up and for two or three years turns the other cheek against the assaults that he would get. Rickey was planning to bring up several players. In fact, the pressure to integrate didn't come from him, it came from the African American press and the left wing press, including the Communist party were not allowed to talk to them in their newspapers or The Daily Worker, the American Communist party. In fact, when Branch Rickey reached out to Jackie, it was sort of in desperation because he was worried that the moment he hoped to own was going to be stolen.
Then there's the very famous scene, repeated in all sorts of children's book, the statute outside the stadium in Cincinnati that Pee Wee Reese in that first year - that was the shortstop for the Dodgers - when Jackie was getting horrendous abuse, walked over and put his arm around Jackie. That never happened! And it's sort of for white people to feel like - no pun intended - they want some skin in the game. They want to show that they would do the right thing. But in fact, there's no mention of it in Jackie's autobiography. There's no mention of it in the white press, and more importantly, there's no mention of it in the black press which would have run 12 or 15 stories about this extraordinary gesture. It may have happened years later and migrated back and even Rachel Robinson, her 93-year-old widow, said, "When they were building the statue, I wanted them to use a different image," - one which we found of Jackie and Pee Wee coming off the field and momentarily, their hands touch, and there's a black hand and a white hand for one fragmentary moment - together, in unison, which is what's the story about.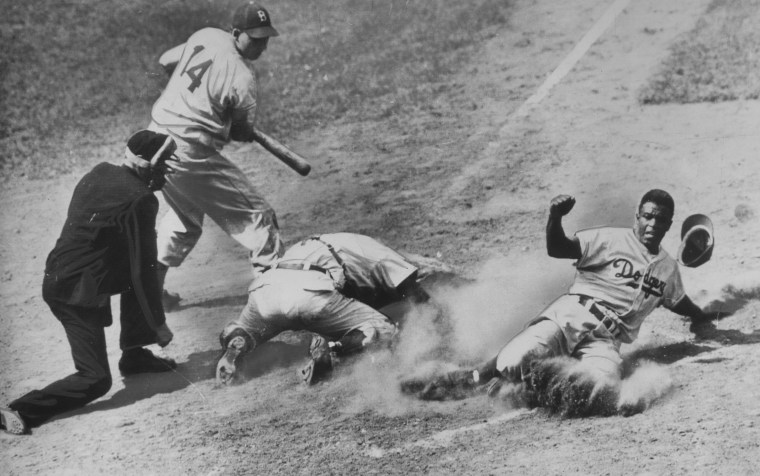 And so what happens is we take away from Jackie. We make him Christ-like, oh, he turned the other cheek, but we don't look at how competitive, how feisty, how unsatisfied he was at every moment - how difficult it was for him, particularly, to turn the other cheek. And that to me makes a much more interesting story and when you see it, then you feel like oh, this is a real human being.
RELATED: Fly Girls: One of The First Black Flight Attendants Tells All
This isn't just some cutout, cardboard figure from the past that I have no connection with. There he is, in a complicated relationship with a woman. There he is, with his own family. There he is, with parents and a grandchild. There he is, in the Civil Rights movement. There he is, as an African American who is a Republican, initially supporting Richard Nixon and then later supporting Nelson Rockefeller, a moderate Republican, and always being disappointed and ending up voting for John Kennedy in 1960 and Lyndon Johnson in 1964, so you've got all the dynamics of this shift - of the African American community away from the Republican party, which was the party of Lincoln, to the Democratic party, which used to be the party of Jim Crow. So it's a very complicated dynamic and we can see that whole shift in the story of Jackie Robinson.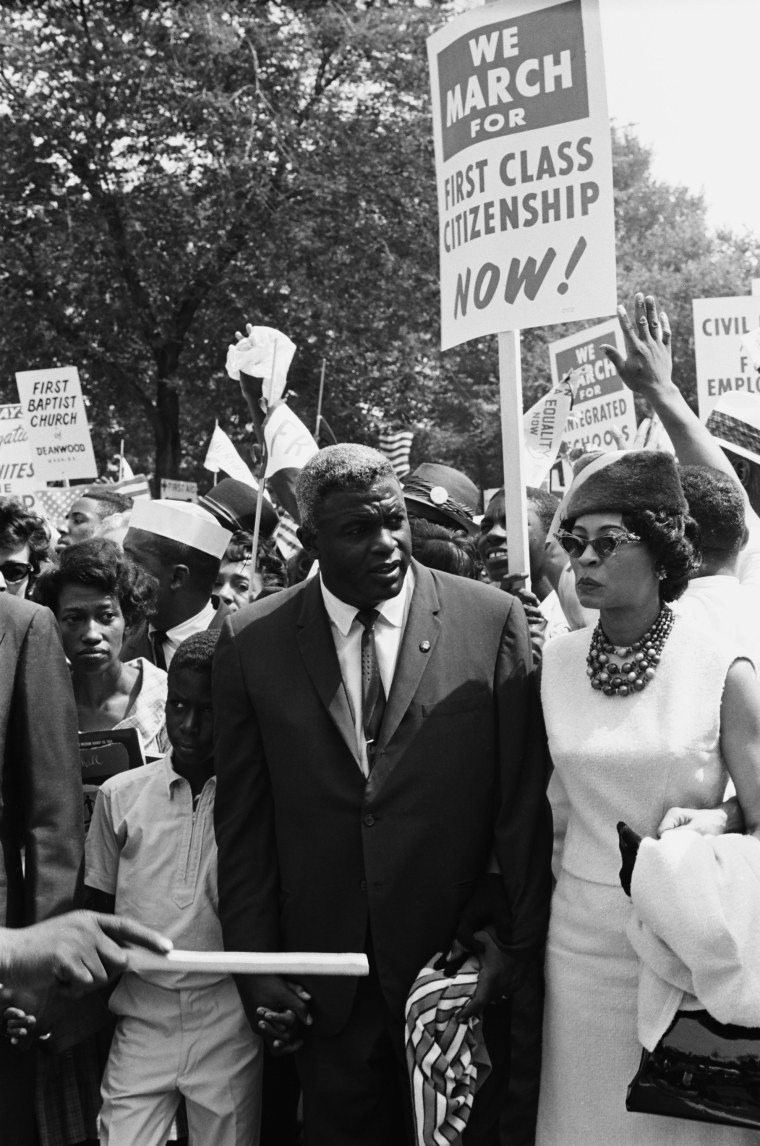 Is there anything else about his relationship with the black community that might be surprising? I would think the black community would think he's a hero.
Well, he was most definitely a hero. And what he did by walking the walk as well as talking the talk is every day after he began this experiment to become the first African American in the modern age to integrate Major League Baseball, he made it his mission to get out and improve the lives of African Americans everywhere. So whenever he could, he was speaking out.
When he was retired, he would travel down south. Black churches were burned in Georgia and he was there, in the smoldering ruins, talking about rebuilding them. He went to Albany, Georgia and supported the Albany movement which was beginning to tire and flag. He went to Montgomery. He went anywhere Dr. King and other leaders had sent him, and he came back to his Connecticut home and would hold jazz concerts with some of the great luminaries, and donate the proceeds - all the musicians played for free. Jackie and Rachel organized it, and they would donate all of the money to African American causes, so I don't think there was a day from 1945 on, if not from his birth in 1919, when Jackie Robinson wasn't working for the people. And that - you cannot say about everybody. And that's what makes his story so important to hear again.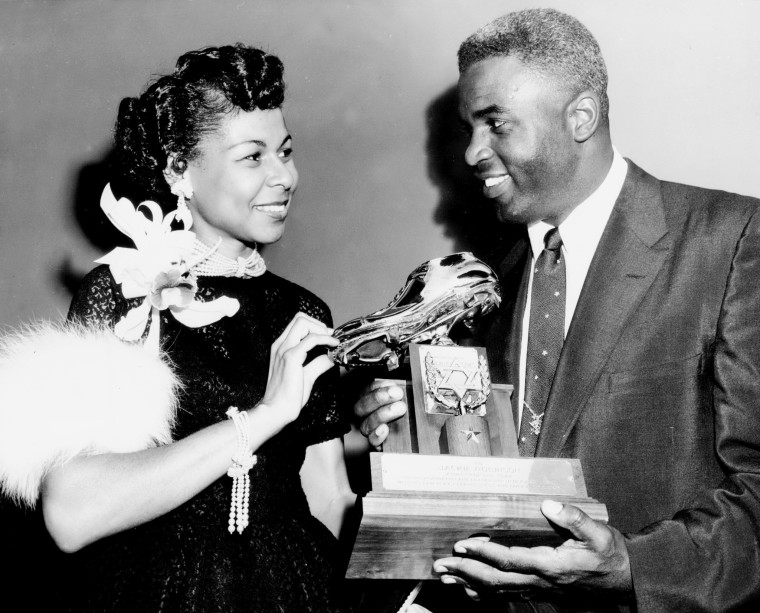 The Philadelphia City Council apologized to Jackie Robinson and will recognize April 15 as a day to pay tribute to his lasting influence.
As they should!
Yeah - I mean, is it too little, too late?
No, no, no. We are always, as Dr. King said, the possibility of redemption is always right now. Then in fact, Ben Chapman, who was the racist manager of the Phillies came to Ebbets Field and gave Jackie unbelievable abuse and then several days later, when the Dodgers were visiting Philadelphia, the head of the Phillies called up and said, "Don't bring that nigger. We're not ready for it." This is the City of Brotherly Love, and the abuse was terrible, but the media got on it, and it may be that Chapman was going to lose his job, and Jackie went over and had his photograph taken, shaking hands with him and saved Chapman's job. So you begin to realize that there is a model of behavior. You don't have a presidential candidate who takes a couple of days to decide whether he's going to repudiate David Duke and white supremacy and the Klu Klux Klan. You can actually bring our better angels, our better selves to the table, and that's what Jackie did. So no - I think it's perfectly appropriate for Philadelphia to wake up. Any time you wake up and get better, that's fantastic.
Our own religious traditions tell us that you have to accept the sinner. What you don't want to stand for is the person whose anger or guilt or whatever perpetuates those old, racist assumptions that it's better to judge a person based on the color of their skin rather than the content of their character. And of course, I've reversed Dr. King's famous saying. Too many people, still do that.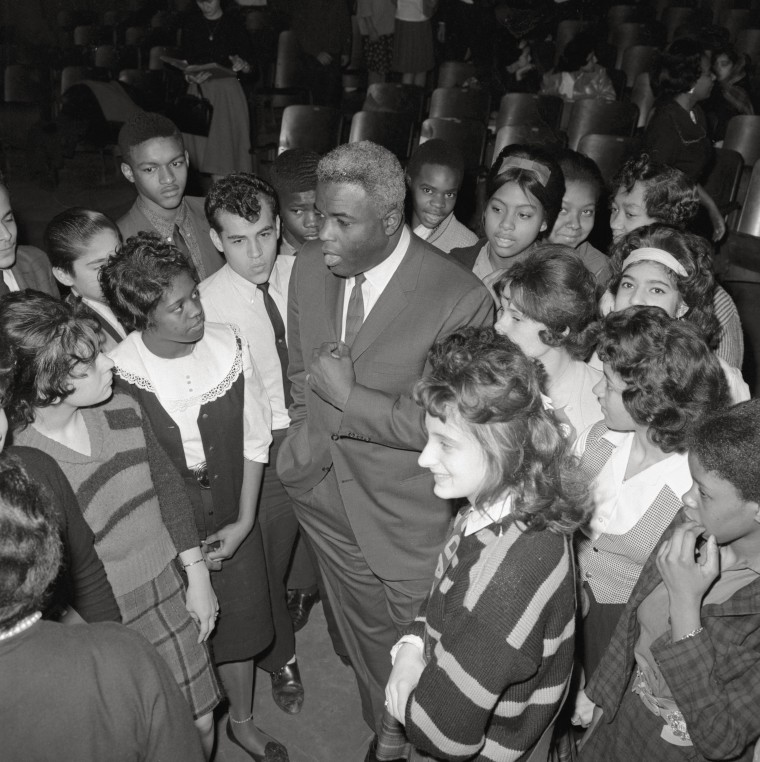 Good point. Finally, very quickly, there's been a steep decline in African American baseball players. Why do you think that is?
Not a problem, not a problem. They dominated it. I mean people say the Golden Age was in the '20s and the '30s. Not so. How could you say when you're keeping some of the best players? My favorite statistic in baseball is years after Jackie's arrival, when the national league begrudgingly and maybe one or two African Americans per team; nevertheless, African Americans won the MVP in the national league nine out of 11 years. Which tells you what baseball was missing. But now, you look and 70-75 percent of the NFL is African American; 85-95 percent of the NBA is African American.
There are more opportunities than in the time Jackie came up. Those other sports were barely in existence. There was college football, which he excelled at. There was boxing, which was in great disrepute and there had been two champions - Jack Johnson and Joe Louis - but that wasn't considered the people's game. It wasn't considered the national pastime. So I don't look on it as bad news. In fact, there's a lot of work and Major League Baseball is committed to correcting this - that when it made the very conscious decision in the late '50s and the '60s to move to the suburbs, they were saying hint hint, away from black people. So that might have made baseball less attractive but eventually baseball's trying to do that. And the numbers are actually up from the low several years ago. I'm not worried about that, I'm thrilled that African Americans dominate. Now there are African Americans in hockey and soccer. So this is a good story, and you do want to see more black faces in the stands, watching baseball, but that's something that we and Major League Baseball are attempting to do.