James Dixon pleaded guilty to manslaughter this morning for the death of Islan Nettles, a black transgender woman in Harlem. The announcement came early Monday, soon before jury selection was due to begin.
Manhattan District Attorney Cyrus R. Vance, Jr. said in a press release that the conviction affirms his office's "commitment to protecting members of the LGBTQ community." Vance said he hoped it offered some comfort to the friends and family of Islan Nettles, who was 21 at the time of the attack.
"With this conviction, James Dixon has finally been brought to justice for this brutal and lethal assault," said Manhattan District Attorney Cyrus R. Vance, Jr. in a statement. "Members of the transgender community are far too often the targets of violent crime."
For Jennifer Louise Lopez, a Latina transgender woman, the news of Dixon's plea was bittersweet. She said, on one hand, it meant there was no longer a chance he could get away with what he had done. On the other, Lopez felt confident that had the case gone to trial, there was a chance Dixon might have been sentenced to the maximum 25 years.
Although the District Attorney's Office initially recommended 17 years for the plea, Manhattan Supreme Court Justice Robert Stolz, who previously presided over the case, reduced the offer to 12. That is the amount Dixon will now face for accepting the deal. The sentencing is expected to take place on April 19.
Despite efforts on the part of Norman Williams, Dixon's attorney, to block a videotaped confession from being watched by the press and public during the pretrial hearing, Manhattan Supreme Court Justice Daniel P. Conviser chose to play it in court on Friday. The statement, over an hour long, was ruled admissible by Conviser to be used as evidence during the trial.
Lopez believes this was what clinched the decision for Dixon.
"Watching that video, he was able to see clearly what he told the police," Lopez said. Lopez said Dixon left partway through viewing the video in court.
In both the video and two written statements read in court on Thursday, Dixon admitted to punching Nettles so she fell and hit her head on the pavement. Nettles was brought to the hospital and was taken off life support less than a week later.
RELATED: As Trial Begins, Advocates Rally For Slain Transgender Woman
Cecilia Gentili, a Latina transgender woman who works as a trans health program coordinator at the Apicha Community Health Center, said justice has not been fully served. Gentili believes Dixon's actions should have been prosecuted as a hate crime. Still, even if there is a long way to go, Gentili said it's a good beginning for the District Attorney's Office.
"This sends a message that these crimes won't keep going unpunished as they were in the past," Gentili said.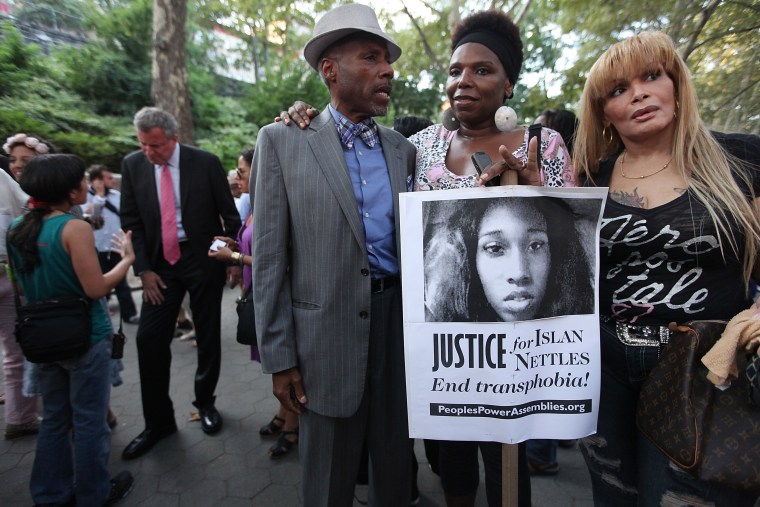 Over a dozen transgender women and advocates came to the courthouse during the pretrial hearing in support of Islan Nettles. Although Lopez said it was clear that the LGBT community's presence in the courtroom had an impact on the proceedings, she still thinks there needs to be more community involvement.
When Nettles died, hundreds came out to protest. Lopez said those numbers dwindled when it came to the courtroom.
"There needs to be more community involvement, especially when people are going to court," Lopez said. "We need to all rally around, not just when it happens."