Shawn "Jay Z" Carter came to the Sundance Film Festival — not with his wife Beyonce on his arm, but Harvey Weinstein.
The entertainment moguls set off a frenzy as they appeared on an arrival line in Park City, Utah Wednesday for the world premiere of "TIME: The Kalief Browder Story," a six-part documentary series about the African-American teenager who spent three years locked up in New York's Rikers Island jail despite never being convicted of a crime or even getting a trial.
RELATED: Jay Z and Spike TV Produce Kalief Browder Docuseries
Browder committed suicide in 2015, two years after the case — which centered on allegations of a stolen backpack — was thrown out and he was released from Rikers. His family blamed his mental anguish on the harsh treatment he endured at the jail, including two years spent in solitary confinement.
"What was done to him was a huge injustice," Jay Z told reporters on the arrival line. "People see his story and realize like, 'Man, this is going on.' This is not like one case that happened. This is happening a lot to people especially places where I come from… in the Bronx and Brooklyn and all these places."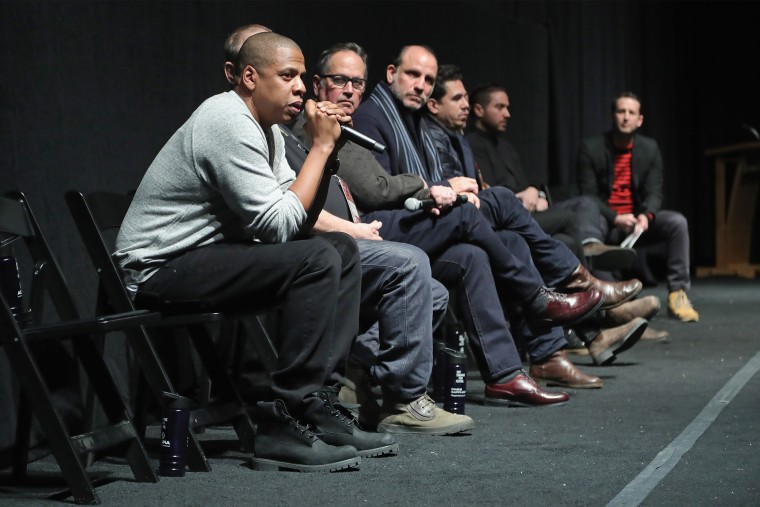 Jay Z and Weinstein serve as two of the executive producers of the series, which will air on the Spike TV channel beginning March 1st. "I believe this young man, his story, will save a lot of lives," Jay Z said. "It's very important."
Jay Z has called Browder a "modern-day prophet" for the impact of his story and the moving way Browder spoke publicly about his ordeal. The rapper and producer emphasized that again on Wednesday.
"We've seen prophets come in many shapes and forms and we've seen that sometimes tragedy happens by prophets," Jay Z said.
"I believe this young man, his story, will save a lot of lives."— Jay Z
Actor Nick Sandow, a star of the prison drama "Orange Is the New Black," is another of the series' executive producers. He told NBCBLK that Jay Z's participation in the project took it to another level of exposure.
"We knew the possibilities were huge, to make it six parts. And as soon as Jay got involved it went from there. It just rocketed," Sandow said. He added the documentary series has much to say about the experience of African-Americans in this society.
"I think it tell us that they are not safe in America and they have not been and never have been," Sandow said.
RELATED: Black Filmmakers Take on Sundance Film Festival
Publicists for the event first announced that Bey would join Jay for the Sundance premiere, but they later said she wouldn't make it, without offering more details.
For his part, Weinstein said little on the arrival line. But he immediately stepped in when a reporter tried to get Jay-Z's opinion on President Trump and the issue of mass incarceration.
"Let's go," Weinstein said. "This is a labor of love for Jay. And as a result, he's my friend, we're here to talk about that and nothing else."