Music mogul Shawn 'Jay-Z' Carter has partnered with Weinstein Television for a new docuseries. "TIME: The Kalief Browder Story," is a six-part series for Spike TV that will focus on the struggles of Kalief Browder, a young man seeking justice in a flawed judicial system.
Browder was just 16 when he was arrested for allegedly stealing a backpack while commuting home from a party. The Bronx native, who was never convicted of a crime nor given a trial, was sent to Rikers Island for three years — two of which were spent in solitary confinement.
He committed suicide just two years after he was released from prison, in June 2015.
RELATED: Obama Building Groundwork of Criminal Justice Reform Legacy
After reading Browder's story in The New Yorker, the Roc Nation CEO felt the strong urge to reach out and connect with him. "Kalief came to the office and I gave him words of encouragement," Carter told an intimate pack of media influencers on Thursday. "I told him how proud of I was of him for making it through and he was telling me how he was enrolled in college. Then I get a call that said he had taken his own life and of course, I was thrown."
Carter said that even at the tender age of 19 his fearlessness sparked more impact than many individuals could have in a lifetime.
"I was telling myself this isn't how the story is supposed to end… not in the movies and not in real life," said Carter, noting that shortly after his death, things started to fall into place. "Obama started talking about eliminating solitary confinement for minors and I know that was Kalief's influence and then we encountered these fabulous filmmakers."
Carter declared Kalief a modern day prophet. "Some prophets leave us tragically. Martin Luther King Jr., Malcolm X. But what comes from it …are lives saved. How this young man moved culture forward, without even knowing it, is incredible."
The docuseries, which will premiere in January, features never before seen footage of the devastating conditions Browder faced at Rikers. The trailer contains intense, raw tape of various physical altercations that depict Kalief defending himself against several inmates and even correctional officers. The documentary also includes exclusive first-hand narratives from friends, family, social reformers, and political dignitaries who are currently fighting for Browder's case.
During the press conference, Kalief Browder's mother, Venida Browder, zealously thanked Carter, Harvey Weinstein, lawyers, producers and spoke of her involvement as a member of Stop Solitary For Kids. In fact, the trailer closes with her declaring, "He might have hung himself, but the strings were pulled by the system."
RELATED: Kalief Browder, NYC Teen Jailed For Years With No Conviction, Says Rikers Guards 'Starved' Him
This project isn't the 21-time Grammy winner's first call to action in facing issues of social inequality. In the past year, Shawn has joined the family of Trayvon Martin and Al Sharpton in marching to spread awareness of the #BlackLivesMatter movement. In addition to releasing songs in defense of you black men, Shawn has frequently used his music streaming service, Tidal, to raise money for families that have lost loved ones to fatal acts of policemen. Last year he donated $1.6 million to #BlackLivesMatter.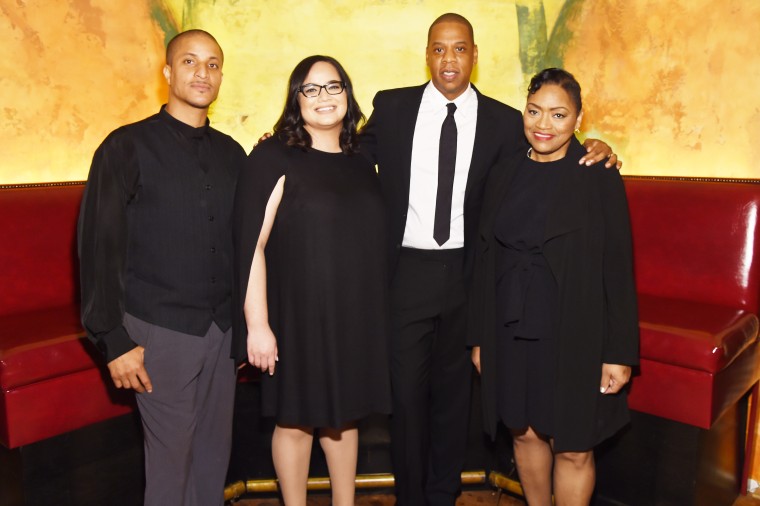 When asked about how he feels about the blatant disconnect between police officers and African American males, Jay-Z acknowledged that the relationship needs to be stronger in order to progress.
"Judgment is the enemy of compassion," he said. "I personally believe that having cameras on police creates even more distrust. If our exchanges have to be recorded, then something is wrong, something is broken. A camera can't fix the relationship between the person that's hired to protect and serve society. There has to be a cordial relationship and respect on both sides."
Jay-Z said that neither candidate running for the presidential office has the power to reduce these types of injustices. "It's not a political issue, it's a human issue. It's life. That's just the way the world works. We hope to put this front of many people as possible," Carter added.
RELATED: Google Brings Attention to Criminal Justice Reform With Love Letters Campaign
"This is the kind of story you just can't ignore. 16-year-old getting old arrested. Sixteen. Imagine if that was your little brother, your nephew or your son. Land of the free, home of the brave, in America, where everyone's innocent until proven guilty... It's our jobs to use our voice and our medium to tell these stories by pushing the conversation forward," he pleaded.
More than anything, Mr. Carter relates to Browder's narrative as a father and explained that although his 5-year-old daughter, Blue Ivy, might be a little too young to comprehend this challenging subject matter, he's looking forward to initiating the conversation when he feels the time is appropriate.
"I would probably show my child before most people think it's acceptable, but my child is my child. That's our relationship. There are scenes in this series that are pretty hardcore and might even give kids nightmares. However it authentically represents the harsh reality of what exactly transpired," he concluded.