It can be argued that if one is not a rock star or rock-star-in-the making, she can comfortably rock 5:31 JÉRÔME without raising an eyebrow.
The chic black sleeveless wool-crepe knee-length dress with gather at the waist, jewel-neck collar and peekaboo slit will cause nary a mouth to contort in disapproval or perturbation.
A similar outcome will meet another chic sleeveless, knee-length dress. This one, a purple, quilted turtleneck with chevron cutouts at the breast bone. A blazer or some other coverup to obscure the cutouts is advised, however.
The latest collection from the emerging label is inspired by constellations and galaxies. Not surprisingly, it is dominated by a color palette of black, midnight blue, purple and a splash and dash of aqua and silver.
Another reference is "mystics and musicians, that whole world put together," says Bronx-born Jerome LaMaar, the creative force behind 5:31 JÉRÔME, after the presentation of his winning collection during New York Fashion Week: The Shows.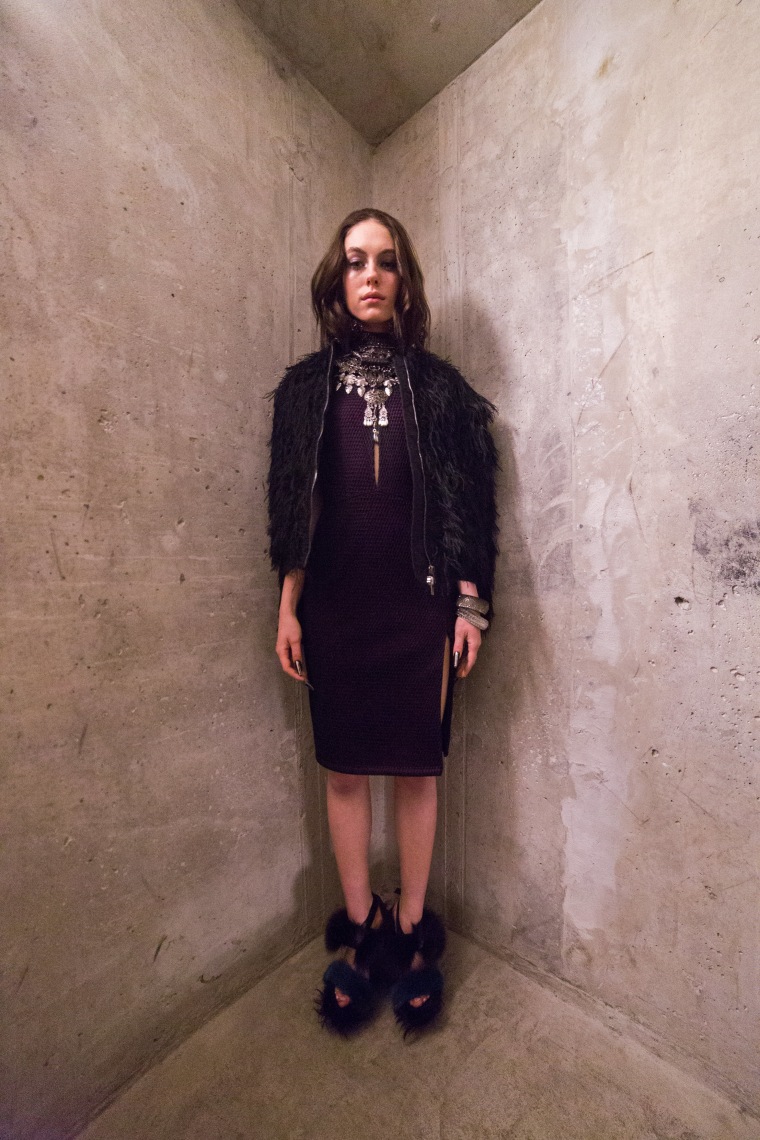 Initially, he does not cite any particular mystics and musicians, but on quick reflection calls out Prince and the French pop artist, Cocovan.
Musician is at least one label that may be affixed to the girl turned out in the daring blue-purple beaded minidress with plunging v-neckline. On a cold day she can avail herself of the floor-length fur coat in midnight-aqua blue.
LaMaar, an F.I.T. grad who learned to sew at his grandmother's knee and found his calling the first time he saw "The Wiz," favors embellishment. The more, the better.
He even has a term for it: maximalism. It is defined by the ability 'to mix more of your ideas to create something that is authentic and wearable, but also glamorous," he disclosed after his Spring 2016 show in September.
And for Fall 2016 there is "more maximalism. That's our aesthetic, that's our world," he asserts. "I'm using the word, humor, because now I have a small group of girls and guys who actually like what I'm doing. Their term is humor, like joy."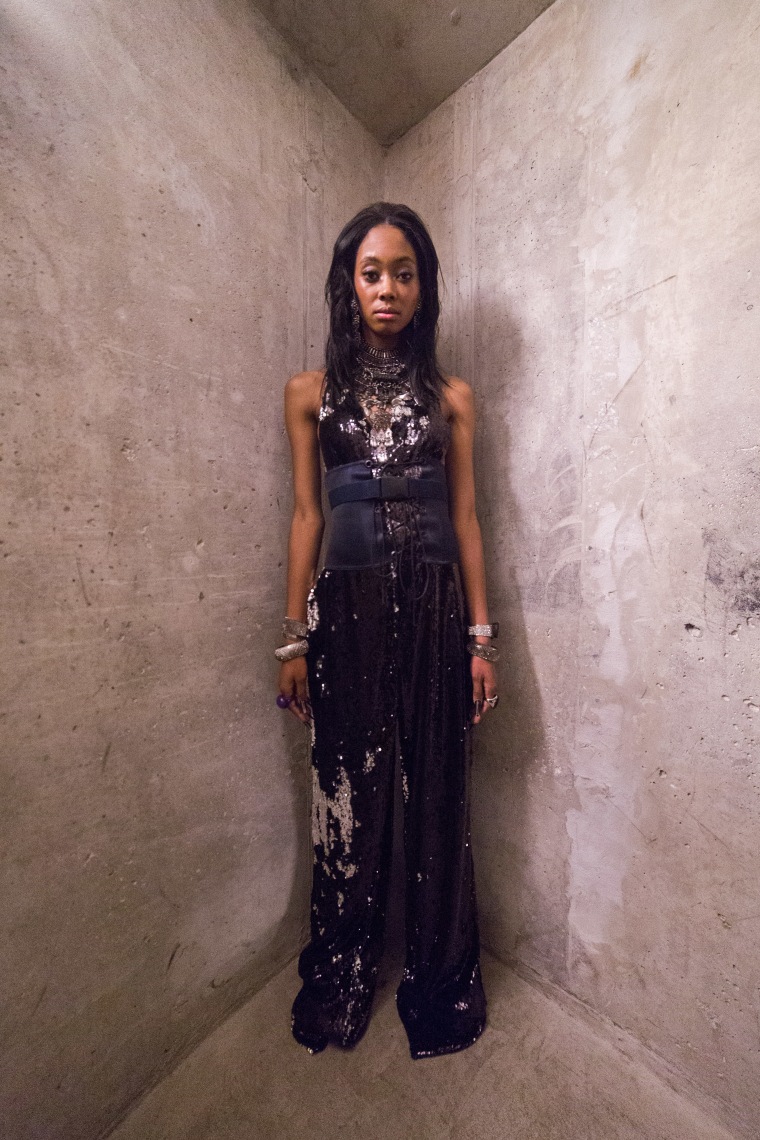 Consequently, the black crochet boatneck cropped top with fall-away maxi sleeves and the jeans bedazzled with sequins and beads. Plus, the fur-covered platforms, 5:31 JÉRÔME footwear of choice for FW16.
"And so everything," says the former Baby Phat alum, "is meant to feel like it should be embellished and luxurious and durable and functional."
For instance, the off-the-shoulder fur tunic in gray­-purple-black and black sequined pants.
Continues LaMaar, "We started tapping into the main focus of having embellishment so we wanted to evolve that into something that would be more wearable for fall-winter."
Perhaps, the black bolero-length fur, electric blue-belted jacket with chevron stitches and black velvet high-water bell bottoms with cutouts about the knee. Further, the duo of black fur jacket and purple knee-length dress with peekaboo slit at cleavage and outer thigh.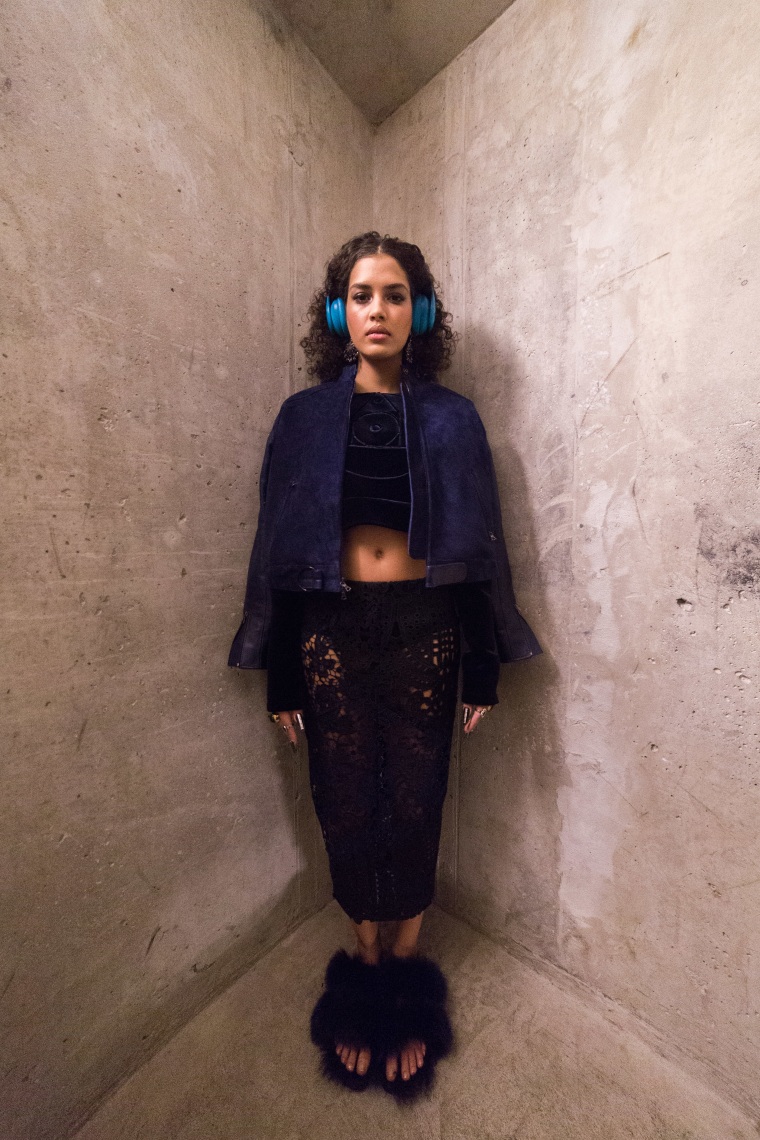 This idea of LaMaar's, of "taking cool street glam and making it into something that is really wearable and affordable" took on another life this spring when the designer opened his first free-standing store, a boutique called 9J. Are you ready for this? Not in Soho, the Meatpacking District or even Harlem. In the south Bronx, off the Bruckner Highway.
According to LaMaar, business at 9J has "been amazing!! I am getting to interact with real people with real bodies that have provided me with great feedback about fit. I like attaching a face to the real shopper of my 5:31 JÉRÔME."
The curated space also carries other labels, including Saenai, DEXTERDEXTERDEXTER and LaQuan Smith.
So, what's in a name like 9J? "It's a play on the emerging designers, new art, new music," explains LaMaar. He confesses a love jones for numbers. The 9, for instance, is the sum of 5:31. (Oh, and that 5:31? That would be his birthday, May 31.) "It is a new retailing approach for new upcoming and emerging designers.
"Everything that feels new and that is lacking."
From Jerome LaMaar's mouth to your ears.