The vibrating sounds of a blender faintly take over music, playing inside a quaint juice bar in Brooklyn, New York. It's called Juices For Life, situated in the Bedford-Stuyvesant or 'Bed-Stuy' area of the city.
Owner Angela Yee says "juicing is a social thing."
She wants her fellow Brooklynites to come in, grab an all-natural healthy drink and stay awhile. "I live in Bed-Stuy. I'm from Flatbush. It's not that easy to find places that are close by that I feel offer healthy options."
In the early hours of dawn, Yee co-hosts The Breakfast Club, known to some as the 'The World's Most Dangerous Morning Show.' She along with DJ Envy and Charlamange the God dissect front-page news and pop culture headlines to millions of listeners on the radio airwaves each morning.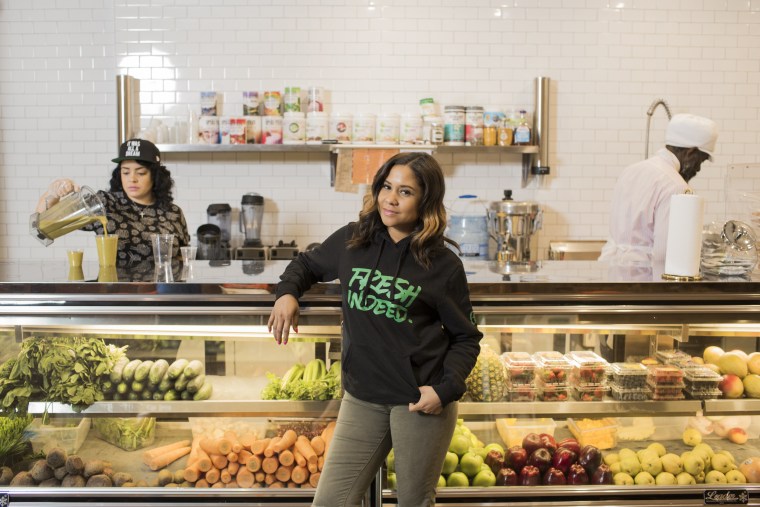 But by afternoon, Yee is an entrepreneur. She's behind the counter blending varieties of fresh fruit and vegetables with her staff. "You're not gonna have frozen strawberries, you're not going to have frozen berries, you're not going to have frozen anything."
Yee has a sweet tooth. 'Candy Ang' was her childhood nickname. 'My house always had all the junk food. I used to drink soda everyday, Hi-C everyday, and Hawaiian punch. That's how I grew up in Brooklyn," she admits.
Related: NBCBLK28: Verlando Brown Wants to Keep Black America Healthy
But after a stint with high cholesterol in college she made a drastic change to her diet. She started blending fruits and vegetables into juice in place of her sugary drinks. "I rather have my green juice in the morning. It keeps you even."
Juices for Life in Brooklyn, is the franchises' fourth location. Renowned rappers Styles P and Jadakiss own two spots in the Bronx and another in Yonkers. When Yee learned about how they were making their respective hometowns healthier, Yee tracked down Styles P hoping to do the same. "He's all over the place and so I had to bum rush his video shoot!" she joked.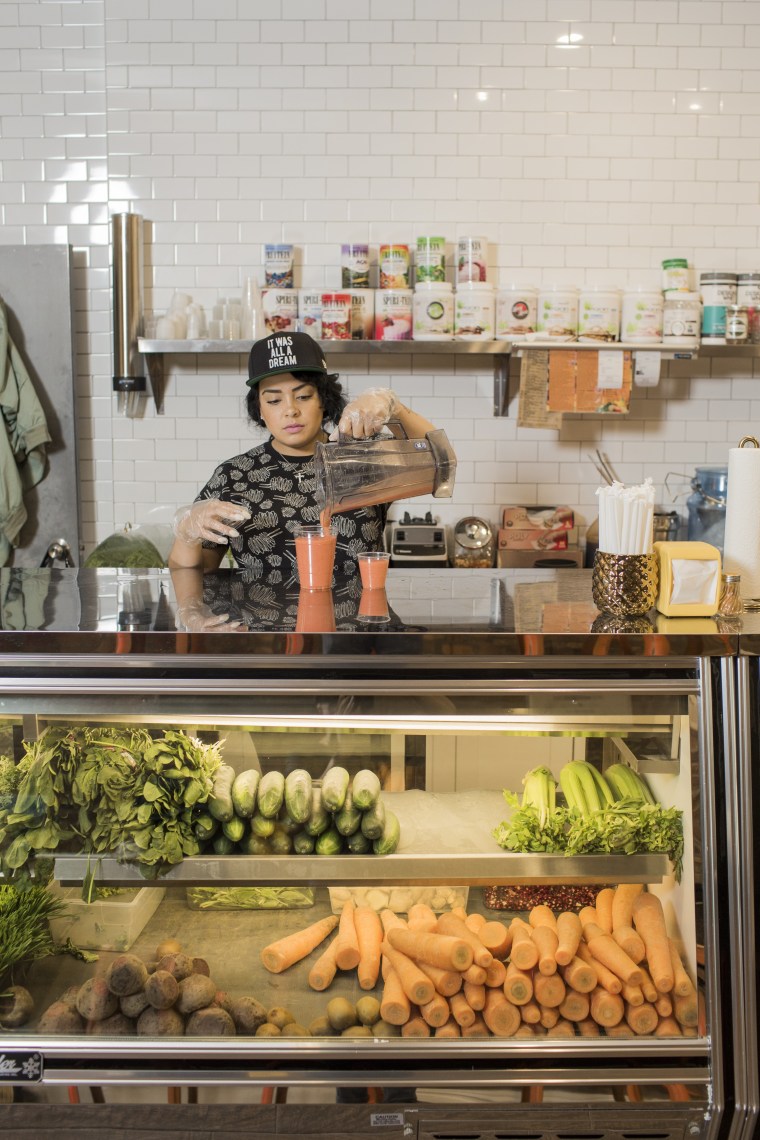 With the rapper's blessings and business acumen, Juices for Life opened in September 2016, with Yee adding her personal touch in her beloved neighborhood.
According to a 2015 New York City Department of Health and Mental Hygiene Community Health Profile, 64 percent of the population in Bed-Stuy is Black. One in three residents lives below the Federal Poverty Level. It is the eighth-poorest neighborhood in New York City. And 34 percent of adults consume 1 or more 12-ounce sugary drinks a day.
Related: This Vegan Rapper is the O.G. of EcoHipHop (That's Original Gardener)
On Malcolm X Boulevard where Yee's juice bar is found, bodegas border nearly every other block. Fresh produce for sale is scant in these small corner stores. Tobacco, candy, alcohol and soda are plentiful. While 77 percent of adults self-report their overall health as "excellent," Yee wants to take that number even higher. "I'm just trying to it make it more convenient to be healthier so there's no excuses" she says.
Seven days a week, a knowledgeable staff combines fusions of bright fruit and vegetables into tasty drinks at prices customers say are affordable. For $5 people can choose between 19 different juice combinations like "Superthug" which has apple, lemon, ginger and pineapple in it. There are $6 specials with another 51 distinct juice selections including papaya, spinach, kale, grapes and beets. "Berry Blast," Yee says, is popular among buyers for its apple, strawberry, blueberry, blackberry and banana blend.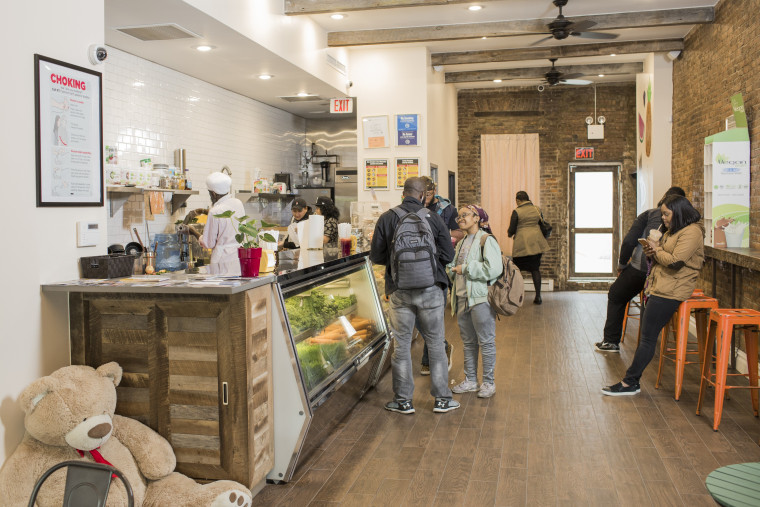 Darren Parris is a regular customer at Juices for Life. He comes in everyday with his daughter for their pomegranate juice. He says, "I used to juice all the time at home and now that she put a place here it makes it easier to juice."
Another customer, Taylor, lives close by. On his third visit, he's drinking the "The Focus" with kiwi, lemon, pomegranate and ginger. He's says it helps him stay alert. "I just came from taking a test so it gives me a lot of energy to start my day."
While her clientele are enjoying their juice, protein shakes, or shots of wheatgrass, Yee explains that they're welcome to relax on the couch or have a seat at the bar and use the complimentary Wi-Fi. "You can do your work. You can have a meeting. Anything that it is that you need to do, you can do it in a nice comfortable safe space here."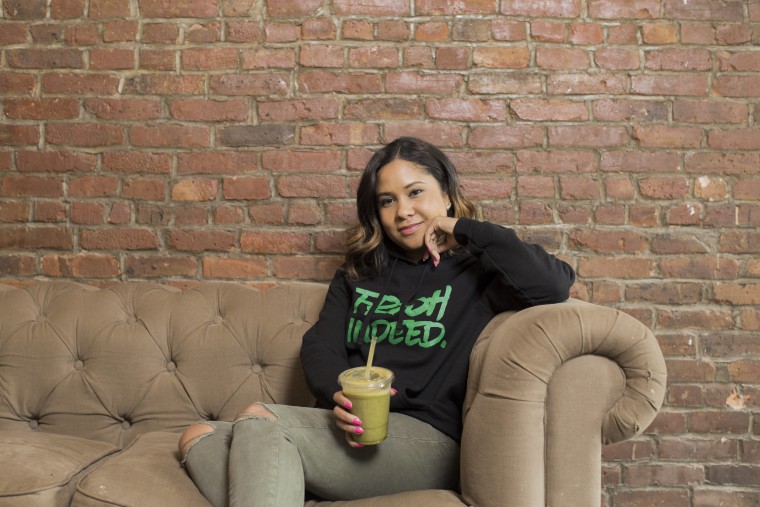 As the hot weather is here, Juices for Life will have specialty drinks and free thirst quenching shots to attract people new to juicing. Yee says celebrities will appear to feature their own unique blends. "Kodak Black is going to be doing something here. The label is doing a Kodak Black Tunnel Vision drink."
The goal isn't to get rich, Yee shares. She just wants to do her part to make healthy options fun and affordable to the Black community. "I'm not telling anybody they have to be perfect but what I'm saying is you can be better and it tastes really good too!"