As a child, Julie Mehretu liked to make stuff.
"I was always…very interested in making, drawing and painting," she said, "constantly." But even as a young adult, she recalls, "I didn't necessarily maybe know that I could have a life as an artist."
In 2013 her painting "Retopistics: A Renegade Excavation" commanded $4.6 million at a Christie's auction, ranking her among the top ten most expensive living female artists, according to art and literature website, Culture Type.
The daughter of an American Montessori School teacher and an Ethiopian college professor, Mehretu embodies multiple identities. She's Ethiopian-American. She's half black. She's married to a woman. She's a mother. And she's a renowned artist. For Mehretu, making art, "is about trying to make sense of who you are," she said.
Mehretu spent her early childhood in Addis Ababa, Ethiopia. Her parents planned to raise her there. But by 1977, she said, "Ethiopia really became a casualty of the Cold War." So they left.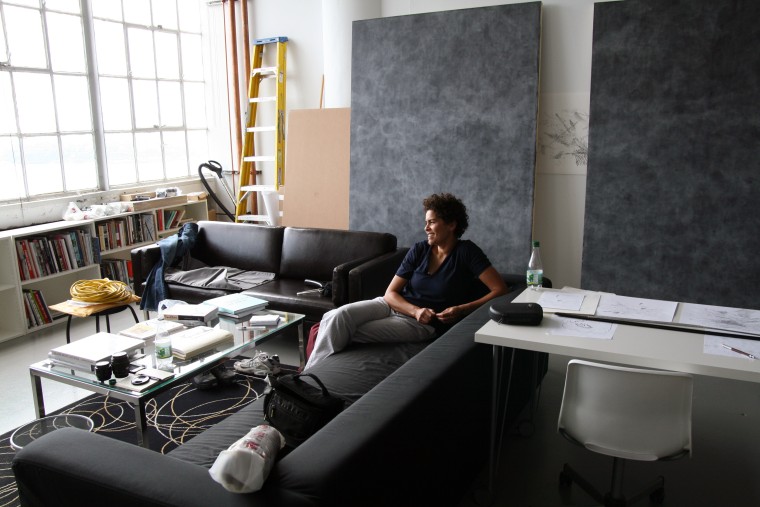 They resettled in East Lansing, Michigan, where both her parents resumed teaching. Mehretu recalls that she was excited about coming to America, but she missed Addis Ababa, the place she knew as home. "I had this wonderful childhood there," she said.
Mehretu is still close to her roots there. She proudly shared that some of her work hangs at the U.S. Embassy in Addis Ababa.
Mehretu works primarily in abstraction. Her pieces are large scale as in 23 by 80 feet – about the size of a tennis court. They resemble networks of fast moving, interconnected and balanced galaxies. She lives and works in New York, along with her wife and two school age sons. She says, though, that New York is somewhat myopic.
Even at the forefront of contemporary art, Mehretu articulates a sense of challenge about being a black woman of African descent in the American art world. "I think it's difficult for black artists still," she says, "to work in languages where you're not really talking about blackness."
For Mehretu, the process of making art is one of self-discovery but she doesn't force that discovery back into her work. Rather, what she makes is much more reflective of the world around her than of herself. "In Europe," she says, "or in other places on the continent it's more about what the work is and what the work is doing than who the artist is. That's always, I think, where the conversation should be."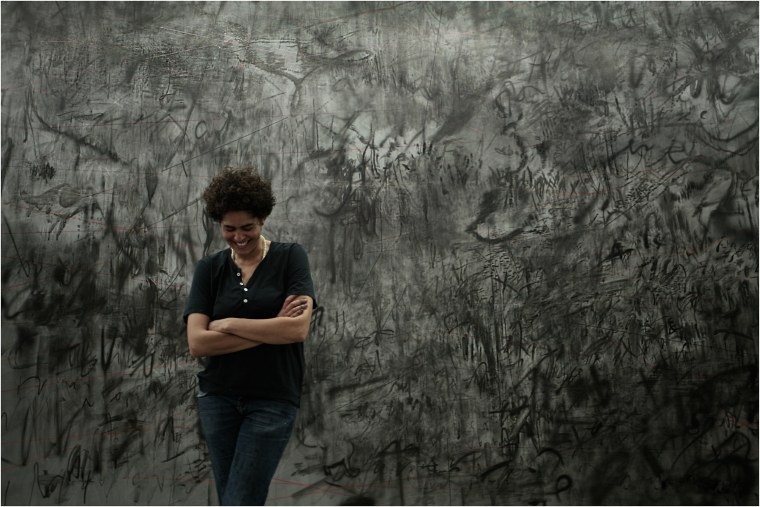 For that reason Mehretu works hard to consciously look outside the insular New York art scene for critical conversation. "There's conversation happening in other places – internationally and in Europe," she says, "that in some ways is more connected to the larger global situation we find ourselves in."
Mehretu went about nurturing her career carefully. After college in Kalamazoo she tried to make it as an artist in New York. She realized she needed more, and found her artistic voice following study at Rhode Island School of Design (RISD) and through subsequent stints in Houston, TX and Berlin, where she had a fellowship at the American Academy. She says young artists really need opportunities such as she found, that offered her space and support in which to grow.
She likens Berlin today to what New York might have been for artists in the 1960s and 70s – affordable for one – and an environment where "there was a lot of freedom and a lot of possibility for inventions," and a "massive amount of young artists coming from Eastern Europe and other countries."
Mehretu and her wife Jessica Rankin, also an artist, immersed themselves in the Berlin art scene. They have built a life in the place that Mehretu describes as "where time slows down."
"In Europe or in other places on the continent it's more about what the work is and what the work is doing than who the artist is. That's always, I think, where the conversation should be."
In 2007 Mehretu received her first big commission – a large scale painting for Goldman Sachs's new headquarters at the World Financial Center. After two years of labor, the completed "Mural," as it's called, was installed in 2009. "Mural" is so vast it dwarfs pedestrians as they walk through the lobby. The painting's vibrant colors and dynamic shapes can be seen from the street. Mehretu anticipated moving back to New York in order to work on the commission but found it prohibitively expensive. She and Rankin decided to stay longer in Berlin, where they still maintain an apartment. They ultimately did move to New York where the two artists work out of separate studios.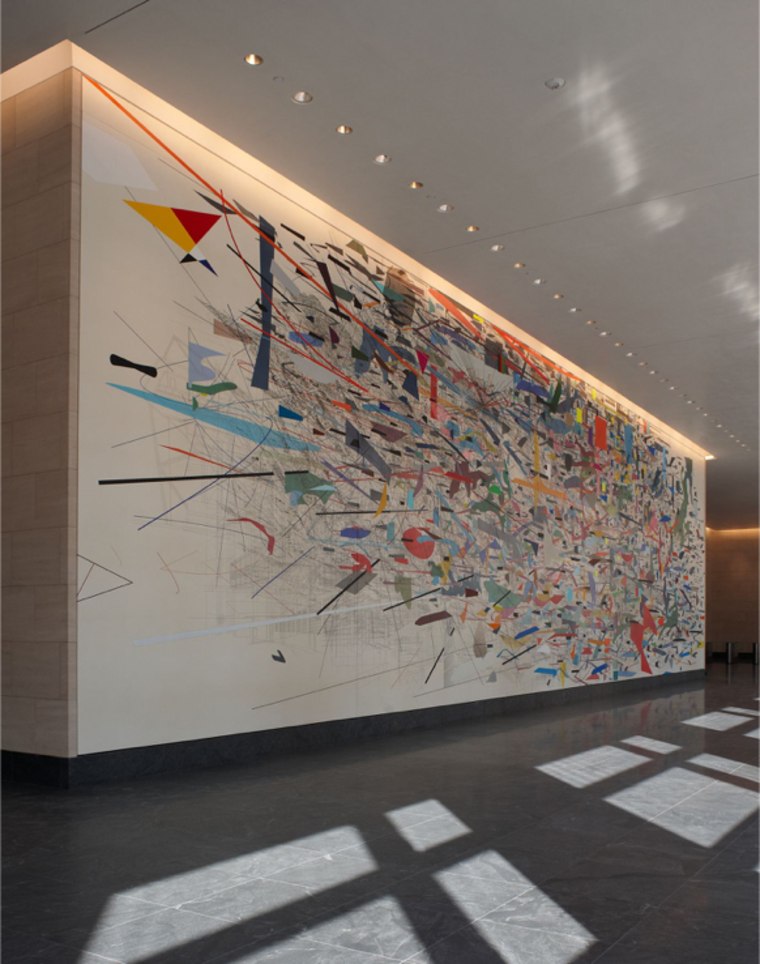 Modest and self aware, Mehretu is grounded in the warmth of her family and an international perspective that pushes through in her art. "I try to keep myself as focused on what I do and what I make, rather than what it can be," she explains, "and my children and my family life and those that are close to me and dear to me are part of that reality and inform that."
A wide range of collectors embrace Mehretu's work. Currently she has work on loan at the U.S. Embassy in Madrid and at the Ambassador's residence in London. In January she was presented the Department of State Medal of Arts Award by Secretary of State John Kerry for promoting cultural understanding through her work. And those auction statistics – a concrete data point for sure – confirm the world's appreciation of her.