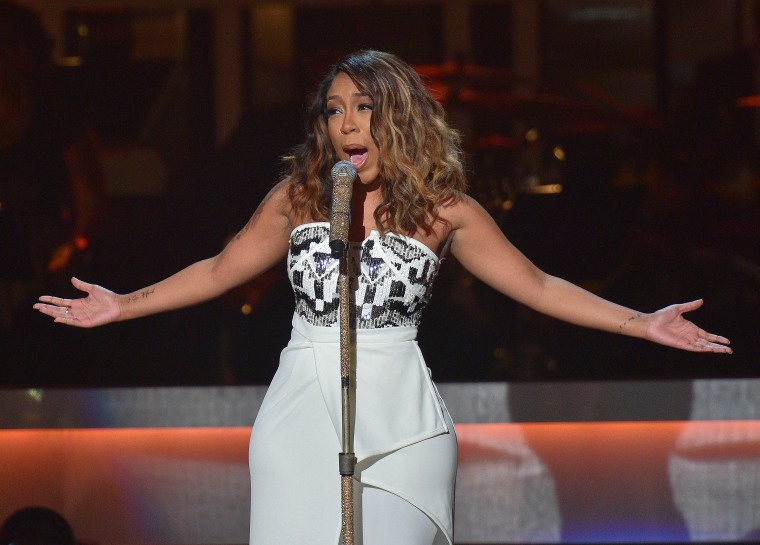 For her third album, recording artist and reality TV star, Kimberly Michelle Pate — better known as K. Michelle — is absolutely not having it with any executives who attempt to musically suffocate her.
For months, fans have been eagerly anticipating new details regarding her forthcoming album and on Sunday, in true K. Michelle fashion, she didn't disappoint to give fans, revealing quite the provocative, yet straightforward title, "I Ain't White But I Hope You Like."
This is no publicity stunt. the former "Love and Hip Hop: Atlanta" star has always been very vocal about her opinion on the industry, and the fact that she shouldn't have to soften her sound, downplay her talent or not write a certain type of song simply because a few record label heads project that it won't reach a certain status or demographic that they're aiming for.
She told morning radio hosts, "The Breakfast Club" that she once had to give up a song she wrote because it was considered too mainstream and her management thought she wouldn't be able to handle it. K. also recently stated an exec had told her no one wants to hear Black women bear their soul in song anymore.
Ultimately, music is a personal and expressive art form that K. Michelle says it shouldn't have to be altered, or adjusted for consumption. In fact, more black artists should be taking a stand instead of settling and being unauthentic. If she wants to write and sing a pop/rock song with country elements over a techno beat, why not let her have that her creative liberty?
The issues K. Michelle is raising with her provocative title ties into the conversation of decline of R&B. R&B isn't dead but as time and trends continue to progress then pass us by, mass reception of the genre has become extremely isolated.
There are plenty extraordinary R&B albums released in the past 12 months -- Tamar Braxton, Miguel, Jazmine Sullivan, Tamia and Jamie Foxx have all individually released cohesive bodies of work that have yet to even reach a disappointing 50,000 in sales.
The music is there, however the support isn't. Some blame the rise of digital media and streaming but the huge lack of backing from major record labels cannot be denied. Large media conglomerates and publications have been covering less and less, and even urban radio stations barely let R&B grooves scratch the surface on the airwaves.
K. Michelle's argument is aligned with Tyrese's campaign to elevate the current state of black music earlier this year. After publicly venting his frustrations, his album went to become #1 on Billboard, a first ever in his 20 year career.
With an audacious move like naming her album title, "I Ain't White But I Hope You Like" fans hope that K. Michelle breaks more barriers as well as inspires other artists to push through this kind of adversity in the music industry.