Keegan-Michael Key is back at work this week — shooting a new movie with Bryan Cranston — after a weekend that was not exactly restful.
He spent it at the South by Southwest festival in Austin, Texas busily promoting two films that premiered back to back. Very late Saturday night it was the action comedy Keanu co-starring his 'Key and Peele' buddy Jordan Peele.
Within a few hours he returned to the red carpet for the premiere of the dramedy Don't Think Twice, directed by comedian Mike Birbiglia.
When NBCBLK met up with Key on the arrival line Sunday we asked if he was trying to break the SXSW record for actors appearing at consecutive premieres.
"I'm going to try. I'm going to come to another premiere in my imagination later tonight," he told us. "I don't know if that counts. I don't know if we can put that in the record books. Can we? Will you take my word for it if I said I did it?"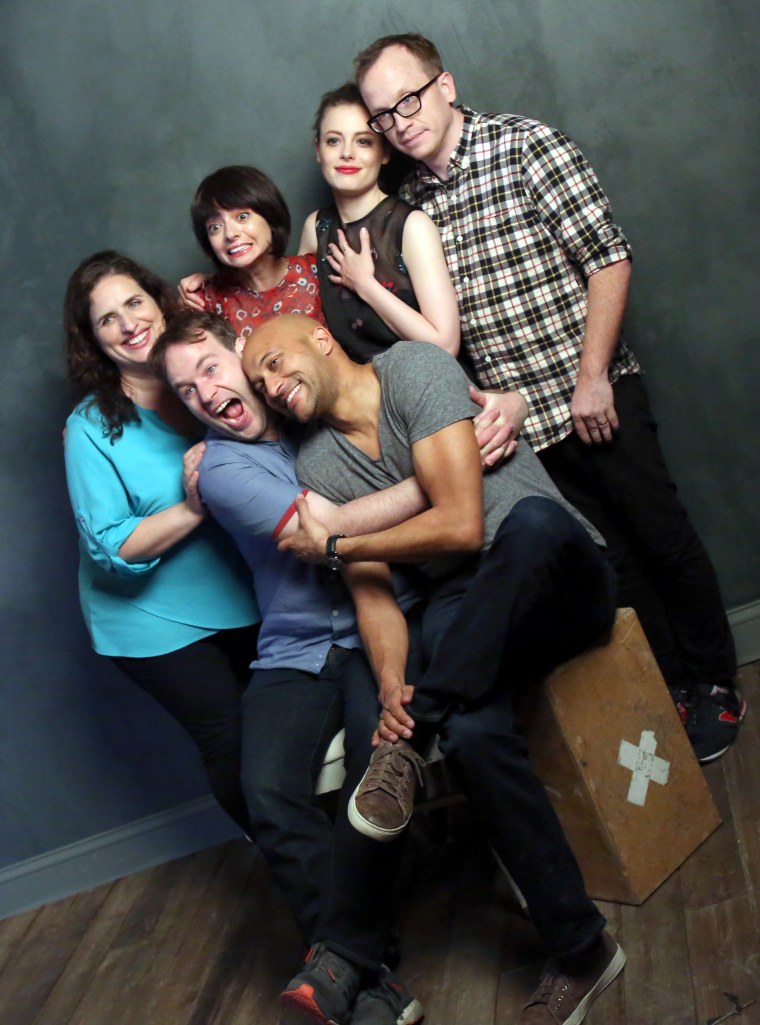 You can take our word for it that Key is quickly becoming one of the hottest talents in Hollywood, just months after ending Key and Peele last September, concluding a five-year run.
"He's going to be huge," Birbiglia said of Key's burgeoning career. "I feel so lucky that he did [the film]… I feel a lot of gratitude."
In Don't Think Twice Key plays a member of a sketch comedy group who suddenly makes it big while his fellow players are left behind. The actor, who began his career at Second City Detroit before joining MADtv and then becoming a household name through his sketch work on Key and Peele, had plenty of personal experience to draw from for his film role.
"It's very actually almost autobiographical because my journey has been very similar to the character in the movie's journey," Key told NBCBLK. "The story is about a bunch of people that come together as an ensemble, make their way as an ensemble, then one person gets jettisoned kind of into the limelight and then it's about how to negotiate that."
In Keanu Key and Peele play Clarence and Rell, cousins in suburban LA who go on a quest to rescue Rell's kitten Keanu, after the feline is kidnapped.
It technically played as a "work in progress," meaning some changes could be made before the film's April 29th theatrical release, but Key told NBCBLK the response at SXSW left him encouraged.
"It seems like it went really, really well. I felt really good about it and I was very proud of it and the reactions seemed really exuberant," he said. "I don't know that we really could have asked for more than we got. There were lines down the street [to get in]."
Key didn't have much time to bask in the glow of South by Southwest before returning to work on Why Him?, a comedy co-starring Academy Award nominees Cranston and James Franco.
For a star much in demand, Key says he's content to let things play out before he makes his next move.
"I'm making [Why Him?] and I don't know what's next. And I tell you, that's more fun than anything," he told NBCBLK. "It's like sometimes you can relish the grind because you know you have a job and a steady paycheck and other times you kind of want to be striking out into a new chapter and seeing what that's going to bring. Every now and again you get to plant new seeds and watch that plant grow, so it's time for me to do that. I'm planting new seeds for a new chapter."