Rapper Kendrick Lamar is poised to end a decades long drought in the album of the year category at the Grammy Awards on Monday, and he is the one artist in the running who can boast of an endorsement from the president of the United States.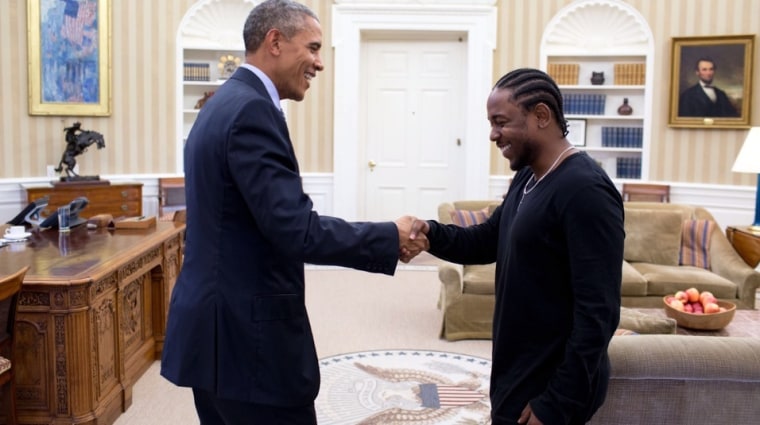 President Obama has called Lamar's politically charged album "To Pimp a Butterfly" 2015's best and hailed his single "How Much a Dollar Cost" (which details a thoughtful encounter between Lamar and a homeless man) as the greatest record of the year. He recently hosted the West Coast rapper at the White House and declared him lyrically superior to Canadian hitmaker Drake.
"I want all of them. Because it's not only a statement for myself, but it's a statement for the culture," Lamar told The New York Times in reference to his nearly record-setting 11 Grammy nominations. "They're all important, because of the foundation the forefathers laid before me. Nas didn't get a chance to be in that position. [Tupac.] So to be acknowledged and to actually win, it's for all of them." Lamar's album enjoys nearly unanimous, rapturous critical acclaim, and yet the Grammys have routinely snubbed rap's finest, and he faces fierce competition from fan favorites Taylor Swift and Alabama Shakes.
Still, Lamar has clearly struck a chord with his album, which was released nearly a year ago. The LP — called a "masterpiece" and a "manifesto" — directly engages listeners on issues of police brutality, economic inequality and racial identity, to name a few. In an era when hip-hop has been repeatedly dinged for a preoccupation with the superficial, Lamar has forged a different path — provoking intense discussions about what it means to be black in America in the aftermath of police shootings, persistent poverty and the perpetual fear of a black president. And from a musical standpoint, the album is vast potpourri of influences from funk to jazz to classic soul, all fused seamlessly with hip-hop beats.
RELATED: 2016 Grammy nominations: Are the Grammys ready to get behind hip-hop?
"It's an album meant to be lived with for a long time, making it one of the few recent hip-hop [albums] that's built to last," wrote The New York Daily News' Jim Farber at the time of its release.
That said, the album and Lamar are not without their detractors. The Compton-born rapper was heavily criticized for arguing "when we don't have respect for ourselves, how do we expect them to respect us?" when opining on the death of Michael Brown Jr. in a January 2015 interview with Billboard. And others have pointed out that women of color are sadly given short shrift in Lamar's worldview.
"I mean, it's evident that I'm irrelevant to society/That's what you're telling me, penitentiary would only hire me/Curse me till I'm dead/Church me with your fake prophesizing that I'ma be just another slave in my head/Institutionalized manipulation and lies/Reciprocation of freedom only live in your eyes"
But few have knocked Lamar's ambition, which has been evident with the breadth of each new album. His official debut, the 2012 Grammy-nominated "g.o.o.d. kid, m.A.A.d city" was hailed as a tour de force, a cinematic and autobiographical examination of his upbringing amid late '80s/early '90s-era gang violence on the streets of Compton. By most accounts, Lamar's follow-up expands his inward view outwards, provoking probing conversations about the past and present (like the fictional exchange with his late idol Tupac Shakur, which closes the album) that are relevant to the world both in and outside of hip-hop, while helping to usher in what may be a new golden age for socially conscious rap.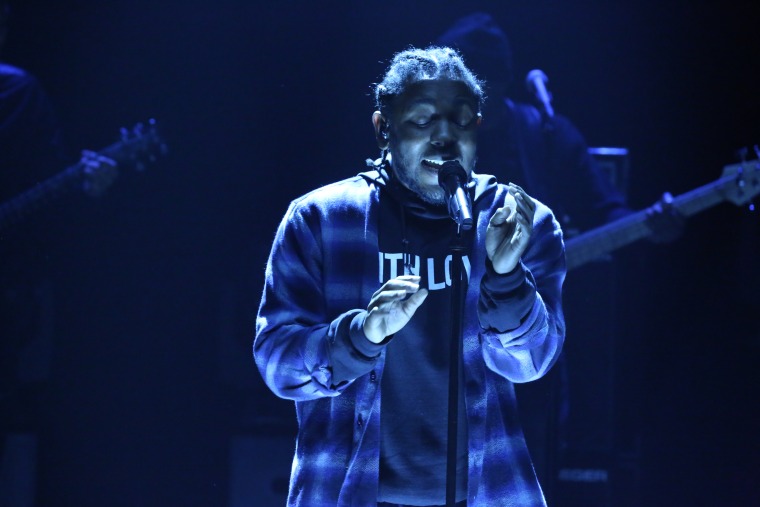 "It's really just about integrity. We all like to have fun. I like to have fun, too. But where do you stop and say, 'You know what? There's actually some real sh-t going on out there that people can relate to more than any singalong I can bring to the table,'" he told The Guardian last year.
And Lamar is only 28. Unlike his louder, more braggadocious counterparts like Kanye West, Lamar seems downright humbled by his success. His lyrical predisposition is to be self-critical (he refers to himself as a "hypocrite" and a "failure" in "To Pimp a Butterfly'), while his peers often liken themselves to deities. "It's really about me trying to balance these worlds — where I used to be and where I am today — from all different angles," he said last year. "This album was therapy for me. I was looking at myself in the mirror and trying to figure out who I really am."
"Streets don't fail me now/They tell me it's a new gang in town/From Compton to Congress, set trippin' all around/Ain't nothin' new, but a flu of new Demo-Crips and Re-Blood-licans/Red state versus a blue state, which one you governin'?/They give us guns and drugs, call us thugs/Make it they promise to f**k with you/No condom, they f**k with you/Obama say 'What it do?'"
Meanwhile, those who were clutching their pearls over Beyoncé's unapologetically black Super Bowl halftime performance may want to change the dial before Lamar's scheduled appearance at the Grammys on Monday. Host and hip-hop icon LL Cool J has already teased that Lamar's planned performance — potentially featuring "Alright," which has been called an unofficial anthem of the Black Lives Matter movement — will likely be "controversial."
This article originally appeared on msnbc.com