LOUISVILLE, Ky. — Hundreds of protesters demanding racial justice and an end to police brutality marched to the Churchill Downs racetrack on Saturday as the Kentucky Derby got underway.
Demonstrators carried signs that read "No justice, no Derby" and "End the war on us."
Tiffanie Morris said she traveled to the protest from Atlanta in a show of solidarity for the family of Breonna Taylor, 26, a Black emergency medical technician killed in a police raid at her home.
"It has been six months, and there has been no arrests," Morris said. "It's time for us to take to the streets and peacefully protest, just like we have been doing all summer. This has been the freedom summer 2020."
Earlier on Saturday, protesters and counterprotesters from armed white militia groups confronted each other at Jefferson Square Park amid a large police presence, including the state National Guard and state police.
Some protesters chanted "Breonna Taylor" while counterprotesters shouted "USA."
"I hope the nation sees us and takes us seriously," said Cheri Roberts, 48. "The cops can't keep killing us."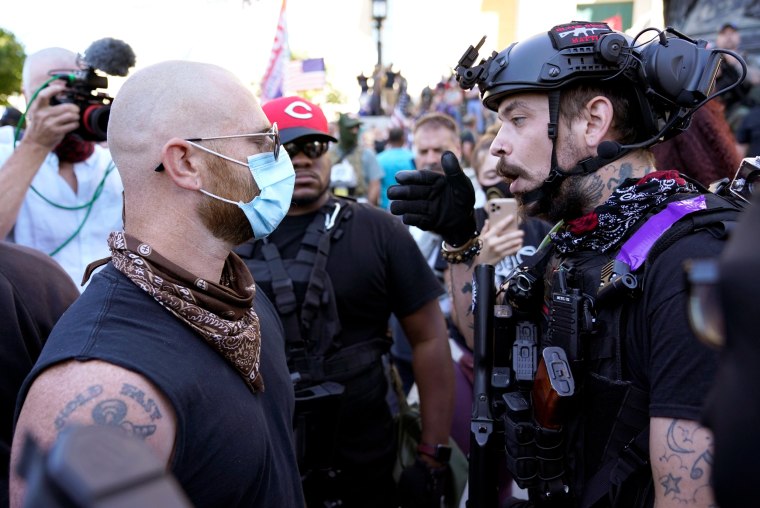 The confrontation appeared tense but was mostly peaceful. It was broken up with the arrival of police in riot gear.
Other groups were expected to protest on Saturday, including the Not F***ing Around Coalition, an armed Black militia, and the white Angry Viking, an armed group that intended to show support for law enforcement.
"We are prepared for others to express their First Amendment rights," Louisville Metro Police Department Deputy Chief LaVita Chavous said. "We don't know how large these crowds will be, but we do intend to not intervene with lawful protests that are not violent."
Fences are erected around Churchill Downs every year for crowd management, she said.
Some residents criticized law enforcement's preparation for the demonstrations, calling it excessive.
"To come out here and see armored vehicles, to see all the way around miles of fencing is ridiculous," Pastor Timothy Findley Jr. said Friday.
Morris said the show of force illustrates a deepening divide between police and protesters.
"They view us as the enemy," she said.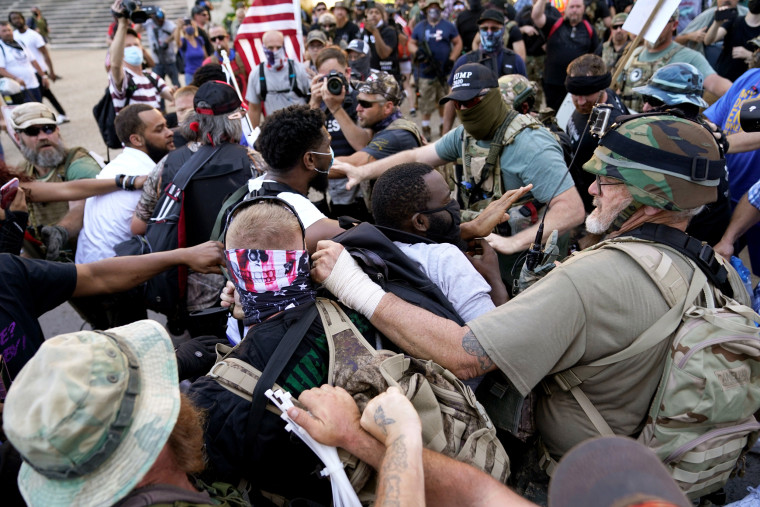 Tensions have remained high in Louisville for months as the state attorney general continues to investigate Taylor's death, and some residents have said that holding the Kentucky Derby is insensitive and a distraction from the ongoing demand for justice. (NBC televises the derby every year.)
Some protesters called for the cancellation of the Kentucky Derby this year.
"We find it reprehensible that our city wants to go on like everything is normal," said Louisville resident Katie Duvall, 37. "We have been protesting for 100 days and nothing has happened besides one officer being fired in relation to Breonna Taylor"
Churchill Downs issued a statement on Thursday, defending its decision to move forward with the race but acknowledging concerns about injustice.
"Churchill Downs is committed to engaging in the hard conversations in our city, our sport and within our own organization," the statement read. "We are committed to taking real, concrete action to address institutional roadblocks to progress and playing our part in advancing the changes America so desperately needs."
Louisville Mayor Greg Fischer said Wednesday, "Racial justice is a goal we all support. And we support First Amendment rights. We just have to balance the right to protest with our essential duty to preserve public safety."