Kobe Bryant was a man so idolized for his work ethic and athletic skill that when he died this week, a single story about an episode in his past prompted threats.
Bryant, 41, who died in a helicopter crash that also claimed eight other lives, including that of his 13-year-old daughter, had spent more than half his life in the public spotlight. And those who study sports, race and their influence on American culture say that's precisely why Bryant should be understood as fully human, flawed but talented, and a transitional figure between two important eras of the NBA.
In one, dominated by Michael Jordan, NBA stars actively sought relationships with corporations offering major endorsement deals, regularly evaded major racial controversies and publicly identified with a kind of "I've got mine, so you should get yours" up-by-your-bootstraps mentality.
In the other, dominated by LeBron James, a growing number of players have come to view their celebrity as a vehicle to engage with, comment on and challenge social ills, establish their own off-court money-making and society-shaping ventures, and more deeply influence the meaning of their own brands.
Bryant faced off against both Jordan and James on the court. Off it, he contended with the expectations of two very different times and, in some ways, he evolved and changed, according to professors who study sports and race.
"I think one of the things we all have to try to grasp as we consider the measure of a man at this early stage," said Ben Carrington, an associate professor of sociology and journalism at the University of Southern California who studies sports journalism, race and politics, "is the totality of who he was. Get comfortable with the good and the bad, nurture the capacity to take it all in and understand that what we see and what we understand is partly about the individual's characteristics and character."
Much depends on the times in which prominent people are born, Carrington said. Cassius Clay would not likely have become Muhammad Ali, a civil rights and anti-war activist, had he become an adult and elite boxer at another time, he noted. And the baseball great Curt Flood, then an established veteran, was influenced by elements of the civil rights and black power movements in risking his career to lead a legal battle in 1969 based on the belief that without free agency, professional athletes were too easily exploited.
Michael Jordan, who came of age in the greed-is-good 1980s, declined in 1990 to endorse a black Democrat running against Sen. Jesse Helms, a Republican from North Carolina, Jordan's home state. (Though many reports claimed that Jordan explained his decision by saying, "Republicans buy shoes, too," Jordan has long denied it.) Helms had opposed both the Voting Rights Act and the Civil Rights Act and remained in office until 2003. But in 1990, he was facing what some thought could be a close race.
Kobe Bryant was a bit different, said Howard Bryant, author of "The Heritage: Black Athletes, A Divided America and the Politics of Patriotism." (He is unrelated to Kobe Bryant.) Kobe Bryant spoke publicly about soaring Los Angeles homelessness, the need for compassion and the importance of programs for homeless kids.
"My career is winding down," Bryant told The Los Angeles Times in 2012, four years before he retired. "At the end of my career, I don't want to look back and just say, 'Well, I had a successful career because I won so many championships and scored so many points.' There's something else that you have to do with that."
Bryant and his wife were clear about their connections to black and Mexican American culture. And in the final year of his life, Bryant talked about the importance of featuring biracial characters in his children's book, both because of his own family (his wife is Mexican American) and a scarcity of books about children of color.
"Clearly, he was a kind of bridge between Michael Jordan and LeBron James," said Howard Bryant. "He was never the type of player who was outfront with his politics but also not the type of player who ran from it."
In 2014, when a reporter for The New Yorker asked Bryant his thoughts on the decision of several black Miami Heat players to express concern in March 2012 about the way police were handling the shooting death of Trayvon Martin — an unarmed black teenager who was killed by a neighborhood watch volunteer in Florida a month earlier — Bryant essentially told the magazine he was not like them. The Heat players had donned hoodies, much like the ones Martin had been wearing when he was followed, shot and killed. At the time of the Heat protest, further investigation and an arrest seemed unlikely.
"I won't react to something just because I'm supposed to, because I'm an African American," Bryant said. "That argument doesn't make any sense to me. So we want to advance as a society and as a culture, but, say, if something happens to an African American, we immediately come to his defense?"
Bryant told a black sports reporter who criticized him over the comments that he'd based his views on his own experience with the criminal justice system. Later, Bryant spoke publicly about his support for Martin's family, attended a memorial event for Martin and criticized the way the system responded to that case and the shooting death of Michael Brown in Ferguson, Missouri, in 2014.
In October 2017, a reporter for The Associated Press asked Bryant about the wave of athletes refusing to visit the White House, in part because President Donald Trump had demonized athletes who protested unchecked police misconduct.
"I wouldn't go, simple," Bryant said. "No. I think it's a whole matter of respect and standing up for what you believe in. Now you can agree or not, disagree … I think that's the beauty of the country is being able to speak up for what you believe in, right. … I'll certainly respect your opinion. And I believe all thoughts should be valued. So I wouldn't go."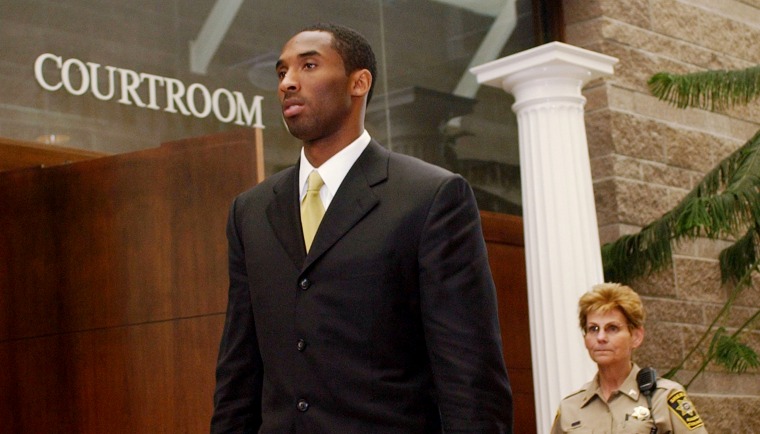 Nancy Lieberman, a basketball Hall of Famer and former WNBA coach, said on ESPN Monday that Bryant was a fierce champion of not just women's sports but also recognition of women as fierce competitors with the capacity to contribute.
But about that single story from his past that resurfaced this week: Seventeen years ago, when police arrived at Bryant's Colorado hotel room to investigate allegations that he had sexually assaulted a hotel clerk he'd met a few hours earlier, Bryant responded dismissively, Carrington said based on his review of police documents in the case.
According to police interview transcripts obtained and excerpted by the Daily Beast, Bryant first denied any sexual contact, then described the encounter as consensual but said another star player did this all the time, but offers the women money, and threw a semen-stained shirt at a police officer when asked for his clothing. Carrington, who said he personally reviewed the transcripts of police interviews as part of his research, recalled the same details and said they painted a picture of an "arrogant" and "macho" man.
In 2004, prosecutors dropped a single charge of felony assault in connection with the incident, pointing to the alleged victim's decision not to testify. Bryant later settled a civil suit filed by the woman.
In a statement read by Bryant's lawyer in court as a condition of dropping the charges, the athlete was contrite.
"First, I want to apologize directly to the young woman involved in this incident," Bryant's statement said. "I want to apologize to her for my behavior that night and for the consequences she has suffered in the past year. Although I truly believe this encounter between us was consensual, I recognize now that she did not and does not view this incident the same way I did."
The statement managed a tone some regarded as apologetic and aware.
"If we were doing sibling order, he would be a middle kid," said C. Keith Harrison, an associate professor at the University of Central Florida's College of Business. "I wouldn't call him nonconscious. But I wouldn't say he was a LeBron or a Curt Flood either."
By the end of his life, Bryant had also become an exemplar of a good retirement, said Harrison, who in 2016 published a study on Byrant's next chapter. Bryant retired at a time when he knew that he could no longer play at his previous level and he had found a new and intense set of fulfilling passions: storytelling and mentoring others in basketball.
"He packaged his retirement, his second act, really strategically," Harrison said. "But that's not something he could have done so effectively if the man himself had not evolved."