Sen. Cory Booker, D-N.J., former Newark mayor, Rhodes scholar and Yale Law graduate, came to the presidential race with one of the more traditional candidate résumés in the vast Democratic field.
He departed that race Monday, before a single vote had been cast, as a long-suffering underdog who never experienced so much as a bounce.
Booker, several political experts told NBC News, ranked among the skilled candidates most deeply entangled in the chicken-and-egg riddle of modern American presidential politics: Those with money can raise more, helping to boost their standing in the polls and expand voter support. But an absence of voter support can make fundraising and other attention-grabbing activities near impossible. Booker found himself struggling both to raise money and to demonstrate support, pushing him off the debate stage and out of the ranks of serious contenders.
With Booker's departure — and the exits of Sen. Kamala Harris, D-Calif., and former Housing and Urban Development Secretary Julián Castro before him — the Democratic field has become significantly whiter than its electorate. That raises questions about representation, power and party rules shaping the nomination process, the outsize role of money in determining the nominee and what kind of campaign offers a winning path for the nation's most diverse political party, experts said.
"It's notable that the party can't sustain a field that reflects their base and that obviously cannot be true going into the future, not only in presidential races but also governor's races on down," said Adrianne Shropshire, executive director of BlackPAC, a left-leaning political action committee. "It's deeply problematic."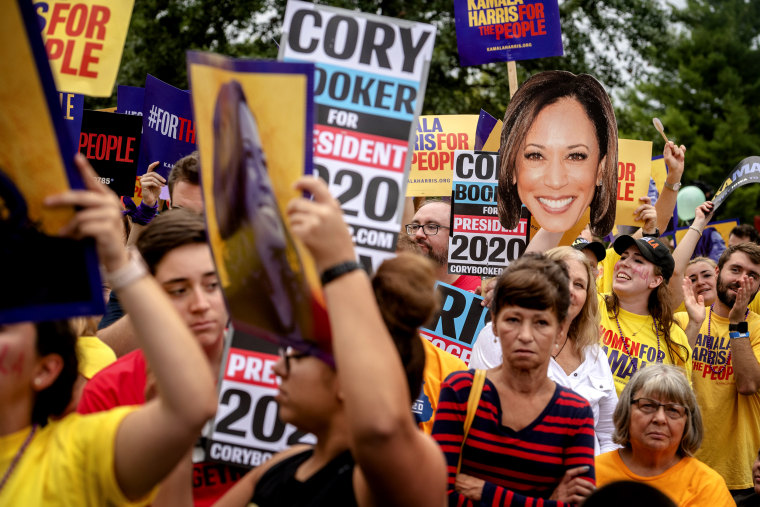 Booker did, however, manage to insert a number of issues of deep concern to non-white voters into the Democratic presidential primary contest. Thanks in part to him, the party's major candidates must now be prepared to contend with marijuana legalization, a range of economic and health disparities, and the real implications of uneven policing, political experts said.
One of Booker's biggest challenges was getting voters to see him as a candidate with the skill and the mettle to battle President Donald Trump and win — an essential question for any Democratic candidate, poll after poll have shown.
BlackPAC polled black voters during the fourth quarter of 2019, and found that they picked former Vice President Joe Biden not because of his relationship with former President Barack Obama, but because they believed Biden could win, Shropshire said.
"He will move on the issues they care about. He is a fighter, and they think he has the ability to beat Trump," Shropshire said of Biden.
To Jas Sullivan, a professor of political science, psychology and African American studies at Louisiana State University, that begins to explain why a traditional background like Booker's seems to have little value this election cycle.
"While the African American electorate may like Harris and Booker as political leaders, they may not have confidence that either of them can ultimately beat Trump," Sullivan wrote in an email.
Booker's departure from the race leaves only one black candidate, former Massachusetts Gov. Deval Patrick, in the Democratic presidential primary contest. (Rep. Tulsi Gabbard, D-Hawaii, who is Samoan American, and businessman and political newcomer Andrew Yang, who is of Taiwanese descent, remain in the race as well.)
Patrick, a late entrant who does not register any support in most early state public polls, has positioned himself as a center or center-right candidate who opposes a wealth tax and "Medicare for All." He is also a multimillionaire with what has been described as the backing of big donors and party influencers troubled by the social and economic policy ideas advanced by leading leftist candidates such as Sen. Elizabeth Warren, D-Mass., and Sen. Bernie Sanders, I-Vt. Obama is said to have encouraged Patrick to run.
Booker, on the other hand, with left-of-center economic views, and ties to charter school and pharmaceutical interests, couldn't tap Patrick's donors, a sufficient number of small donors or traditional Democratic constituencies such as teachers unions. As he struggled to raise money, he couldn't keep pace with the ad spending and other activities of more flush campaigns. He also couldn't meet the requirements set by the Democratic Party for fundraising and poll performance to continue appearing on the debate stage. Booker failed to qualify for the December or January debates and mentioned this in his decision to drop out.
Democratic Party rules and the nation's campaign finance law have together made it possible for "several billionaires and multimillionaires" to transform the Democratic presidential nomination into "the new sports team, a shiny new object for billionaires," Shropshire said.
There are two billionaires in the race, Tom Steyer and Michael Bloomberg, though only Steyer has qualified for a debate. As of Monday, when Booker withdrew from the race, Steyer, a businessman and a political novice, tied or outranked Booker in multiple January polls. In a South Carolina poll conducted by Fox News, Steyer led Booker by 13 points.
"The bigger issue here is Citizens United," Shropshire said referencing a 2010 Supreme Court decision eliminating many campaign donation limits. "When you have a candidate who can say they are going to put a billion dollars into the race regardless of whether they are the nominee or not, that changes the scale of what we understand is required to be elected. Obviously that has a long- term impact on the democratic process. It distorts both our democracy and, for Democrats, our nominating process."
But that was only part of Booker's challenge. His policy positions also may have put him to the left of the more conservative black voters who are vital to the coalition any Democrat needs to win the primary or general elections, Sullivan said. Black voters make up about a quarter of the party's voters overall and 66 percent of the electorate in the early primary state of South Carolina.
"Remember, if we compare Obama to Harris and Booker, Obama was viewed as a moderate politically," Sullivan said, "and maybe there is a more of an attraction among African Americans."
What Booker did do is influence other candidates, forcing them to take positions on issues that might have otherwise received only brief attention or none at all, Shropshire said.
Shropshire pointed to Booker's debate stage comments that Biden "might have been high" when the former vice president said that he today opposes marijuana legalization but supports other criminal justice reforms.
Booker pointed out that police and prosecutors have treated marijuana use and possession by people of color as serious crimes, while white Americans are no less likely to use or deal drugs but are far less likely to be interrogated, arrested, prosecuted or jailed for longer terms for the same activities. Those facts were known in the 1990s.
"Marijuana in our country is already legal for privileged people," Booker said during a November debate in Atlanta, one of the nation's blackest major cities. "There are people in Congress right now that admit to smoking marijuana, while there are people — our kids are in jail right now for those drug crimes."
Booker landed other zingers on the debate stage or was the first to take a position on various criminal justice reforms, immigration, the effects of the racial wealth gap, and the need for serious conversations about reparations for slavery and a national gun licensing program. He may have forced other candidates, such as Warren, to speak about them more often, and centrists, such as Biden and former South Bend, Indiana, Mayor Pete Buttigieg, to address them at all, Shropshire said.
Shropshire highlighted Booker's "exuberance on the trail, his wit, which I know some considered corny," she said. "But in a real way, I think it will be missed."