For more than 40 years, a small dinette in Southwest Atlanta was a "hallowed ground for black independence," where everyone from civil rights leaders like Dr. Martin Luther King Jr. to college students would gather over Leila Williams' acclaimed cuisine.
The line for a coveted booth would sometimes stretch around the corner, but the dinette's patrons were willing to wait for Williams' classic Southern dishes such as charred fish, collard greens and peas, Charlotte Webb, her goddaughter, told NBC News.
"What really stands out in my memory is her cooking, and actually how she reached out to so many people," Webb told WXIA, an NBC News affiliate based in Atlanta, in a separate interview.
On Thursday, the Atlanta icon will celebrate her 107th birthday in the presence of friends at the Glenwood Health and Rehabilitation Center in Decatur.
While Williams' dinette closed in the early 1990s, her kind spirit and legendary food left a mark on Atlanta.
This is, in part, because her restaurant, Leila's Dinette, was at the heart of the civil rights movement. Students from the neighboring historically black Spelman College and Morehouse College would pour in alongside civil rights leaders such as Ralph Abernathy, Julian Bond, Congressman John Lewis and the Rev. Joseph Lowery.
"It was a place where they could strategize and spend quality time," Webb said. "That's part of the legacy."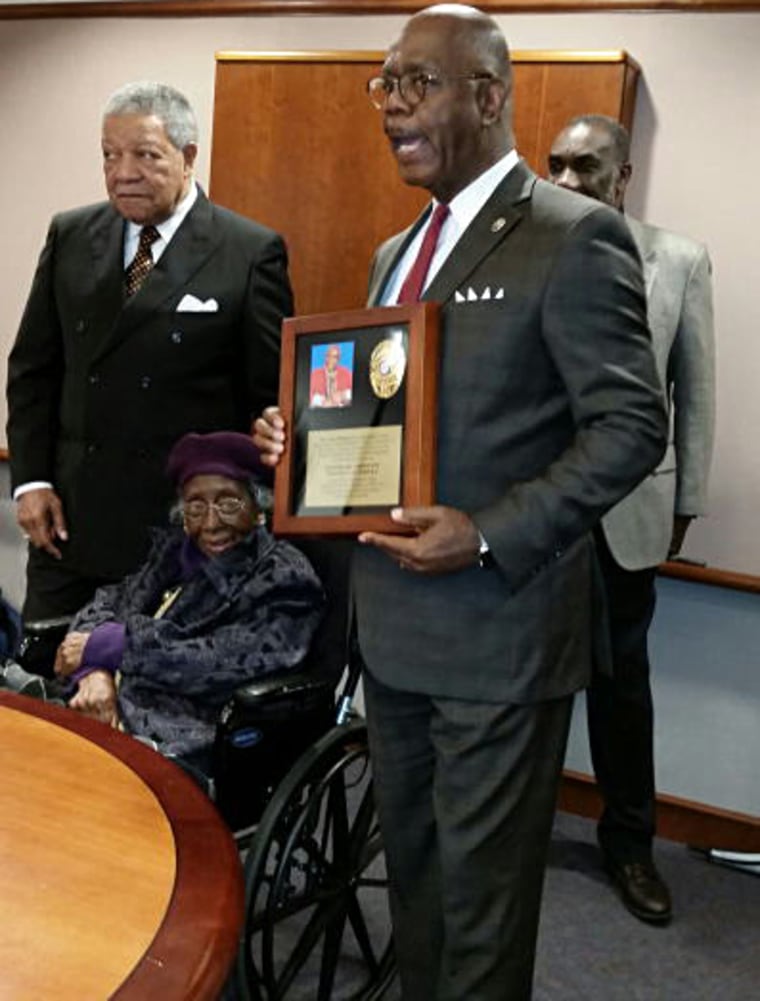 Whether she was serving food to a well-known activist or a local college student, Williams' cooked with love, Webb noted. There weren't many places where the black community could gather, but the dinette on Fair Street was a "safe haven."
"She fed people even if they didn't have money. She just had this kind spirit about her, and people remember her," Webb said. "To her, everybody was equal."
The energetic atmosphere of Leila's Dinette is fresh in the memory for many former patrons, including longtime Atlanta business executive Julius Hollis.
"Leila's Dinette was the anchor in the black community and as a young boy growing up in that area, on many occasions I would go in and there I would see Dr. Benjamin Mays, and I would see John Lewis. I would see a great cross-section of political and business leaders throughout Black Atlanta," Hollis said.
Williams' generosity extended beyond the four walls of her dinette too. At home, she would cook up big pots of soup and cornbread for anybody in the neighborhood who was hungry.
"We nurture with our food, and that's an experience we can share. It brings a memory," Webb said.
After the dinette closed in the early 1990s, it sat vacant for decades before Keitra Bates purchased the space. She wanted to carry on Williams' legacy, but renovating the kitchen wasn't an easy feat.
"When she was really struggling to get the restaurant open and everything needed re-doing, she always used Ms. Leila's spirit to give her that boost she needed to move forwards," Webb said.
Now, the former dinette has been transformed into a sleek commercial kitchen, where chefs from all around Atlanta can prepare their specialties. The shared kitchen, Marddy's, gives cooks and vendors a space to make their goods and market them through their online and in-store marketplace.
Bates hopes to preserve the rich culinary community in Atlanta, according to the kitchen's mission statement.
"We were stepping into some very big shoes. That we were stepping into a place that just is hallowed ground for black independence in Atlanta, because it was opened in 1949 and there were not many places we could go and be served with dignity," Bates told WXIA. "Ms. Leila created a space where that could happen and so I feel we are continuing that legacy with Marddy's."
Though Leila's Dinette no longer stands, the cultural tradition that Williams created in 1949 lives on.
"That's what's so amazing about this whole thing, is that the legacy continues," Webb said.