Amidst the thunderous applause at Sunday's 2017 Emmy Awards was the sound of another barrier crashing down in Hollywood.
Lena Waithe accepted the award for Outstanding Writing For a Comedy Series, along with her co-writer Aziz Ansari, making her the first black woman to be given that honor. Yet in the speech that followed, Waithe reached far beyond women of color.
"My LGBQTIA family, I see each and every one of you. The things that make us different, those are our superpowers," Waithe said. "Every day when you walk out the door, put on your imaginary cape and go out there and conquer the world. Because the world would not be as beautiful as it is if we weren't in it."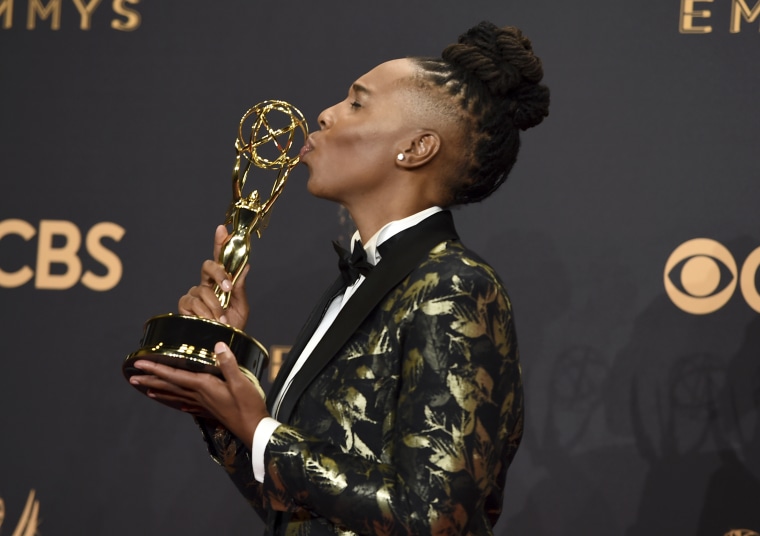 Waithe, 33, won for co-writing the "Thanksgiving" episode of "Master of None," in which her character, Denise, reveals her sexuality to her family over the course of years of holiday dinners. The episode is based on her own coming out experience.
"That to me is the true meaning of being an artist. It's about being vulnerable," Waithe told NBC News. "I hope that my vulnerability and my honesty and my womanness will inspire others to tell their stories and remind them that everybody has a story."
Related: Jessica Williams Stars in 'The Incredible Jessica James' on Netflix
Being vulnerable is not something Waithe shies away from. During her Emmys speech, she gave a heartfelt shoutout to her girlfriend of three years, Alana, saying, "I love you more than life itself."
"Even if I didn't win on Sunday, it wouldn't have mattered because I was going home with a prize. She's phenomenal," Waithe said. "But when I was up there, I felt I would be remiss if I didn't shout her out and tell her how much I love her. She's what keeps me grounded."
Waithe poured her heart out while Ansari, who won in 2016 for the same category, graciously stepped aside and let her speak for both of them.
"He told me that when we were sitting down," Waithe said. "He was like, 'Don't worry about me. Go up there and take your moment.' Which, by the way, made me more nervous, because I was like, 'Oh s--t, I can't even share it.' He really wanted me to speak on behalf of him and on behalf of the show, the cast, and the crew. I didn't take that lightly."
Related: With 'Kuso,' Flying Lotus Fuses Punk Rock Filmmaking Sensibility in Directorial Debut
Waithe's acceptance speech was met with massive praise, especially on social media, where people celebrated her message of diversity and unity. For her, it was a moment of giving back the inspiration that other entertainers had given her — especially Halle Berry.
"That had a huge impact on me," Waithe said, referencing Berry's history-making win in 2002 for becoming the first black woman to win the Academy Award for Best Actress. "I remember watching her and thinking, 'Wow, I can do anything. And the industry has really embraced us.' So for me, for people to say they felt the same way watching my speech, it just means a ton. Because I just want to inspire people."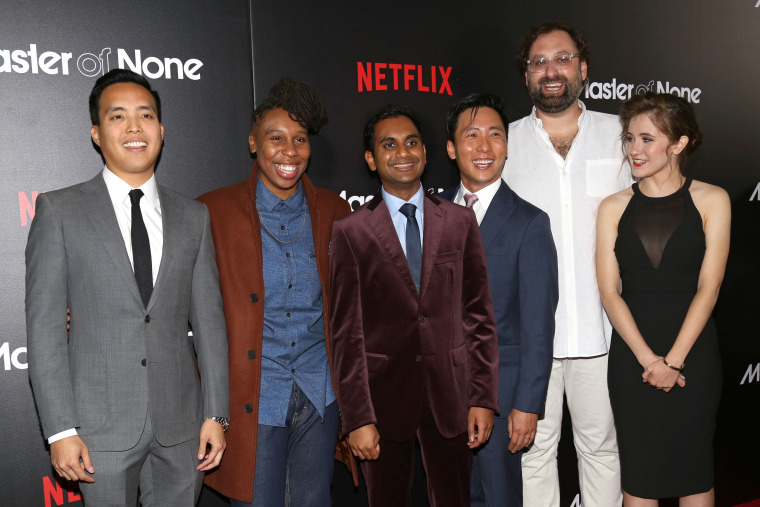 Waithe certainly has that chance. Her next project is executive producing a new series for Showtime, which she created, called "The Chi." Inspired by her upbringing, Waithe says it's about "what it means to be young and black and human on the South Side of Chicago." She will also appear in Steven Spielberg's new film, "Ready Player One," in March.
While her history-making Emmys win will certainly open more doors for new voices to be heard, Waithe still has her eyes on where the entertainment industry needs to grow.
"In TV, we need to have more lead queer characters; particularly queer characters of color in the leading roles. That for me is a big hurdle," Waithe said. "Yes, we have 'Transparent.' Yes, we have 'Will & Grace.' But I think there's still more to do. We still don't have a gay black girl as the lead of a TV show. I hope to change that very soon."