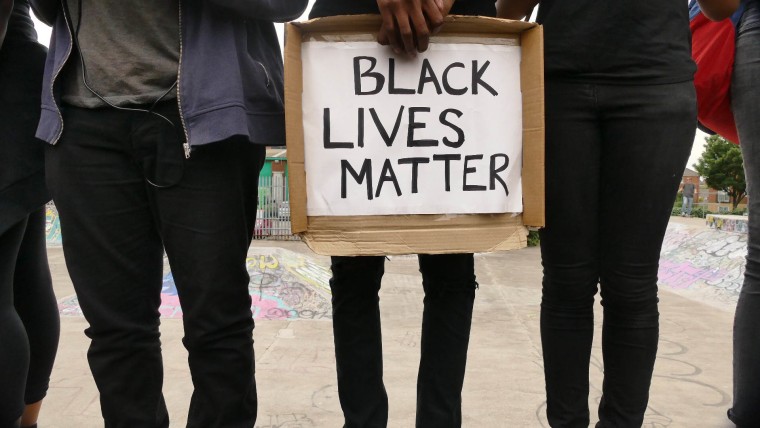 A new study examining the impact of the #BlackLivesMatter movement has found that its viral growth online has gained broad support, but that police shootings this summer in two U.S. cities by black men have also dampened approval.
The study, entitled "Social Media Conversations About Race," was released Monday by the Pew Research Center, a nonpartisan American think tank that frequently examines race and ethnicity.
The most encouraging finding for U.S. race relations: the #BlackLivesMatter movement is driving millions and millions of substantive conversations online across races, ethnicities and international borders—further evidence it is arguably the most important Civil Rights effort of the digital age.
#BlackLivesMatter includes a loose, national coalition of on the ground activists that have helped spread word of and even uncover the violent arrests and deaths of black American civilians at the hands of police, gaining it an even wider audience in the process. The movement was created by three black, female activists: Patrisse Cullors, Opal Tometi and Alicia Garza as a "call to action" and "response to the anti-Black racism that permeates our society," according to their website.
A global, real-world effort meets hashtag today, #BlackLivesMatter has appeared on Twitter almost 12 million times since its first use on Facebook, according to the social-media platform.
By examination of 1 billion publicly available tweets, The Pew Center found that in the past three years, 38 percent of those tweets were "supportive or made positive reference to the movement." Slightly more than half of those, or 21 percent of all the tweets using the hashtag, offered "broad support for racial equality and opposition to police brutality." Another 18 percent of tweets connected the hashtag to alleged police misconduct.
The Pew report offers a glimmer of hope amidst a seemingly endless stream of videotaped deaths of mostly black men across social media platforms in recent years. Such deaths have sparked ongoing riots in Milwaukee, the latest example of simmering racial tensions nationwide.
Just roughly one in ten social-media users have objected to the movement, although that number has risen this summer, Pew found. Pew also found online critics spiked after a lone black gunman killed five Dallas police in July. #AllLivesMatters and #BlueLivesMatter, a reference to police heroism, have become parallel and even opposing rallying cries.
RELATED: Celebrities Back 'All Lives Matter,' Internet Goes Nuts
"These people often equated the hashtag with being racist or violent or counter productive," said study co-author and Pew research analyst Monica Anderson. Anderson noted the study's less surprising findings, including that blacks talk about race on social media platforms about twice as often as whites, is found in other, similar survey data, including reports published previously by Pew.
"Some of these gaps between blacks and whites are about 30 or 40 percentage points, so there are these big differences there," said Anderson, meaning a large minority of America's white population isn't sharing or discussing U.S. race relations online at all. A digital sign of two lingering Americas: one black, one white.
The Pew study found that both a majority of blacks and Hispanics engage in online conversations about race and ethnicity, allowing Facebook, Twitter and the like to serve as global barbershops for surprisingly complex dialogues about everything from state-sponsored violence to racial privilege.
"I think that it is another credit to black folks on social media that we are kind of claiming this conversation," says Charlton McIlwain, associate professor of media, culture and communication at New York University. "The level of sophistication to the online conversations means there's also a kind of power that says, 'we got this, we will frame what this conversation should look like.'"
RELATED: 'Broadway for Black Lives Matter' Concert Rallies Artists, Actors
During the second half of 2013, the #BlackLivesMatter hashtag had appeared on Twitter just over 5,000 times, the study found. The movement went viral online when Michael Brown, an unarmed black man living in Ferguson, Missouri, a small town outside of St. Louis was shot by a white police officer in August 2014. The hashtag appeared an average of roughly 58,000 times a day in the three weeks following Brown's death, according to Pew.
In March, Twitter provided The Washington Post a list of the 10 most influential hashtags "around social causes," ranked by the number of times they've been used since their inception. #BlackLivesMatter ranked third. #Ferguson ranked first, according to Twitter.
Other key findings of the report include:
Among black social media users, 28% say most or some of what they post is about race or race relations; 8% of whites say the same. Roughly two-thirds (67%) of whites who use social media say that none of things they post or share pertain to race.
Over a 15-month period (from Jan. 1, 2015, through March 31, 2016) there were about 995 million tweets about race – or, on average, 2.1 million tweets per day on the subject.