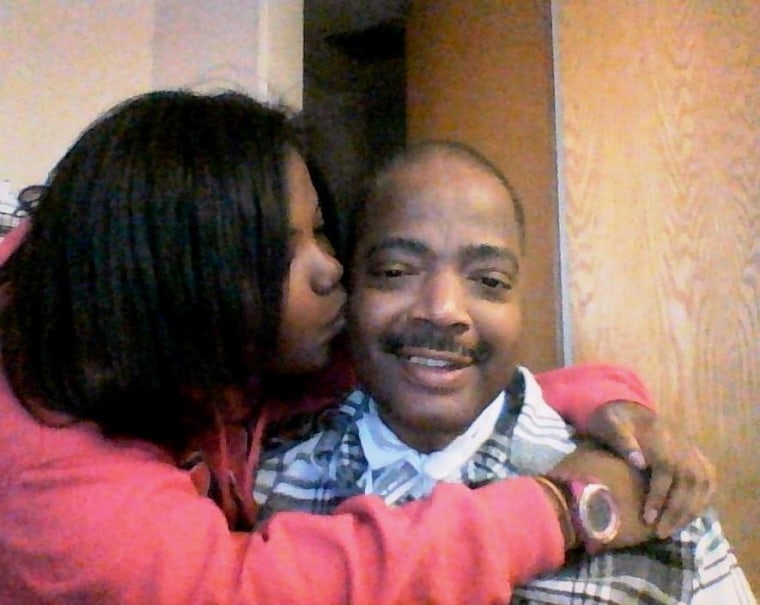 Empire's Lucius Lyon is a fictional character who is living with ALS. Cody Williams, 56, a former journalist who lives in Hartford Connecticut, is a real man who has been on the ALS journey for nearly three years.
Do you watch Empire and follow Lucius Lyons ALS storyline?
I watch it. The first time I watched, he got his diagnosis. Then I saw him running up and down stairs and going to the gym to work out. And I said this is not even close to real. But then came was the episode where he was shaving and got shakes, and he had to confess to his fiancé what was going on. That scene was extremely real for me. The one thing I don't like is when I hear him say, "I am dying." Why claim that?
How long has it been since you were diagnosed?
I was diagnosed one year ago, in January, but I struggled with the symptoms, trying to figure out what was wrong with me for 18 months prior. I was 215 pounds before I started to get sick. Suddenly I had lost a 100 pounds very fast and I was having trouble breathing.
A Black man coming in with those symptoms immediately gets tested for AIDS or drug abuse. After that doctors told me that I wasn't eating right, and that I had asthma. I have lived with asthma all my life and I know this was different. So I continued to see doctors and look for answers.
I was visiting a friend who suggested I see a pulmonologist. who told me that I have ALS. The official report said that my symptoms were in line with those of ALS.
What goes through your mind when you get that kind of diagnosis?
I was surprised, but I knew what ALS is. I just didn't think it was a black person's disease. Blacks are not usually diagnosed with the disease. I wonder if more people actually die before they get a diagnosis.
Lucius Lyons has abundant financial resources to manage his care. Did you have health care?
I was working when I first started having symptoms, but I got laid off. By the time I got my diagnosis, I had gone on disability and had coverage through Medicaid.
What goes through your mind when you first got that diagnosis?
When I got my diagnosis, people who knew me well thought I would run to the Internet for information. I knew what the diagnosis meant, but wanted to stay as healthy and positive as I could, for as long as I could. I didn't want to fill my mind with what might be down the road. At that time they gave me 60 days to live, which meant I would be gone by July of 2014 and I am still here.
How did the Facebook posts about your journey come about?
Shortly after the diagnosis I went to get a biopsy. They said I wasn't in good enough shape to have one. Instead, they put me immediately in hospice care. That was my first real post about my illness—that I was in hospice. Two weeks after that a friend posted that he had a terminal disease and two weeks later he died. That is what encouraged me to keep posting to tell people how I was doing.
What has this been like for your children?
I am a divorced father of two children, ages 15 and 13 who come and see me every day. My daughter was one-year-old when we got divorced. The kids and I spent a lot of time together because I have joint custody. Now they come in after school and spend three or four hours every day.
I do this fight for the kids.
They know I have ALS but I have not shared the prognosis with them. We asked them how much they wanted to know about what might be ahead and they didn't want to know. They don't comment on the disease. They don't make a big deal out of the fact that I am now wheelchair bound.
How do your family and friends deal with your ALS?
I have a strong circle of family and friends. That has helped keep me on the planet. They have fed me. They have taken me to appointments. They have been here for me. It is always good to have someone to speak for you. People sometimes think that when you have a disease like ALS, that you are not only physically sick, that your brain is sick too.
But that isn't true.
I am a member of Kappa Alpha Psi Fraternity, Inc. I pledged in 1979 at University of Michigan with seven other guys. Each of the seven has made the journey here to Connecticut in the last year to spend time with me.
What has been your biggest ah-ha about yourself in the last year?
Interesting, I never had a fear of leaving here, but my biggest fear is leaving my kids. That's what keeps me fighting.
Have you been surprised by others?
I am surprised by the amount of compassion that some people have, like the nursing assistants who get me out of bed, shave me and get me dressed. That was a big Ah-Ha for me.
The other thing that amazes me is the power of intercessory prayer. People from all over tell me that they pray for me all the time. And I believe that it is the prayers of others that have helped to keep me here. Many of the people who pray for me are people I only know through social media.
How are you now? Are you still in hospice?
In April of last year I got pneumonia in hospice. I eventually got moved to a long-term care facility that has specialty care for ALS. The good news comes in June, when I will be moved out of here and into my own apartment. I will have constant medical care, but I will also be in my own place and the kids can come and spend the night. You have no idea how happy that will make me.