LONDON—"Is the end of religion Nigh?" and "Black people should be grateful for Christianity" are just a couple of the topics of the meetup events of the London Black Atheists (LBA).
Co-founder Clive Aruede created LBA in October 2012 with just four members. Four years and 420 members later, he says these events helped build the group's momentum in that not all Blacks believe in God.
"Many people when they get to know of LBA comment that they have been looking for just such a group."
Other similar groups exist, though they are few in number. The New York-based "Black Atheists of America," for one, aims to bridge the gap between atheism and the black community. Atlanta is home to "Black Nonbelievers." Its mission is to provide support for nonbelievers of all races who are coming out and to promote atheist pride.
On a breezy Sunday afternoon inside Hyde Park "Speaker's Corner," LBA hosts a picnic. Speaker's Corner has a longstanding tradition of permitting groups and individuals to set up posters and podiums on Sundays to openly debate religion.
On this Sunday, about 10 members are gathered around a table of world religion books on top of their LBA banner. They're debating religion, or lack thereof, with passersby. A woman is shouting at LBA member Audrey Simmons. "How do you know that," Simmons is heard replying.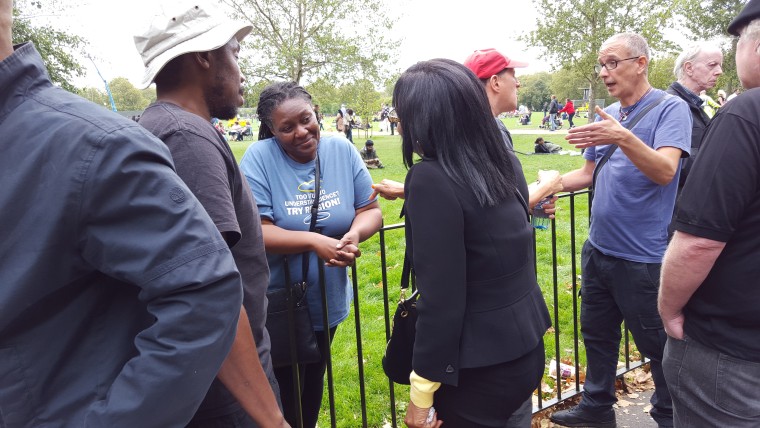 Aruede, a former minister in the Catholic Church, says the group is making strides since its inception. "LBA members are out making connections with other groups through talks so that people are increasingly understanding the negative impact that religion has had on the Black community."
The group mainly speaks against Christianity, Aruede says, because "it's the religion blacks from Africa and the Caribbean were raised in."
Nevertheless, the group does not support any religion. "Supernatural thinking is the failure to accept responsibility for one's actions - leaving everything to God," asserts Aruede, who describes the belief in prosperity gospel as another destructive influence on blacks. He characterizes this teaching as "the extortion of money from congregations convinced they would receive money back tenfold."
"There's this idea that all black people are religious and we want to actually show people that there's an alternative. Not all black people are religious."—Clive Aruede
LBA has held meetups with the Dorset Humanists, "a welcoming group for humanists, atheists, and agnostics who seek to live ethical and fulfilling lives on the basis of humanity." The group has also held sessions with West London Humanists and Secularists, which tries to contribute to the wider understanding of Humanism. Says Aruede, "some of our members are being invited onto panels (BBC One- The Big Questions) and think tanks."
Within the last six months, LBA has held at least 28 events similar to its picnic in the park. The group has met for evening drinks with ex-Muslim activist Rayhana Sultan, conversed as a group about overcoming the challenges of being black and atheist, danced at an '80s music concert and viewed a West African intellectual exhibition at the British Library.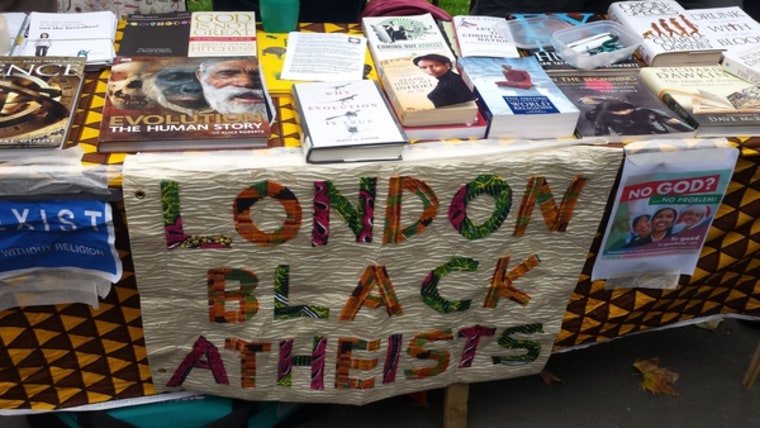 While its debate topics like "Race, Religious Dissent and Identity" and "Is Homosexuality unAfrican?" are open to the public, LBA isn't recruiting blacks to convert to atheism. "Our immediate goals are to provide a safe space for people leaving religion," Aruede stresses. "We aim to provide a place where people can meet and discuss issues with other like-minded individuals free of negative reactions, coercion and threats."
It's a conundrum of sort's - being black and atheist is an unorthodox paradox. People of African descent generally believe in God, Allah or some other higher being. According to Aruede, "there's this idea that all black people are religious and we want to actually show people that there's an alternative. Not all black people are religious."
Simmons, of Southeast London, explains that blacks are more apt than whites to be shunned by loved ones who "come out" as nonbelievers. "The idea that you can be black and be an atheist is still quite new. People have been kicked out of families and shut-ins have happened."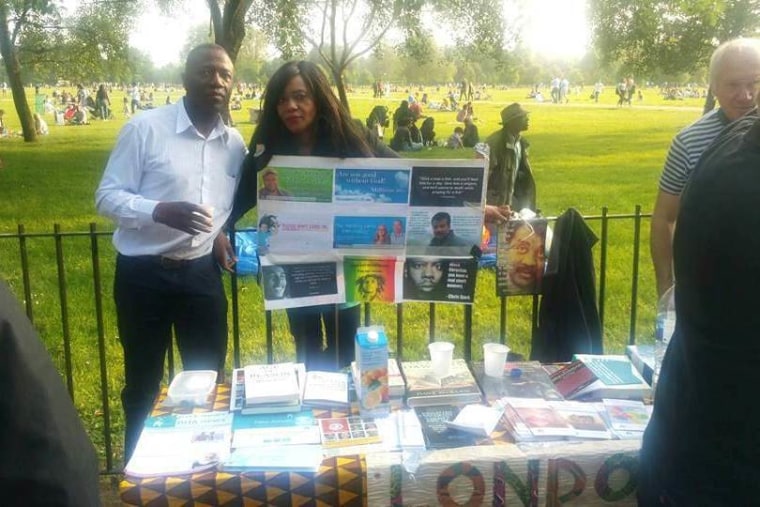 A lack of evidence in religion, members say, is at the forefront of their philosophy. "The only 'evidence ' of a soul or afterlife is usually a ghost which are either Roman centurions or some 17th or 18th century woman pining for a lost love," says Simmons. "No one sees caveman, or animals out of time or place. Do they not have 'souls', too?" she asks.
Like other atheists, LBA doesn't believe in a soul, spirit or afterlife. "For me, we go nowhere (after death), just back to the earth, ashes to ashes dust to dust - at least that part I agree with," Simmons says.
RELATED: 'This is My Ministry': Former Addict Helps Kids Transition From Heartbreak to Hope
LBA members assert that, blacks in particular, don't challenge the source of their information. "Failure to hold politicians to account because they are endorsed by pastors, give them license to loot public fund," Aruede says." Pastors, he points out, are able to skirt the laws.
"Our immediate goals are to provide a safe space for people leaving religion."—Clive Aruede
When Aruede couldn't find answers to his daughters' questions about science, his faith was tested. "My research was counter to the religious narrative. There's evidence for the Big Bang Theory and how the world got here. It's not just about some guy who created it."
LBA uses meetup.com to gauge its membership numbers. Out of anxiety from thinking differently than the masses, people do dip in and out of the group, members acknowledge.
"We do know that people struggle with being a member because they are not necessarily 'out' to family and friend, Aruede concedes. "Many members are under constant pressure to return to religion, although the intensity of the pressure varies greatly."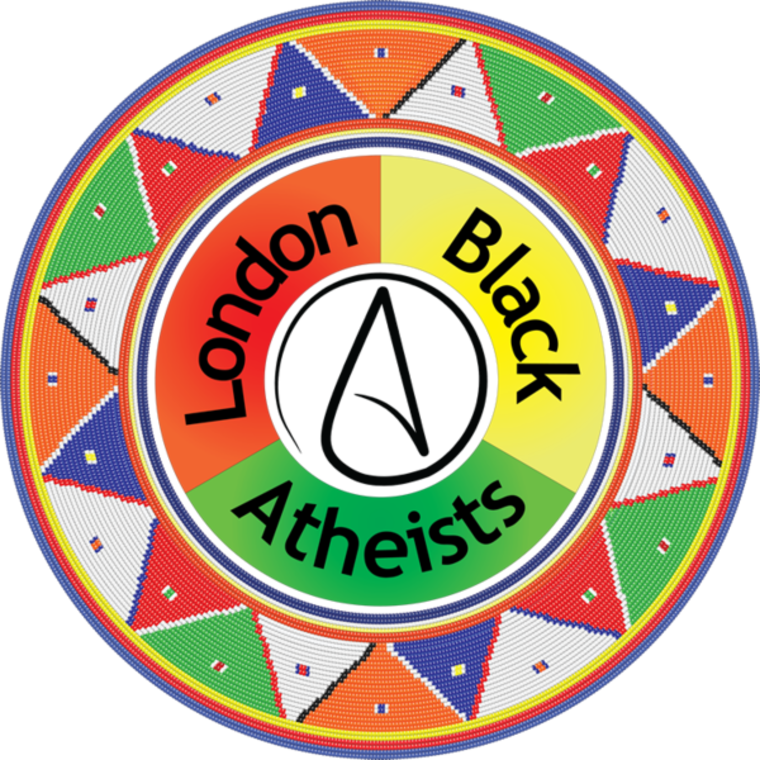 However, being a minority within a minority has gained some traction: - two LBA members created an offshoot group, the Secular Jewish Group.
Co-founder Catherine Gardener says she couldn't find a group in the UK that shared her beliefs. "I felt that there was nothing in existence that allowed me to express my cultural identity, in a way that did not invoke God. So I started the Secular Jewish Group and modeled it on London Black Atheists to test the waters in order to find out if other people had the same feelings as I had."
At one point the group boasted more than 300 members, but Gardener disbanded it because she says it wasn't financially self-sustaining.
LBA wants atheism, secularism and humanism for all blacks. Whether they gather in a park for a picnic on Sundays, hold a debate on theology, share good times at a dance party or have evening drinks with a historian.
Aruede says blacks should know that they are not alone in wanting to leave religion. "We want to encourage Black people to come out. They are more likely to come out if it's a black organization than if it's not."