It's a raw morning in Manhattan and snow flurries cut diagonally across a scene in Central Park. A crowd gathers around a tall black runner as he crosses a finish line on glistening pavement. The man is Gary Corbitt, son of the late Theodore "Ted" Corbitt, the "father of long distance running."
Although it's cold enough to numb fingers, the mood is warm. Everyone wants to take a picture with Gary Corbitt, the closest connection they can make with Ted Corbitt, an Olympian and pioneer in physical healing and race course measurement.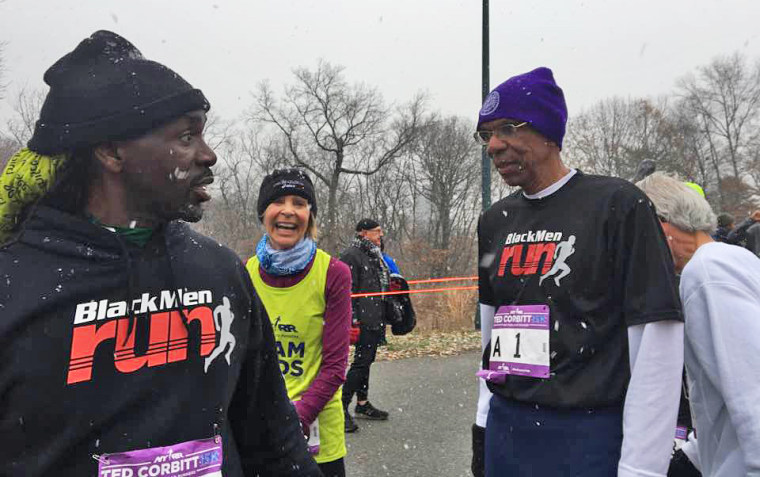 Outside of the running world, many have never heard of Ted Corbitt, who died 10 years ago on Dec. 12th. after battling cancer at age 88. Not only did the soft-spoken Corbitt avoid attention but he never got the same recognition as other running pioneers. Now, thanks to the efforts of Corbitt's son and others, word is getting out about him. The Ted Corbitt 15K race in New York named after him is an annual rite for runners of all cultures.
"It's special and kind of overwhelming — the whole experience," Gary Corbitt, 66, of Jacksonville, Florida, told NBC News after Saturday's Ted Corbitt 15K. "He's smiling down, seeing so many people out here moving — moving fast, slow, whatever, but moving," added the retired researcher and broadcast executive.
Black Men Run New York City, a chapter of the national Black Men Run group that helped spark a boom of black runners across the country, offered for the second year in a row a finisher's medal embedded with an image of Corbitt for the race. Chapter captain Kovon Flowers came up with the idea to honor Corbitt's legacy with the medal.
"Just to see his tenacity is enough," John said. "It's enough to drive you to say, 'I can push myself a little more; I can make it to the Bronx; I can go an extra mile.' "
In 1952, Corbitt became the first black American to represent the United States at the Olympic Marathon — held that year in Helsinki, Finland. A winner of 30 marathons, he was founding president of New York Road Runners, parent organization to the TCS New York City Marathon, the largest marathon in the world. He also was part of the inaugural class of inductees into the National Distance Running Hall of Fame in Utica, N.Y. and a pioneer of race course measurement. He ran up to 312.5 miles in a week and introduced the "ultramarathon," a race longer than the standard 26.2-mile marathon, to the U.S. His son and his friends also credit him with an acceptance of spirituality and alternative healing that helped him help others. Before his death, he sought treatment for colon and prostate cancer from an alternative practitioner in Houston.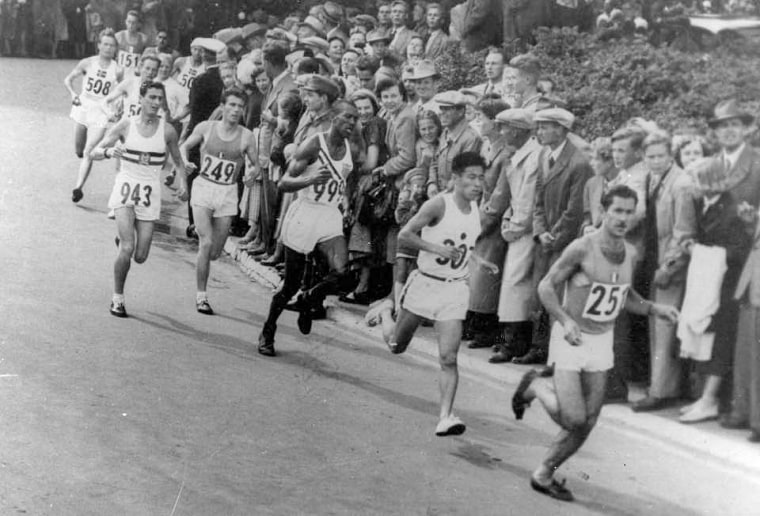 Corbitt had a "desire to win," Gary Corbitt said of his father. "In the early morning he would say that his competition overseas had already worked out and that motivated him to get up early (and run)."
Ted Corbitt grew up on his family's cotton farm in rural Dunbarton, S.C. Like his grandfather, a former slave, he ran everywhere, even to school after getting his brother and two sisters dressed and fed. During the Great Migration, when millions of African-Americans moved from the South to pursue better opportunities, his family moved to Cincinnati. There, Corbitt ran track in high school and at the University of Cincinnati, but segregation kept him from traveling to many running events, author and friend Gail Kislevitz told NBC News. As a teen, he learned of Ellison Myers "Tarzan" Brown, a Native American who won the Boston Marathon in 1936 and 1939. That motivated him to see if he could run as far.
After graduating from Cincinnati with honors, Corbitt moved to New York, married Ruth Butler and earned a graduate degree in physical therapy from New York University. He made distance running part of his commute, his son said. He tested recovery methods on himself after runs that stretched up to 60 miles.
Fred Lebow, founder of the TCS New York City Marathon, dubbed Corbitt "the father of long distance running." Intuitive healer Peter Roth told a recent forum at the New York Road Runners RunCenter that Corbitt listened to him when others would not.
While many admired him, others shunned him because of his race. Friend and race director Rich Innamorato recalled during the NYRR discussion that police stopped them as they drove home from the Penn Relays, and he said Corbitt told friends he'd been stopped 300 times by police.
After winning a 37.5-mile Peekskill-to-Yonkers race in the mid 1960s, he could not find lodging that would take him in and had to find someone to drive him home, Gary Corbitt said.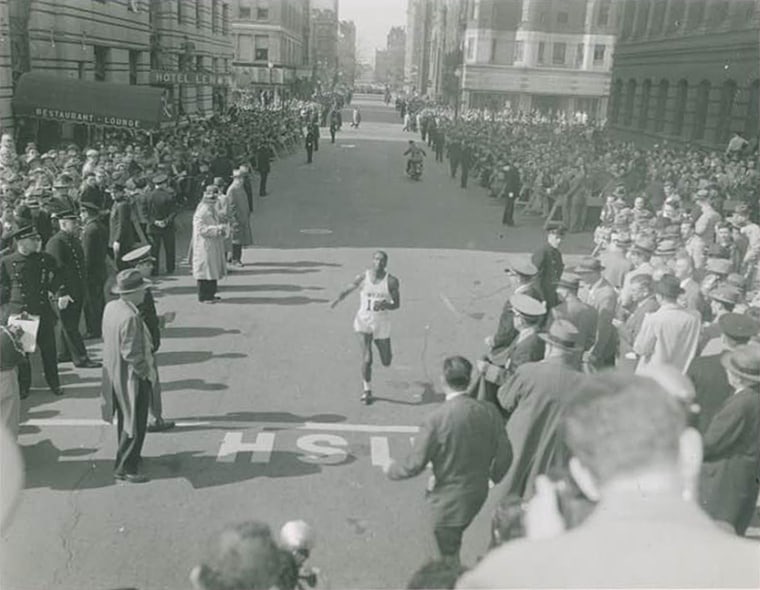 In 2013, the National Black Marathoners Association inducted Corbitt into its inaugural Hall of Fame. Later that year, NYRR did the same. NBMA cofounder Anthony Reed said it often surprises newer distance runners to learn of Corbitt's existence.
"We just wanted to make sure people were aware of his accomplishments," Reed said.
Marathon runner Mekela Mongerie, a black woman from Robbinsville, N.J., who ran Saturday's 15K, said she was moved by what she learned about Corbitt at the NYRR event.
"I am always grateful to run, but yesterday I was grateful for the pioneers who have made my involvement in the sport possible," Mongerie said.
It took Gary Corbitt 15 months to go through all the papers, medals, trophies, and newspaper clippings stuffed into his father's Bronx apartment. He created a website, Facebook page, and Twitter account to share his father's history and launched a project to collect history of black distance runners.
He said after all of the accomplishments and strides his father Ted Corbitt made for runners, he is amazed by the impact he had on people.
"For people to say he saved their lives or think about him as their father — there's a spirituality that connected him to people," Gary Corbitt said. "The way he led by example is profound."