Relentless. That's the word Dr. Shawn Robinson uses to describe himself.
A 37-year-old husband and father, Robinson has a PHD in Language and Literacy. His research and advocacy for the education of young black males has led him from implementing literacy programs in prisons to presenting his research before a White House task force.
With the determination and confidence he displays, it's hard to imagine that several years ago Robinson could barely read.
At age three, Robinson had very few words in his vocabulary. A local children's hospital in Chicago determined that he had a speech delay and provided him with speech therapy classes. However, when Robinson began grade school in Evanston, his difficulty with reading and writing became even more apparent and manifested in his behavior.
"I would use different defense mechanisms to try to avoid reading: act out, interrupt the class, do something so that I could be removed," explained Robinson. "Just so I wouldn't have the embarrassment."
While there is no scientific evidence backing a racial genetic component linked to dyslexia... black males, who come from impoverished communities with insufficient learning environments, have more at stake.
After being tested multiple times and without a special education program within his community, Robinson and his mother, Michelle Myers, relocated to another school district located north of Evanston, Illinois in the suburb of Wilmette.
In this new learning environment and with the help of home-tutoring services, Robinson's reading began to improve. However, being a biracial teenager in their primarily Caucasian neighborhood presented a new set of challenges, which began on his first day of junior high school.
"There were about ten boys in front. They circled the school and they said 'we don't want niggers in,'" Myers recalled. "I never thought in a million years, in the [1980's] that I would have to battle racism in the Northshore."
Robinson continued to be singled out as a freshman at New Trier High School, one of the top schools in the state of Illinois. He would divide his time taking classes between the main campus and an alternative education center for students with learning challenges.
Essay: Creating Opportunity Beyond Community College
It was during that time that he was given the opportunity to help coach Special Olympics, an athletic program for students with disabilities. Working with students that had Down Syndrome, Cerebral Palsy, and other conditions gave Robinson a new outlook on his personal struggles.
"I learned from them that whatever obstacles they faced, they always smiled. Just by being exposed to them helped to change my perspective in life," said Robinson. "I can't complain if they're not complaining."
In 1995, when it was time for Robinson to attend college, he and his mom visited a career counselor, but with Robinson's low grades the counselor said that college was not an option.
"The counselor said 'the best thing that's going to be for Shawn is for him to go to trade school and be mechanic,'" recalls Myers. "She said that in front of him."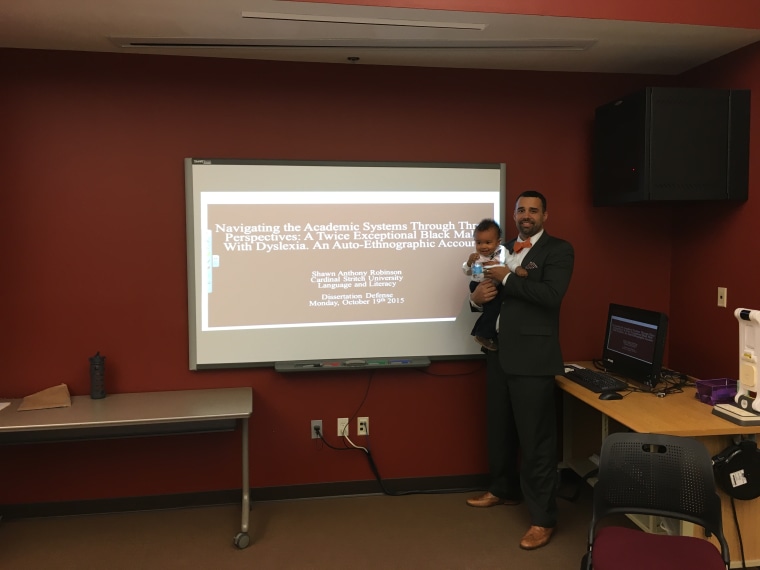 Robinson's mom couldn't accept that her son could not get into any college, understanding that after all, it was education that changed her own life and opened up the door to her nursing career.
While seeking out options for her son, Robinson's mom was referred to a program 160 miles away at the University of Wisconsin, called Project Success. Created in 1979 by Dr. Robert T. Nash, as a small remedial program, it focused on providing students with the basic language skills needed to compete in a collegiate setting.
Robinson was 17 when Dr. Nash revealed that his struggles over the years could be attributed to something he'd never heard of before—dyslexia.
"I had to learn everything from the beginning. So that's when Dr. Nash taught me how to read and gave me the tools," said Robinson. "It was kind of just like a wrecking ball, I just kept knocking down walls and overcame the obstacles. I put my pride to the side and found people who were willing to help."
After meeting with Nash, Robinson began Project Success at the University of Wisconsin Oshkosh and a few weeks later he was officially accepted into the university.
"It doesn't go away, you just figure out a way to cope with it."
"Shawn was very embittered and angry about what had happened to him in Chicago. It took a lot of personal counseling with these students who were humiliated, embarrassed and their self-confidence was almost zero," said Nash. "As he realized that he was not dumb, blind and stupid then he started doing his own thinking and that's the creative aspect that's so hampered on the part of non-remediated dyslexics."
Nash, who became aware of his dyslexia at age 48, pulled from his own experiences to connect with Robinson. Nash used to memorize his textbooks to pass collegiate exams, before his research led him to develop Pure Complete Phonics, a very comprehensive reading plan that utilizes the all-inclusive sound structure of American English. This plan he would eventually teach Robinson, and Robinson would use to help others.
RELATED: Justice Scalia Under Fire For Comments About Black Students
It would take Robinson six long years of playing catch-up at a collegiate level, before he would receive his B.A. in Human Services in 2002. He credits his success to Nash, the Project Success program, and professors and mentors who aided him along the way.
"Now I love on students who are in similar situations as I was, and give them hope," said Robinson.
After Robinson received his college degree, he applied to the School of Education at DePaul University in his native city of Chicago. His GPA was below admission requirements but with the support of a professor there he was given probationary admittance under the conditions that we would need to earn three Bs or better to continue in the program. Robinson came one grade short of meeting that bar, but was ultimately accepted into the program.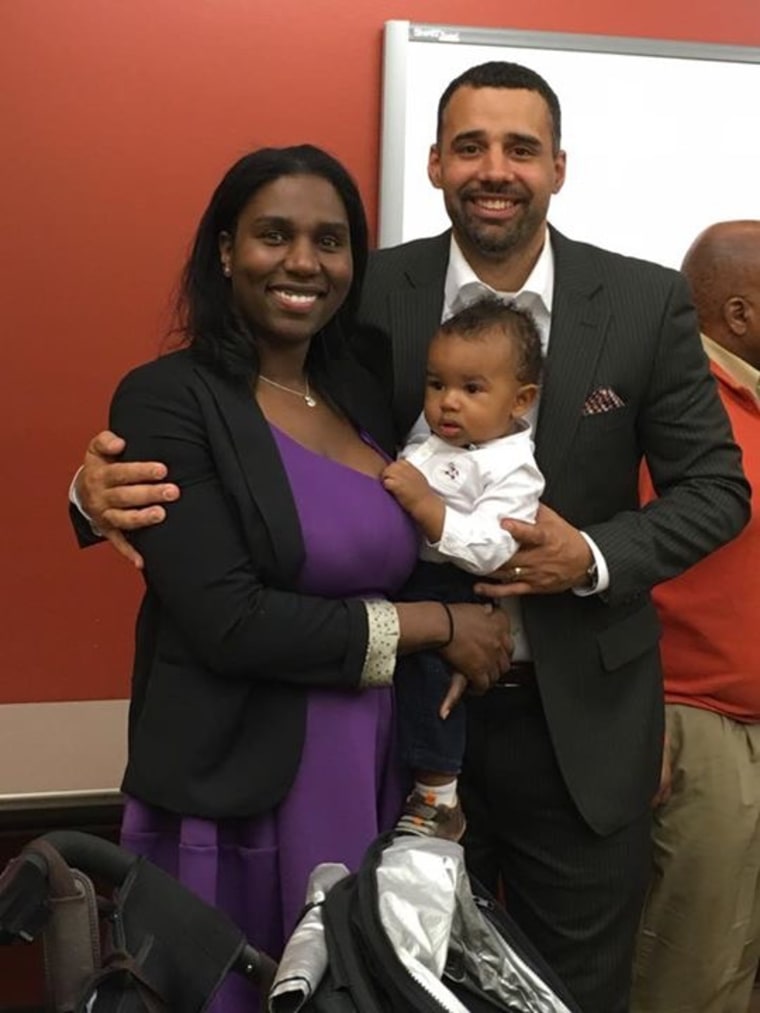 While there is no scientific evidence backing a racial genetic component linked to dyslexia, in Robinson's experience, of those affected, black males who come from impoverished communities with insufficient learning environments, have more at stake. His personal struggle drove him to pursue his doctorate in this field of study.
"[Black males] are more likely to be imprisoned, [have higher] dropout rates, statistically the numbers are against black males. I work with white students too, but there are other implications that they don't deal with that black males deal with in terms of racial biases," explained Robinson, "and things that also can play a factor in their identity and their development."
Robinson is still active with the Special Olympics in his local community and travels back to Wilmette whenever possible to volunteer. He is grateful for the handful of mentors who did their best to support him in high school and college. Utilizing his personal experience and professional education, he continues the work of Nash by mentoring other students with dyslexia.
Robinson still struggles with his Dyslexia, but that's not stopping him.
"It doesn't go away, you just figure out a way to cope with it," he explained. "I'm just trying to make a difference in these kids' lives; no kid should go through life not knowing how to read."
His mom, who fought so hard for his future, encourages other parents never to give up.
"Regardless of the color of your skin, your ability to pay, your educational background," said Myers. "There is always a college for everyone."