A white man who called North Carolina police on a black woman who was using a private community pool with her child no longer has a job because of the "terrible incident," his company said Friday.
Global packaging firm Sonoco Products said in a statement that although the Fourth of July incident involving Adam Bloom occurred outside of work, the company does "not condone discrimination of any kind."
It was not immediately clear whether Sonoco fired Bloom or if he resigned. A LinkedIn page in which he had listed his position as a value realization leader was later disabled.
Bloom resigned Thursday as the "pool chair" and a board member from the homeowners association of Glenridge, his community in Winston-Salem. The association apologized in a statement and said that Bloom "escalated a situation in a way that does not reflect the inclusive values Glenridge seeks to uphold as a community."
In an interview with NBC News on Friday, Bloom repeatedly apologized. He said he regrets how he handled the encounter with the woman, Jazmine Abhulimen acknowledging that he could have been "more empathetic to how she may have felt."
Bloom said he was surprised by the national attention the incident received and was "overwhelmed by the response," calling it "nothing I would've ever anticipated." But he added that he was "not surprised by social media's desire to only get part of the story."
"I'm so hurt that I in any way made another person feel small, maligned and called out," Bloom said. "And so my goal here is to give you better expression of my full view as a person, and express my sincere regret for the actions that I took that day."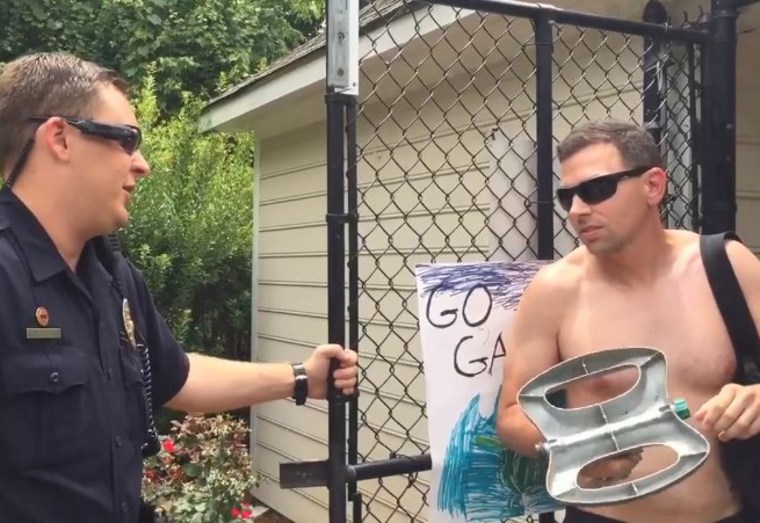 Bloom described his leaving Sonoco as a "mutual separation."
"I'm heartbroken that I'm no longer on that team, but unfortunately we felt at the end of the day talking through it that the company's best interest would be uh served without me," he said.
Also on Friday, police released audio of Bloom's call, in which he tells a dispatcher that "we have a non-resident that's at the pool that refuses to leave." When asked by the dispatcher who he is, Bloom identifies himself by name and says, "I'm chairman of the pool."
"We'd be happy to have her here if she would just show some identification," Bloom tells the dispatcher of Abhulimen.
In a statement, Winston-Salem Police Department said officers "maintained neutrality" when they arrived and spoke with Bloom and Abhulimen, and ultimately determined that Abhulimen "had a pool access card which did in fact provide her proper access to the swimming pool. Our officers determined that no crime had been committed during this incident."
The incident has garnered national attention. Social media users shared a Facebook post in which Abhulimen called it a "classic case of racial profiling" — the latest in a string of police calls on black people who are doing ordinary, nonthreatening tasks that have made headlines.
Abhulimen said she lives in the Glenridge community where police were called. In one of the videos on her account, viewed more than 4 million times, she told Winston-Salem police that Bloom asked for her address and then for an ID.
Abhulimen told police that as a resident, she has a key card to enter the gated pool area, which she handed over to an officer to prove that it worked.
"Where does it say that I have to show an ID to use the pool?" she asked.
Bloom told police that some people "kind of make their way around sometimes ... but that's good enough for me today."
The man then walked away when Abhulimen asked him if he would like to apologize for calling the police.
Abhulimen could not immediately be reached for comment Friday.
Bloom's attorney, John Vermitsky, said the video doesn't capture the entire incident. Another board member first asked Abhulimen her address because she didn't recognize her. Abhulimen, however, gave an address on a street where homes weren't yet built, confusing the board member, Vermitsky said.
The member then asked Bloom to verify Abhulimen' address, and when she gave what appeared to be a different one, Bloom said he thought "there's something a little askew" and asked for her ID. (It was later determined that Abhulimen does reside at that address.)
The questioning eventually led Abhulimen to call what was happening racial profiling, and Bloom decided to dial police to allow a "neutral third party" to resolve the situation.
Vermitsky said Bloom is now getting death threats and had to leave his home with his wife and three children to find a safer location.
While Bloom's lawyer said that "racism ... is a pervasive problem in this country," his claims his client was simply enforcing the rules "uniformly, without preference or prejudice."
CLARIFICATION (July 6, 6:15 p.m.): An earlier version of this article identified the woman at the pool as Jasmine Edwards. Though that is the name she uses on her Facebook page, her lawyer says her legal name is Jazmine Abhulimen.