A group of filmmakers turned the latest frivolous viral trend on its head with a cinematic take on the Mannequin Challenge—a haunting re-enactment of the controversial deaths of black men and women at the hand of police officers.
These vignettes, which also include freeze frames of iconic moments in the Black Lives Matter movement, are revealed one by one within a larger tableau, while police scanner audio from the actual events serves as an eerie soundtrack to the grizzly scene.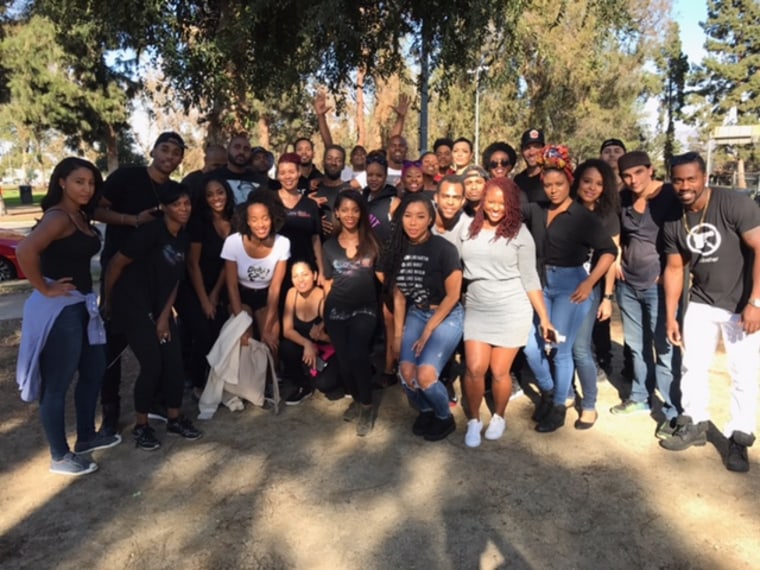 In one of the snapshots, the camera swings by an officer pointing a gun at Philando Castile, while his fiancee holds up a cell phone to broadcast the aftermath on Facebook Live. Castile was pulled over in Falcon Heights, Minnesota, and shot while sitting in his car.
Sandra Bland is dragged out of her car by the hair. Bland was later found dead in her jail cell.
Alton Sterling lies on the ground facing an officer pointing a gun at him. He died in Baton Rouge.
Trayvon Martin stands nearby, Skittles in hand, wearing a black hoodie. He was shot and killed by George Zimmerman, a neighborhood watch volunteer, in Sanford, Florida.
Quarterback Colin Kaepernick takes a knee during the singing of the National Anthem.
Filmmakers Simone Shepherd, Kevalena Everett, and Todd Anthony decided to drop the video on Wednesday night as social commentary in the wake of Donald Trump's presidential win.
The video has been viewed more than 700,000 times and shared more than 25,000 times on Shepherd's Facebook page.
RELATED: Singer Takes Knee While Belting National Anthem at NBA Game
"We started seeing the boom of the mannequin challenge," said Anthony. "We saw it and were like, 'This is an opportunity to put a spin on it to continue to push the topic and keep it relevant and to hopefully inspire people to stay strong and continue to work on creating change in our nation.'"
The piece was produced in part via Anthony and Everett's feature film project, Black in Blue Film. The project began about two years ago to develop the understanding of police brutality FROM both sides of the fence. Their goal is to help create change and address problems between law enforcement and the African-American community. The film is projected to start production in March.
"If we can show that those two sides can co-exist and maybe the rest of the nation can see the same thing and say, 'Let's look at ourselves and see if we can follow suit,'" said Anthony.
"This was such a blessing, but not only are people aware of our film but they are aware of what's really going on," said Everett. "While this video inspires our community to know that we have not forgotten."
The presidential election has put fear into many minorities' hearts. Across the country, anti-Trump protesters have also taken to the streets in a show of disapproval with the results of the election.
RELATED: Ben Jealous: The Resistance Begins Today
Everett knew this would be the perfect time to launch the video. He hopes their message will motivate people to make a change.
"We need to be the change that we wish to see," said Everett.
The mannequin challenge has become a trend on social media but Shepherd said she would rather see systemic change and unity go viral.
"That video was about remembering those people in those moments because what happens is in social media as we do stuff [like] Mannequin Challenge, that becomes our focus and we forget about those things," said Shephard. "If we want something to change then we have to not be complacent and we have to get up and do something about it."