In the summer of 2016, four teenage African American women led a peaceful protest of 2,000 people, in one of Chicago's busiest intersections.
After the march, Eva Lewis and her friends founded Youth for Black Lives, with a mission to "abolish systemic oppression, especially through the youth voice." They also wanted to make sure that the black female voice was not buried in the narrative about the event's leadership.
Surrounded by strong influences in her single mother and grandmother in the Southside of Chicago, Lewis, who has spoken at the United Nations twice so far, says she did not realize what sexism was until she got to high school. Being a Girl Scout since the age of seven and having a family that always told her, and raised her to believe, that women were just as if not more powerful than men, the concept that they were treated less than did not cross her mind until she got to Walter Payton College Prep.
"When I came to this school I had two options; to either assimilate and become 'respectable' or stand up, even when it was uncomfortable," Lewis said.
After attending educational settings where the majority of students were black, she had to adjust to her new environment. This is when her interest in activism grew. "I'd much rather say that I'm uncomfortable than let it [negative, prejudice comments] slide by. A lot of things were said, especially at a young age when people were so uneducated. That's kind of how I got my passion to stand up for things, because I had to stand up for myself."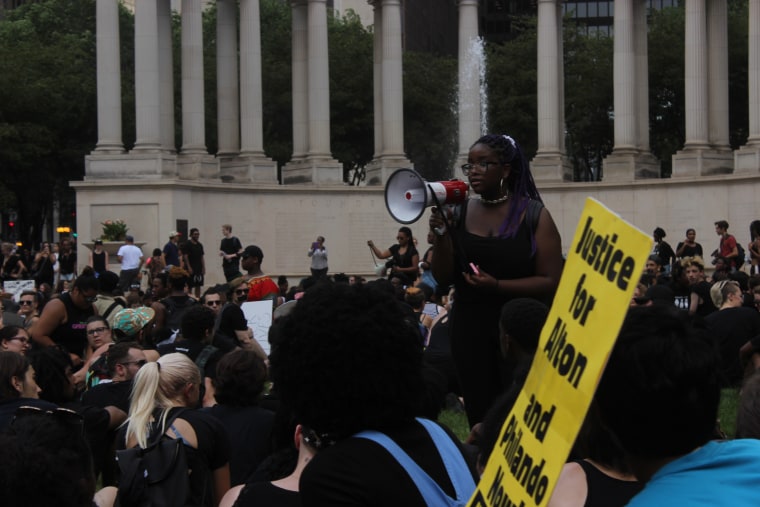 Even before she and her friends organized their protest in response to the disproportionate killings of black men and women in the country, Lewis started a nonprofit to help youth in Chicago and beyond. The I Project, which she started by writing articles, is an initiative to humanize youth affected by intersectionality.
From a photoshoot where people of different ethnicities and sizes came together to talk about culture and body image, to a screening of Beyonce's "Lemonade" where afterwards, an intergenerational panel of women spoke about what the film meant to them, Lewis says the project "gives people the opportunity to rewrite their narrative through art activism and community outreach."
"People my age really like that stuff but it's not accessible because it's always on the Northside of Chicago, where mostly white people live, and it's always at Midnight," Lewis continued. "Chicago is known for gang violence so a lot of people can't travel that late."
Related: #Goals: How Black Women Can Transition Into Politics
Lewis has also screened "The Rocky Horror Picture Show" complete with props, costumes, and snacks. "I had it during the day in a central space so people could get home in a timely fashion."
Though gun violence and police brutality is not her main focus, it is definitely something Lewis shares is part of her narrative. Even with the I Project, she wants young Chicago natives to be able to speak about how they are affected, but not in the same way as the mainstream media.
"I live in a Southside community that's plagued by gun violence and gang activity, but I wouldn't be who I am without it and I think it's important to recognize this is not a 'sob story.' The Southside isn't a place for a poverty tour," Lewis shared.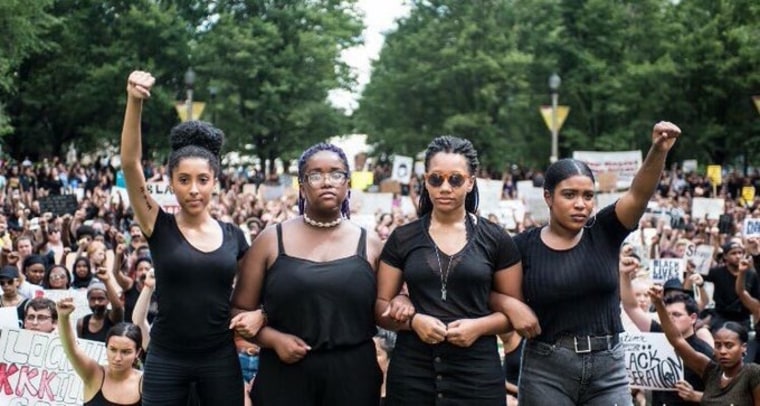 Inspired by the strength and community within her neighborhood, Lewis shares that it's not a linear nor completely violent situation. "You'd be surprised of some of the experiences I've had with people that are in gangs. At the end of the day it's all about family and community," she said. "In Englewood, there was a 4th of July event where people put their guns down, and paid for a professional fireworks show, free food, and more. It was 1:00AM and there was no shooting in what people call 'the most dangerous neighborhood in Chicago.' But no one's going to talk about that."
Being involved in multiple organizations dealing with heavy issues such as racism, sexism and the like, while also still finishing high school, Lewis does take time for self-care to sustain her activist lifestyle like singing and performing poetry.
"Those spaces and creating my own art can be self-care. I like to create my own art and be like 'This is my narrative,' Lewis said. She also likes baths, lighting candles, meditating, and keeping positive people around.
After graduating high school, Lewis will be attending the University of Pennsylvania on a full scholarship. She believes being Young Gifted and Black means "carrying your people on your back. We have an obligation because we are exposed to so much more information than our ancestors were exposed to, and we have an obligation to share it."
Inspired by L'Oreal Payton, the first black woman she recognized in her local Girl Scouts corporate office, Lewis ultimately believes that young, gifted and black people need to "help other people acquire knowledge, so that we can be free ourselves."