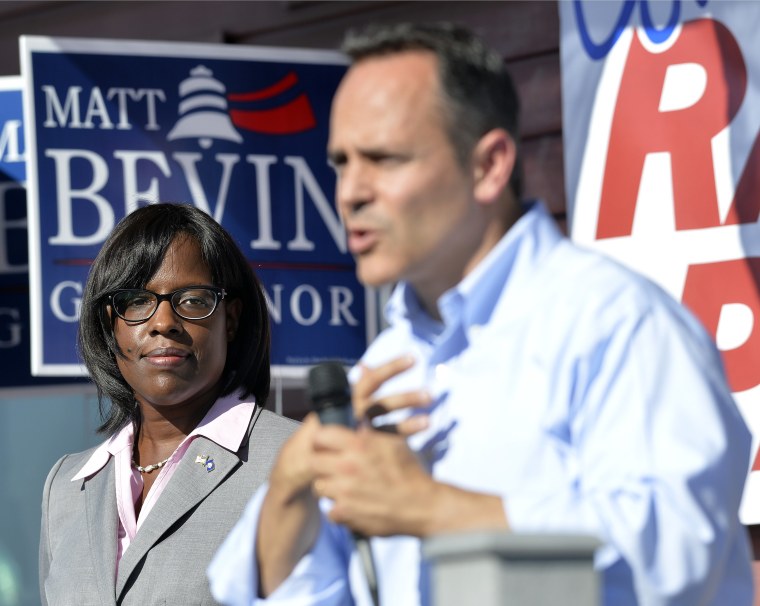 On Tuesday night, history was made in the state of Kentucky. Voters elected the first African-American to statewide office, making Jenean Hampton Kentucky's new lieutenant governor.
Hampton, who ran as the now Governor-elect Matt Bevin's running mate, is an outspoken tea party supporter, making her a rare find among her white counterparts.
She's also a newcomer to the political arena. Last year, the 58-year-old ran for her first political seat against Jody Richards, the longest-serving state representative in Kentucky history. Hampton lost, but gained an endorsement from Kentucky Senator and Republican Presidential Candidate Rand Paul.
Hampton grew up on Detroit's west side, one of four daughters to Donald and Marie Hampton. She was seven when her parents divorced and she learned a lot from watching her mother—who did not have a high school diploma—provide for the girls on a tight budget, often finding work cleaning houses.
When the family did acquire a TV, Hampton was passionate about everything NASA — never missing an opportunity to watch space mission launches and landings.
The Detroit native's professional career began when she worked her way through college in the automobile industry, earning a degree in Industrial Engineering from Wayne State University in 1985.
Before pursuing public office, Hampton was a plant manager in a corrugated packaging plant and worked there was 19 years. She spent seven years in the Air Force, including deployment to Saudi Arabia for Operation Desert Storm. While in Saudi Arabia, she rose to the ranks of Air Force Captain, responsible for overseeing critical radar software used in search and rescue missions.
Hampton has been married for 14 years to Doyle Issak, a retired Air Force Officer. Together they live in Bowling Green, Kentucky.
According to The Courier-Journal, her father, who worked on the manufacturing line for Chrysler for more than three decades, never accepted her political leanings.
"That I'm conservative, Republican, didn't support Obama — he just could not wrap his arms around that," she told the Courier-Journal's Philip M. Bailey.
Currently there are no black governors and come January 2016 there will be only two black Lt. Governors, Republicans Jenean Hampton and Boyd Rutherford of Maryland.