The man who wants to become Baltimore's next mayor has always had strong women in his life.
Nick Mosby grew up with six women in his household, including aunts, a sister, and his grandmother. He credits his mother — a single parent who rose every morning at 4:30 a.m. for work — with teaching him everything from how to catch a football to the importance of voting on Election Day.
Now Mosby, a Democratic councilman since 2011, hopes to become the leading man in the struggling city of Baltimore.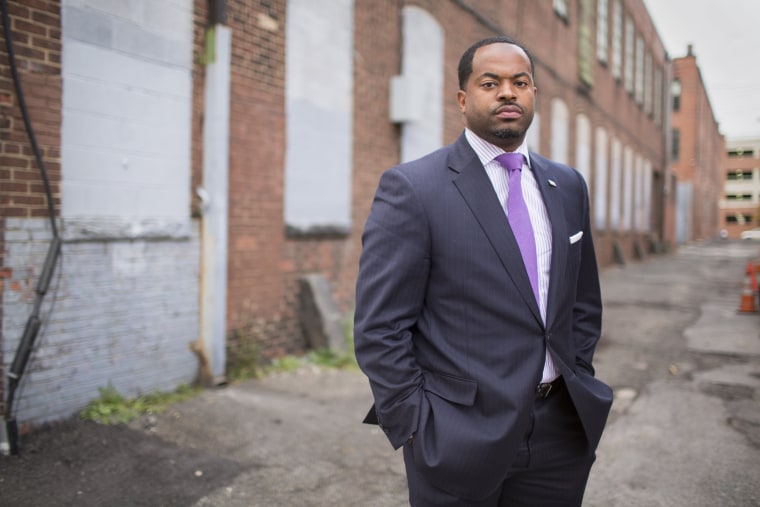 But his marriage to another strong woman, Marilyn Mosby, the city's top prosecutor, keeps coming up in conversations around his bid.
Related: Meet Marilyn Mosby, the Woman Overseeing the Freddie Gray Investigation
"I remember when she was running for state's attorney. People called her the wife of city councilman Nick Mosby," he told NBCBLK on Tuesday, two days after announcing his run for mayor.
Now, he said, "I'm the husband of the state's attorney Marilyn Mosby."
"We're going to be the most scrutinized elected officials in this city's history."
If Mosby wins, the two will be Baltimore's most powerful couple. Experts say that, technically speaking, their marriage poses no conflict of interest. But that hasn't stopped political commentators and Baltimore residents from questioning whether Mosby could serve impartially.
"Legally, there's nothing unethical about it. But I think some might not think it's fair to have that concentration of power, and would rather see it splintered," Nina Kasniunas, an associate professor of political science at Goucher College in Baltimore, said.
Mosby points out that he would not have direct oversight over his wife. While the mayor sets the budget for the city, the state's attorney's budget also gets vetted by the City Council.
"Look, at the end of the day, Marilyn loves this city. I love this city," he said. "And that's why we're public servants — to better our city."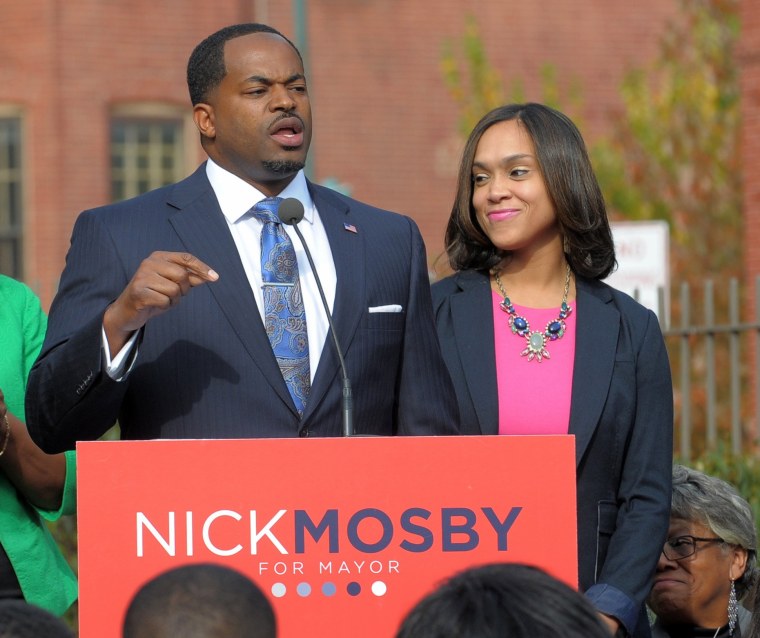 But, he admitted: "We're going to be the most scrutinized elected officials in this city's history."
Marilyn Mosby was thrust into the national spotlight in April, when she decided to press charges against the officers involved in the controversial death of Freddie Gray, the 25-year-old black man who died after suffering a spinal cord injury in Baltimore police custody.
Her husband's district includes Gray's neighborhood, which was rocked by protests.
Even before then, the Mosbys attracted attention as a young, influential couple in Baltimore: Nick Mosby, 36, a councilman over some of the city's roughest parts, and Marilyn Mosby, 35, a tough-talking attorney who triumphed over the incumbent for state's attorney in a surprise win last November.
"I am beholden to the constituents who elected me. I'm not beholden to City Council, so there's never any conflict or should be any appearance of a conflict of interest between my husband being a public servant and myself being a public servant," Marilyn told Baltimore Magazine in January.
As a councilman, Mosby has focused on youth issues, helping Baltimore's kids avoid falling into the cycle of poverty and drugs by improving schools and building recreation centers.
His older sister, Knicole Taylor, told NBC News that as kids, she and her brother would hand out information to voters and attend political rallies with their mom.
"My mother was such a strong advocate for the community and youth," Taylor said. "She instilled that in us early on."
A former Verizon engineer, Mosby has billed himself as a candidate who can inject fresh energy into a city plagued by murders, dilapidated rowhouses, and tenuous ties between police and citizens.
"Baltimore is much more than 'The Wire.' And Baltimore is much more than what folks saw on the (Freddie Gray) unrest," Mosby said.
Carlton Saunders, a friend who has known Nick Mosby since the early 1990s when they were high school football teammates, told NBC News that Mosby has had mayoral aspirations since he was a kid.
"A lot of kids grow up wanting to be in the NFL, the NBA. He always said, 'I want to be the mayor of Baltimore,'" Saunders told NBC News.
Mosby left Baltimore after high school to attend historically black Tuskegee University in Alabama. It was at the student union there that he met his future wife — who was also raised by a single parent. Both were first-generation college students.
In 2004, the couple decided to buy a house on a run-down block in West Baltimore. The home was abandoned and in such disrepair, it had no roof and a tree growing through the foundation.
"My friends thought we were crazy. My mother and my family thought we were absolutely nuts," Mosby said.
The two still live in the house, which they took a couple years to renovate, with their two young daughters. It's just a few blocks from where the unrest took place after Gray's death.
Like his wife, Mosby has promised accountability from police and all levels of city government if he's elected.
"I think there's going to be a microcosm here in the city of Baltimore. This election is not about the past. It's about the future," he said. "I think I present that fresh face, new ideas, new energy."
His sister calls Mosby a "role model for people who don't have role models in their homes, and a role model for people who do have role models in their homes."
"I know that my mom is looking down on him, smiling from ear to ear, so proud of what he has done," she said.