"All right slaves, get back to work."
Shocked? That was a real quote used by a real lawyer at a real law firm.
Yondi Morris-Andrews was sitting at a table, working on a document review in 2012, when she heard the partner utter those words. She was the only black person in the room and he was addressing a number of attorneys, so it wasn't a racial thing, but the utterance definitely made her uneasy.
"I looked around because I assumed that someone would say something," says Morris-Andrews, of Chicago. "I knew then that that culture was not for me and that I wasn't just offended because I was a black person. It offended me that it didn't offend anyone else. I knew I needed to get out."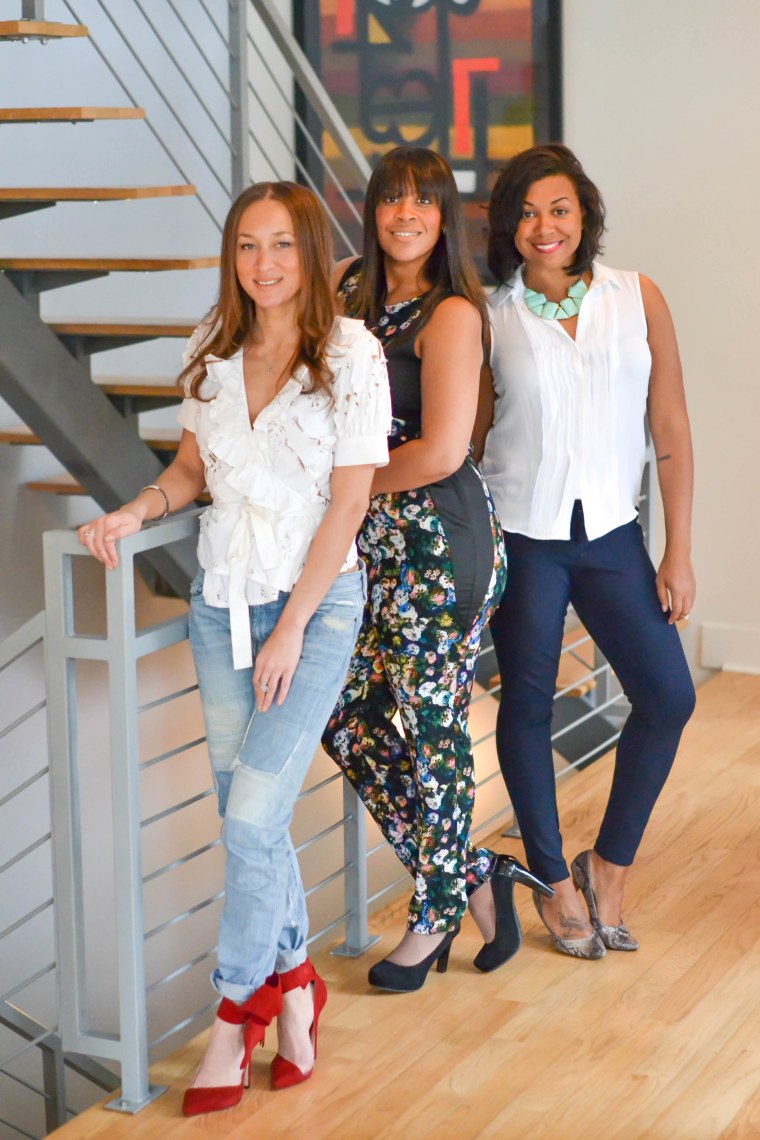 And she did. After tweeting about needing to start her own firm, Morris-Andrews connected with two other millennial-aged, black women attorneys and Knight Morris & Reddick Law Group was born. They've since worked with high profile clients such as Derek Rose and top chefs they can't name but you are sure to know. They started a legal staffing firm that supplies bigger firms with help during times of need. They also embraced social media in a way that most attorneys simply do not.
In a profession where 83 percent of the workforce are older, white and male, the women behind KMR are creating a more modern and diverse workplace that speaks directly to Millennial millionaires and ballers-to-be.
"Leveling the playing field is a huge job," says Jessica B. Reddick, one-third of KMR. "Just the fact that we exist and other people know we exist allows for people of color and other women to see that something is possible. For men to see that this is something we are capable of doing? I think that will change the way they view women of color."
The learning curve was steep. Owning a law firm isn't just about practicing law. It's also about running a business, hiring administrators and getting your tax documents together. But two of the women are children of business owners, so they figured it out.
"The way you're taught in law school is not necessarily to strike it out on your own."
"The way you're taught in law school is not necessarily to strike it out on your own," says Keli L. Knight. "When it comes to black people we don't always have those resources that other people have. You'll see a lot of white owned law firms because they have their fathers or grandfathers that came before them that had their own practice. Jessica and I watched our parents be entrepreneurs as we grew up, and I learned that you can do whatever and you don't have to be afraid."
Many early career and mid career lawyers complain of ultra long work hours and poor work-life balance. It's not uncommon to talk to a younger attorney and learn that she left work at 4 a.m. and had to return by 6:30 a.m. the same day. The National Association for Law Placement in 2015 released a study that found that, of the employers listed in their NALP directory, only 7.52 percent had partners who were people of color and only 2.55 percent of the partners were women of color. The report goes on to say, "Moreover, many offices report no minority partners at all."
RELATED: Plus Size Model Celebrates Curves and Inclusion with Body Confidence Pool Party
Not surprisingly, KMR is attracting attention from lawyers and law students of color — and not just black ones.
"We have a very diverse pool of attorneys that we pull from but I will say that we have gotten quite a few minorities that are interested in working for our staffing agency or registering for our agency because they are interested in what we do," says Morris-Andrews, who adds that the racial and cultural diversity of her attorneys makes for better business. "As a boutique staffing agency we work really closely with the law firm to match the right attorney to the project."
The firm is unusual — and very Millennial — in that it maintains a Twitter presence and a blog that is actually useful rather than being vehicles to lamely push firm advertising. The hours are long, but they're different, say the partners, mostly because they're working for themselves. Yes, they have offices in downtown Chicago, but they also promote a remote workplace and will meet clients where they are.
"I used to work for a law firm in Washington DC and it was in a beautiful building and there were bedrooms throughout each floor for people to sleep in, there were bars for high end cocktails and the whole top floor was the cafeteria and social space," says Reddick. "They tried to create a space for their attorneys to be as comfortable as they could be... You really do turn your life over to these firms. You're making money for other rich people."
She goes on.
"As I began to work in different places I began to figure out what I don't like about certain things," says Reddick, when discussing how KMR's culture was created, which in turn trickles down to the type of clients they attract. "I'm not a good water cooler person at work. I didn't want to wear a suit. I'm not a very passive, submissive person and I see so much brownnosing from people. I knew it was possible to do something different."