It took 26 minutes for a stretcher to appear at the spot where Tyre Nichols was slumped over on the ground after a Memphis police officer was first seen appearing to kick him in the face.
That was according to one of the four videos authorities released Friday night capturing the brutal assault on 29-year-old Nichols, who was pulled over during a Jan. 7 traffic stop and was dead three days later.
The footage showed four vantage points: Three videos were from officer body-worn cameras and one was from a police surveillance camera mounted on a pole. The videos depicted Nichols being punched, struck with a baton, seemingly kicked in the face and sprayed with an irritant. They also captured him crying out for his mother and saying he was trying to go home.
And they appeared to show police's aggressive, chaotic and at times inconsistent demands of Nichols — like demanding he provide his hands while his arm was being held and he was being pulled to his feet. They also appear to show police punch him as he was being held.
"These was monsters that did this to my son," Nichols' stepfather, Rodney Wells, said on MSNBC Friday night.
"My son weighed 150 pounds. Each one of these officers was over 200," Wells said. "That's 1,000 pounds beating on my son, using him as a piñata — all this unnecessary force that was really not needed for a kid that wasn't resisting, or just trying to get home to his parents."
A video of the initial traffic stop shows a chaotic scene as officers yank Nichols from the car, shout commands over one another and at times threaten him. Nichols is on the ground when he is sprayed in the face with what appears to be pepper spray or another irritant, and he runs, the videos appear to show.
The video is available here. Warning: It shows graphic violence that could be disturbing.
A pole camera video from above shows the scene where officers have caught up to Nichols at another location. When the camera view pans over, the video shows Nichols on the ground. He is kicked and beaten, the video shows.
The city's top police official, Cerelyn "C.J." Davis, had previously described the conduct captured in the disturbing and graphic video as "heinous, reckless and inhumane." President Joe Biden Friday night said he was outraged, and called what is seen in the videos horrific.
Nichols was hospitalized in critical condition after the encounter and died three days later. Details about what occurred between Nichols and the officers have been sparse; police initially said Nichols ran during the reckless driving stop and that a "confrontation" occurred in an effort to detain him.
Davis, however, told MSNBC on Friday that an investigation and review of available camera footage could not "substantiate" the reckless driving claim.
Five Memphis police officers were fired and charged with second-degree murder and other counts. Davis said Wednesday that other officers remain under investigation in connection with the alleged policy violations in the traffic stop. On Friday night, after the videos were released, two Shelby County sheriff's deputies who appeared on the scene were relieved of duty pending the outcome of an investigation.
The videos
Around 6 p.m. local time, the city of Memphis released the four videos, totaling about 67 minutes. In the videos, the license plates of vehicles parked in the area are blurred, but the faces of the people involved in the encounter are not.
One video shows an officer arriving at the traffic stop, pointing his gun at the car and shouting, "You're going to get your a-- blown the f--- out."
The officers yell at him to lie on the ground and put his hands behind his back as he's on his side on the ground, with one arm held by one officer and the other beneath him, and held by a second officer, the video shows.
Nichols says "OK, dude, dang!" at one point, and "you guys are really doing a lot right now. ... I'm just trying to go home."
He tells officers yelling at him, "I am on the ground!" and it then appears that he is sprayed with a chemical irritant, the video shows. He is able to get up and runs, with an officer firing a Taser at him, the video shows.
More coverage on Tyre Nichols
The three other videos show when police caught up with Nichols in a neighborhood — less than 80 yards, his mother has said, from her home. In one of those videos, Nichols is seen on the ground and appears to be punched by two officers standing over him. Moments later he can be heard yelling "mom."
While he's down, one officer appears to kick Nichols in the head and then another beats him with a baton, the video shows. The videos do not appear to show any obvious resistance by Nichols.
When Nichols is standing and appears to be held by two officers, a third officer punches him across the face or head repeatedly, the video appears to show, and Nichols' legs give out from under him and he collapses.
In one video, after the beating, Nichols is seen handcuffed and on the ground, sitting up and with his back against a car, while officers gather and talk. One complains he was affected by the chemical irritant as well, and another says he hurt his leg. Less than two minutes later, video shows Nichols slump over on his side.
The first medic appeared on a surveillance camera at 8:41 p.m., though it's unclear what assistance he offered. At one point, five minutes go by without anyone physically tending to Nichols. He can be seen in the video rolling around on the street as officers talked nearby.
In one video, an officer claimed they tried to stop Nichols but he did not stop, he "swerved like he was going to hit my car," and that Nichols then stopped at a red light with his turn signal on.
"So we jump out of the car," the officer says in the video. "S--- went from there."
Family, lawyers describe video as 'horrific'
Nichols' family was offered a private viewing of the video Monday. His mother, RowVaughn Wells, made it only through the first minute, family attorneys Ben Crump and Antonio Romanucci said.
While she hasn't seen all the footage, Wells said "what I've heard is very horrific.
"Any of you who have children, please don't let them see it," she added during a news conference Friday.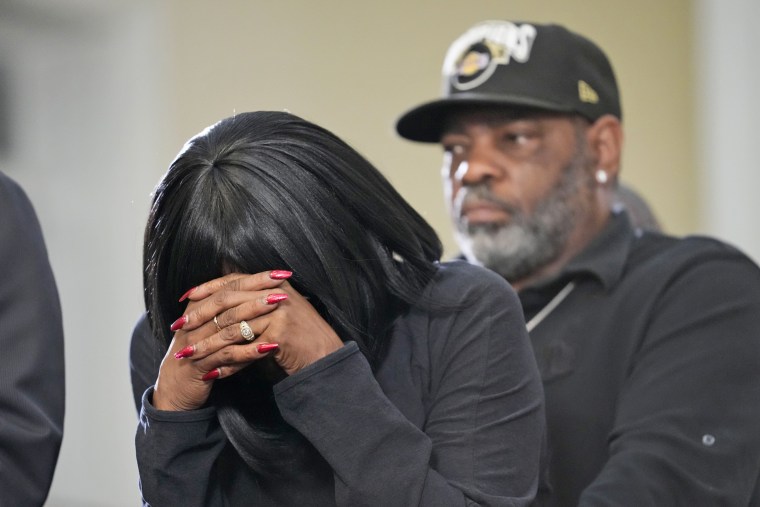 The Memphis community was bracing for potential protests in response to the video release, with Memphis-Shelby County Schools canceling after-school activities Friday and Southwest Tennessee Community College moving to virtual classes Friday. 
Wells called for people to protest peacefully during a candlelight vigil in Memphis' Tobey Park on Thursday night. "I don't want us burning up our cities, tearing up the streets, because that's not what my son stood for," she said.
There were protests in Memphis on Friday, but no reports of any violence.
Three people were arrested in demonstrations in New York City after a police car was vandalized, police there said. There were also protests in Los Angeles, Washington, D.C., and Dallas.
Romanucci described the video Monday as an "unadulterated, unabashed, nonstop beating" for three minutes. Crump has said it reminded him of "the Rodney King video," referring to the 1991 bystander video of Los Angeles police officers beating a Black man.
Nichols' mother spoke about her heartbreak in an interview aired Friday morning on CNN, saying by the time she got to the hospital and saw Nichols following the arrest, "He was already gone."
"They had beat him to a pulp. He had bruises all over him, his head was swollen like a watermelon, his neck was busting because of the swelling, they broke his neck, my son's nose looked like an "S," she said.
Crump said Nichols' last words in the video were three "gut-wrenching screams for his mom."
Davis described the incident as "heinous, reckless and inhumane" in a video statement Wednesday night.
"I expect you to feel what the Nichols family feels," she said. "I expect you to feel outrage in the disregard of basic human rights, as our police officers have taken an oath to do the opposite of what transpired on the video."
Biden says he was 'outraged and deeply pained'
After the videos were released, Biden said in a statement that he was outraged. He has called for a swift, full and transparent investigation, and spoke with Nichols' parents earlier Friday.
"Like so many, I was outraged and deeply pained to see the horrific video of the beating that resulted in Tyre Nichols' death," Biden said. "It is yet another painful reminder of the profound fear and trauma, the pain, and the exhaustion that Black and Brown Americans experience every single day."
Police chiefs, public officials and mayors from across the country expressed outrage, condemned the actions of the officers and said what happened to Nichols should never have occurred.
FBI Director Christopher Wray earlier Friday said, "I've seen the video myself and I will tell you I was appalled."
The charges
Five officers involved in the case — Tadarrius Bean, Demetrius Haley, Emmitt Martin III, Desmond Mills Jr. and Justin Smith — were fired last week after an administrative investigation found they had violated department policy on use of force.
Shelby County District Attorney Steve Mulroy told reporters the former officers' actions resulted in Nichols' death.
Mulroy said that after an "initial altercation" when "pepper spray was deployed," Nichols ran from the officers.
"There was another altercation at a nearby location, where serious injuries were experienced by Mr. Nichols," Mulroy continued. "After some period of time of waiting around afterward, he was taken away by an ambulance."  
The video released Friday of the traffic stop does not show what precipitated the stop.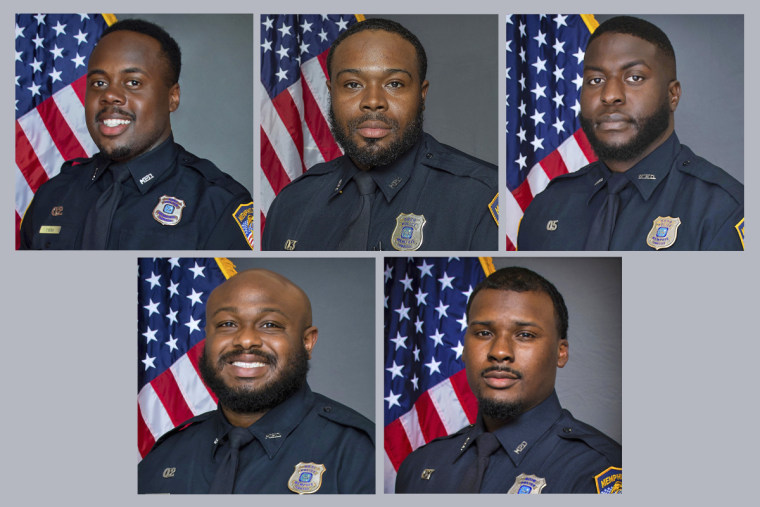 The fired officers were charged Thursday with second-degree murder, two counts of official misconduct, two counts of aggravated kidnapping, one count of official oppression and one count of aggravated assault.
In the Friday news conference, Nichols' family and attorneys praised the swift charges and investigation.
"We look at how swiftly the district attorney brought charges against them in less than 20 days. Then we want to proclaim that this is the blueprint going forward for any time any officers, whether they be black or white, will be held accountable," Crump said.
All five are out of jail after posting bond as of Friday morning. Bean, Mills and Smith posted $250,000 bond; Haley and Martin posted $350,000 bond. 
Multiple attempts to reach the officers for comment since they were fired were unsuccessful.
After the videos were released Friday, Blake Ballin, an attorney for Mills, said that he and Mills would review them together "at the appropriate time.
"A thorough investigation of all available angles is needed before providing context or comment," Ballin said. "My heart goes out to the Nichols family and the entire city of Memphis."
Attorneys for Mills and Martin said their clients plan to plead not guilty. It was unclear if the others have retained legal representation.
The Memphis Police Association said in a statement on Facebook Friday night that it was committed to "the administration of justice" and that it did not condone any mistreatment of citizens.
"We have faith in the Criminal Justice System. That faith is what we will lean on in the coming days, weeks, and months to ensure the totality of circumstances is revealed," the statement added.
Preliminary findings in an autopsy conducted by a forensic pathologist for Nichols' family show he was severely beaten before he died, the family's attorneys have said. The Shelby County medical examiner's office hasn't released an official cause of death.
Nichols' case is being investigated by the Tennessee Bureau of Investigation and the U.S. Justice Department, which launched a civil rights inquiry into the traffic stop.
Other Tennessee agencies associated with the events of Jan. 7 are also investigating actions by their members.
Friday night two Shelby County sheriff's deputies were relieved of duty pending the outcome of an investigation, Sheriff Floyd Bonner, Jr. said.
"I have concerns about two deputies who appeared on the scene following the physical confrontation between police and Tyre Nichols," Bonner, who said he first saw the videos Friday, said in a statement.
He said an internal investigation has been launched to determine what occurred and if any policies were broken, and they will remain off duty until it is concluded.
The Memphis Fire Department also said that it had not received full access to the footage until Friday.
"The department is currently reviewing the footage and will be concluding our internal investigation early next week," the fire department said.
A department spokesperson said Monday that two Memphis Fire Department personnel described as being involved in Nichols' "initial patient care" were "relieved of duty" amid an internal investigation into his death.
Mulroy, the Shelby County District Attorney, said in a statement Friday night that the video's release was delayed so witnesses could speak "first from their memory and nothing else."
"It's my hope that this tragedy can lead to a broader conversation on police reform," he said.