Equal laws protecting equal rights…the best guarantee of loyalty and love of country. -JAMES MADISON
When you stand atop the 200-year-old mansion portico at Madison's Montpelier your breath is literally taken away. Set on a beautiful sprawling 2500-acre landscape of lush property in Orange, Virginia, one cannot help but be in awe that our nation's fourth President crafted many of the ideas that would help shape our fledgling nation here.
To the right front, hidden behind trees you can see Madison's Temple to Liberty which was built around 1810 as an architectural nod to the "sacred flame of liberty" that burned in the Roman Forum's Temple of Vesta above a well turned into an ice house to preserve perishable foods.
The sights, the sounds, and the smell of fragrant gardens force the senses to take note of a once storied place in American history. Yet, when you move toward the back of the mansion overlooking the south yard, you get another sensation: the reality of slavery sets in as your eyes gaze upon the small structures, and smoke house that would have housed Madison's domestic slaves.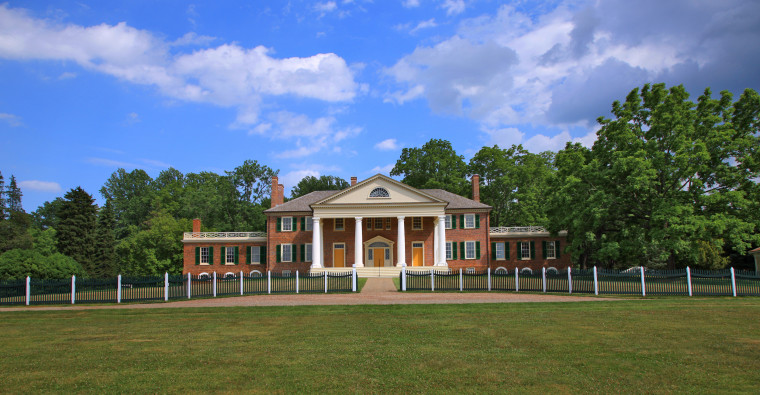 The slave quarters sit less than 50 yards from the mansion itself. You can see how close James Madison and his family were to the very people whose freedom they stole, and yet who they relied upon for their very survival and way of life.
The enslaved community that once lived at Montpelier were human beings. They had hopes, dreams and desires too.
The enslaved community that once lived at Montpelier were human beings. They had hopes, dreams and desires too. In Part II of this series we talk with some of their descendants and the staff at Montpelier that created and crafted the powerful and provocative new exhibit, "The Mere Distinction of Colour," which opened to the public on June 4, 2017.
The goal of the exhibit is to bring truth-telling and healing to our nation on the issue of slavery, and the role it played in the founding of America and in the economic prosperity of the new nation in the 17th, 18th and mid-19th centuries.
Related: #MuseumsSoWhite: Black Pain and Why Painting Emmett Till Matters
"Buildings tell stories. Faces and voices bring stories to life. For years, the team at James Madison's Montpelier has been on a journey. It was a mostly unlit path, one where archaeologists, historians, genealogists, and descendants were called upon to illuminate the past," said Montepelier CEO Kat Imhoff. "Along the way, we gained a new understanding of what the past on these hallowed grounds represents. It stretches far beyond a timeline and recitation of fact. Instead, it represents a critical part of the fabric of who we are, as Americans, today."
Where is America today in the wake of NFL player protests of police brutality and racial injustices? And what about the remarks of the President of the United States calling for players (almost all black) who take a knee in protest to be fired for disrespecting the flag?
Where is America post the deadly Charlottesville conflict this past summer? Are we going backwards? Is racism on the rise? Or did we all get fooled into believing that the election of a black president in 2008, somehow made us a "post-racial" America?
In this final part of the series, we will explore these questions as we hear from informed voices about the impact slavery had and continues to have on our American psyche and race relations, as well as the path forward.
The enslaved community exhibit at Montpelier tells a story of two Americas and how one prospered at the other's expense. More importantly, it informs those of us living now in 2017, that we are more alike than not. That this is truly "our country". It was built largely by the hands of slaves, and funded by the free labor they provided.
Related: Obama Declares Reconstruction Era School For Freed Slaves a National Monument
We sat down with some key players that helped to craft the "Mere Distinction" exhibit—like Christian Cotz who is the Director of Education and Visitor Engagement at Montpelier and two key staff members, Price Thomas, Director of Marketing and Communications, and Marcel Sykes, Manager of Interpretive programs.
They took us on a private tour of the mansion, the exhibit and gave us some key insights into why this exhibit is so different from other enslaved people's exhibits at Mount Vernon and Monticello. More importantly, we were able to speak with some of the living descendants of those who were enslaved at Montpelier.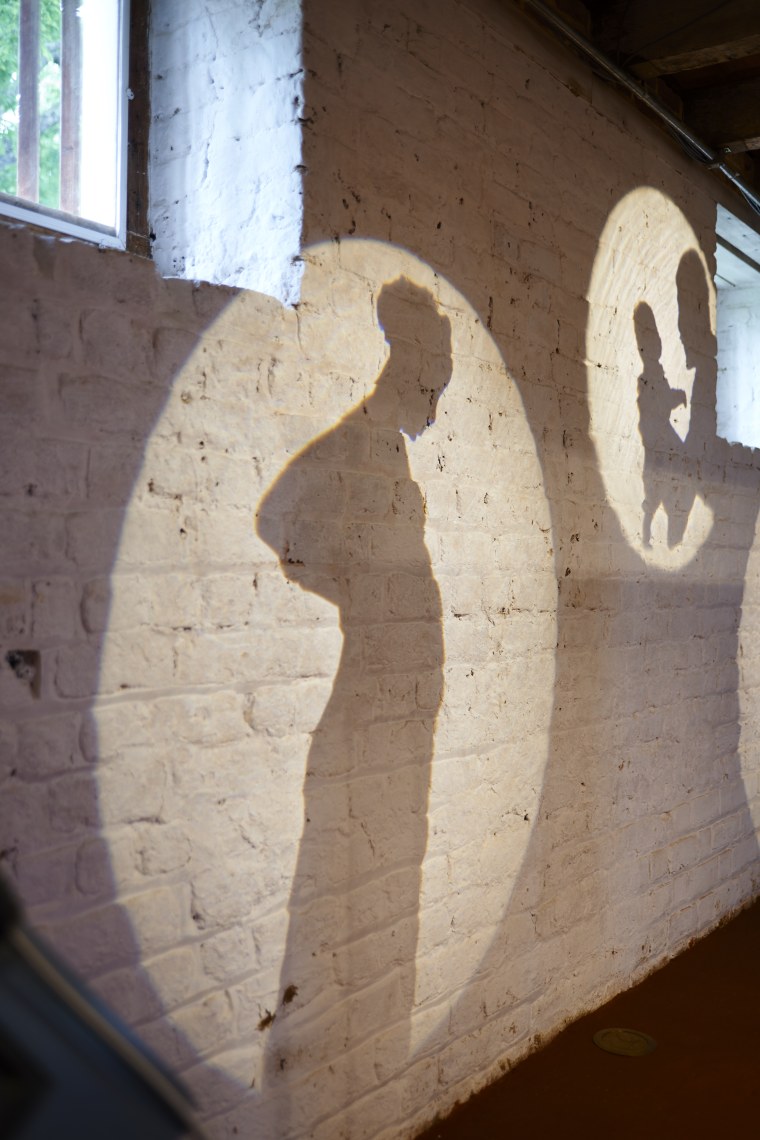 These four women Michelle Taylor, Leontyne Peck, Patrice Grimes and Margaret Jordan are all direct links to America's past. One of the descendants, Margaret Jordan, is descended from a famous black male slave (Paul Jennings) who served James Madison and helped Dolly Madison save the famous George Washington Portrait at the White House when the British burned it in 1814.
They gave us insights into how their ancestor's history as slaves can educate us on the legacy of race and most importantly open an honest dialogue that can begin to help America heal right here in 2017 and beyond.
It is time to have a great big "courageous conversation" on race, racial healing, and unity as an American family. We need to make peace with our past, so that we can live forward as one America.
Our founders coined a term: E Pluribus Unum: Out of Many, One. That was our original founding motto set by Charles Thompson at the direction of Samuel Adams in 1780 in Philadelphia.
Our hope is that this series and the narrative will help be a spark to a larger conversation that unites us as Americans. The time has come for us to set the record straight on the impact of history relative to race, so that we in this time now can once and for all truly start the healing process.
Here are excerpts from our conversation. They have been edited and condensed for clarity.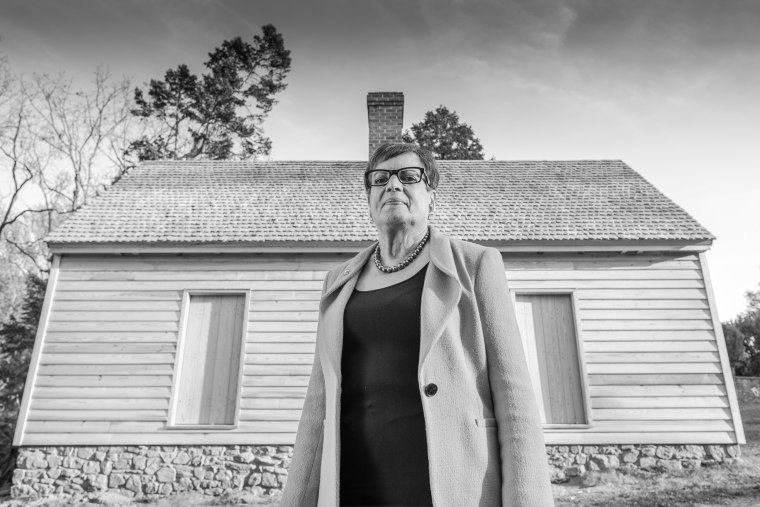 Why was the enslaved exhibit necessary at Montpelier:
Leontyne Peck: I want people to get the full story—the mere distinction story is a telling of the story of humanity—what happened to here at Montpelier, and what happened to her people. Don't let others shape our experience.
Tell the truth. Stop sugarcoating slavery and the ugliness and rawness of it. All communities need to see it. We have heroes, like Paul Jennings, who despite being enslaved still contributed, built, served, and stood as positive role-models of their time.
Margaret Jordan: There is stuff we have never resolved in America. We must deal with our foundations: slavery was subtly written in Bill of Rights and Constitution—slavery in America was evil because it took away our humanity. Looking at the institutional racism we still face today is in large part because the text books are not teaching the truth of our American history in our schools.
This exhibit does that. It tells the truth. It brings our ancestors to life. Moreover, I think the exhibit is exceptionally important because it deals with the hard-real truth. It brings up the facts of how we started as a nation in a significant way. It makes people rethink our American story.
Change must come in many ways—communities having conversations, colleges and corporations having conversations. We must make sure they are having honest and fact-based conversations around race and racial healing. I want to be hopeful as bad as things look right now.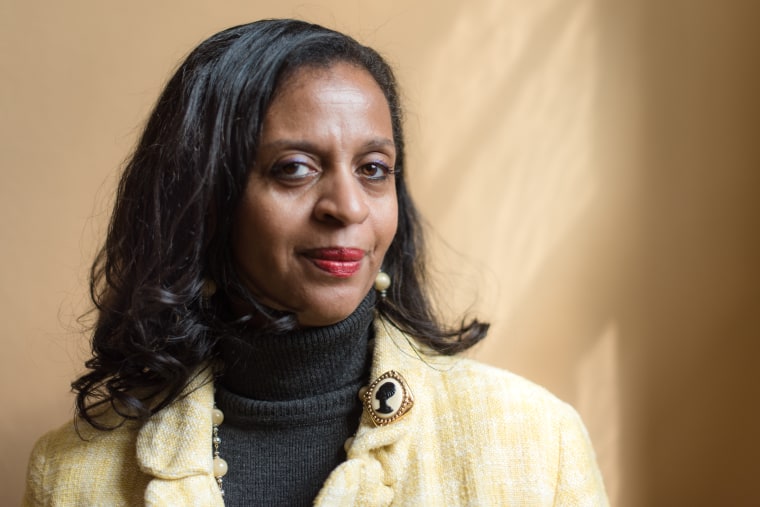 What do you believe is at the root cause of all of this recent racial strife in America, particularly in Charlottesville this summer?
Patrice Preston-Grimes: Virginia—is the root—Jamestown is first document enslavement of an African 1619—Roanoke—Virginia is the root of racial inequity so it is no surprise that Charlottesville happened—at Mr. Jefferson's feet—until we deal with it here--We must talk to each other.
You start by talking to people who are different than you—outreaching—take back your personal power-we are intertwined. The work must be done out of the spotlight of the media. We are in an age of enlightenment--you don't understand privilege until you don't have it.
We make excuses—they don't want to take on the responsibility of what they did not personally do but what they have benefitted from. White people must acknowledge that they have benefitted from what they personally did not partake in—young white men in college are impressionable—they are being brainwashed, and it takes a lot to undo. White guilt is real.
Michelle Taylor: People have fears and are feeling marginalized. My hope is that we will use Montpelier and the exhibit as a healing agent: bringing in other communities to tell the story from all perspectives. Learning the complete story to see that there are still people living from these slaves, that are empowered here in the 21st century. Their story is one of success, because it reaches all the way down to this generation. That is powerful. And it is a platform to open dialogue.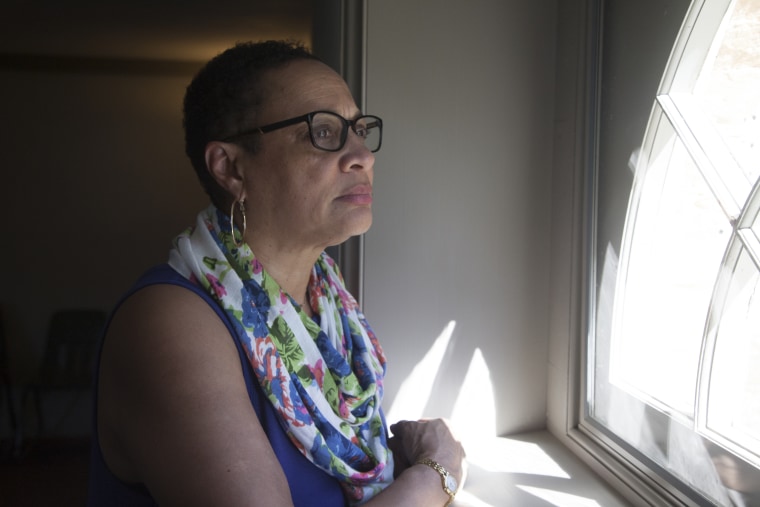 What are solutions to how we can use our challenging racial history to heal our modern racial division?
Patrice Preston-Grimes: Come to places like Montpelier and learn about your American history—all of it, not just the parts they give you in books.
We need to Pause and Listen
We need to read
And we need to learn how to have courageous conversations in a civil way
We all want our kids to have a better life
We all want to be safe
The working through is what we must do now
We do not need to "just get over it"
It's hard work—it's uncomfortable work
We must come to the table
Leontyne Peck: We are tired of explaining to white Americans about the reality of race and racism—you get an F—you failed the class—it's time for you to learn for yourself. You can do that by coming to places like Montpelier, and teaching your children about slavery, race, and its current impact. For us as descendants of slavery, we need to do a few things:
Economics is key—we must build wealth and financial stability
Family building and sustaining, we need our families intact. You cannot build wealth without a family
Focus on "us" and our own healing—and it starts with family
You can only combat evil systems with cohesive good social and economic policies. Our leaders must step up, and we must step up as we did in past generations (pre-integration) to take care of ourselves.
Michelle Taylor: Study your ancestry. That is how I found out I was connected to Montpelier. I am in my 20's—so through my lens in the 21st century it is fascinating and powerful to discover I am connected to someone who lived in the 19th century. Be interested in history and find out where your come from and how you can use that history to help others learn or in this case, heal.
Margaret Jordan: Individual action is required as much as collective action.Charlottesville was painful-not sure we can get beyond it—because we have never really discussed it in the context of truth—until we do that. We will keep fighting each other.
I am very distressed-about the condition of the country—and the office of the President right now. My family served James Madison at the white house—and generations that followed also worked at the White House. But If we can use exhibits like Montpelier to show us the other side of history, I think we can begin to heal our nation.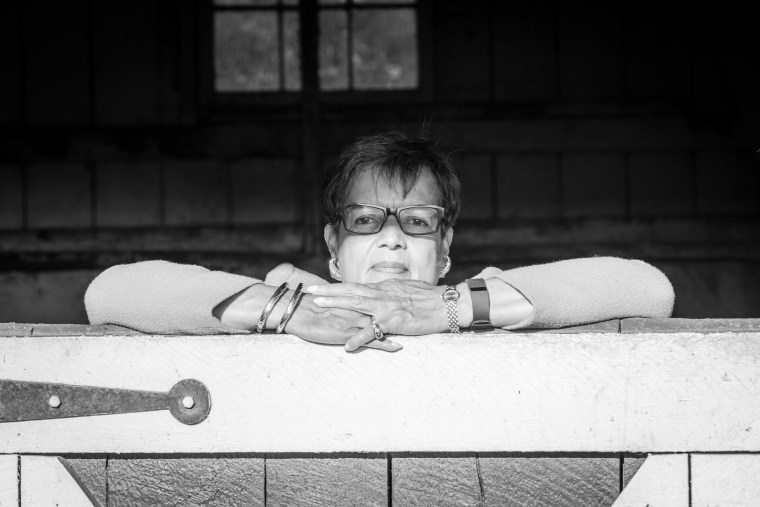 ---
Sophia A. Nelson, Esq., is an award winning author and journalist. Nelson is also an award winning/best-selling author of three non-fiction books and a "Corporate Diversity Champion" award winner for her groundbreaking work in corporate diversity strategies and training for the Fortune 100.