The OneUnited Mural Project and the landmark mural, Thunder & Enlightening, by internationally acclaimed muralist Addonis Parker, helped bridge the divide between the banking industry and urban communities by recognizing their struggles and aspirations.
As the largest Black-owned bank in the country, we recognize the importance of speaking in an authentic voice, one that allows us to effectively promote financial literacy, attract unbanked and under-banked customers and develop the communities we serve. Yet, authenticity carries risks.
We began by appreciating the manner in which art can transform whole communities. Inspired by the example of the Wynwood section of Miami, we sought the same transformation of Liberty City – a depressed neighborhood where we have a large branch.
Collaboration with community partners was necessary to harness their artistic talents to help us promote financial literacy and the Miami Children's Initiative, Liberty City Renaissance and the artist Addonis Parker were key allies.
The OneUnited Mural Project actually became a 12-week apprenticeship-based program – with 21 teen apprentices from 9 public schools – using STEAM (Science, Technology, Engineering, Arts and Math) education taught by Parker, guest speakers, local field trips to art galleries and financial literacy workshops and bank accounts provided by OneUnited Bank.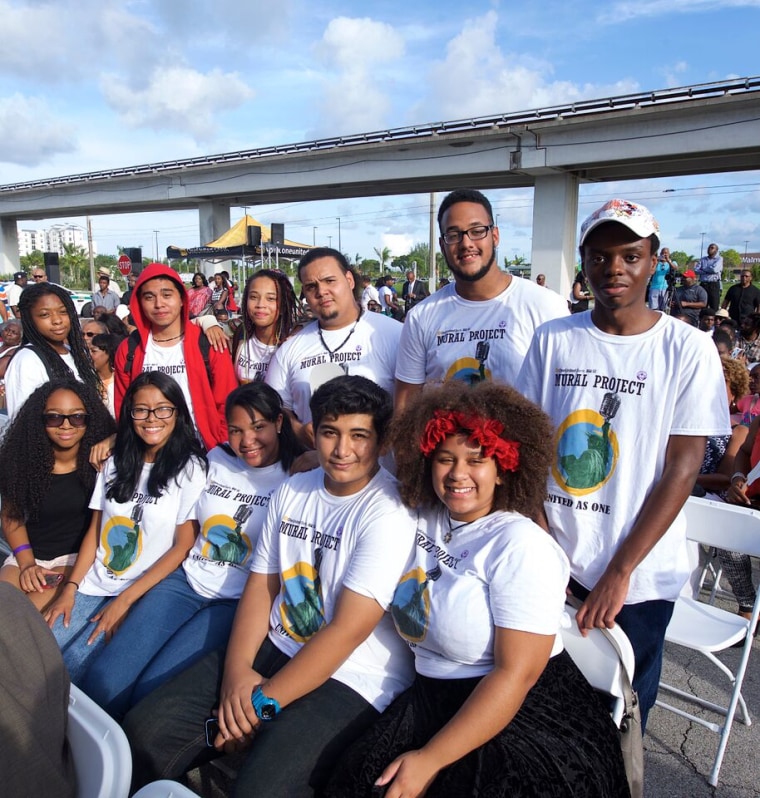 Our journey was rich with emotion and knowledge. The teens spoke to us – authentically, devoid of political correctness – about both the opportunities as well as the immense challenges growing up in urban communities.
They shared their incredibly diverse talents and sharp, creative minds, evidencing all that is right with our public schools. They quickly grasped the importance of dignity in making financial decisions…while they also grappled with the despair of not having enough money for basic necessities.
The financial literacy workshop was one of the best we ever taught. They described their neighborhood as gray and even red with blood. Yet they loved each other. One of them said the OneUnited Mural Project was like a club where they are always welcomed and fed!
Working with Addonis was phenomenal. The first thing you will notice is immense physical presence. An African American man who stands 6' 7" tall with the physique of an athlete, at first or second glance, he does not appear to be the archetype of an artist, or someone who would be great with kids.
Yet, he is a gentle genius at both. The kids love "Mr. Addonis" and he loves them back – each of them for their unique talents and personality. His warmth is infectious and creates a space for these talented and sometimes quirky teens to feel safe.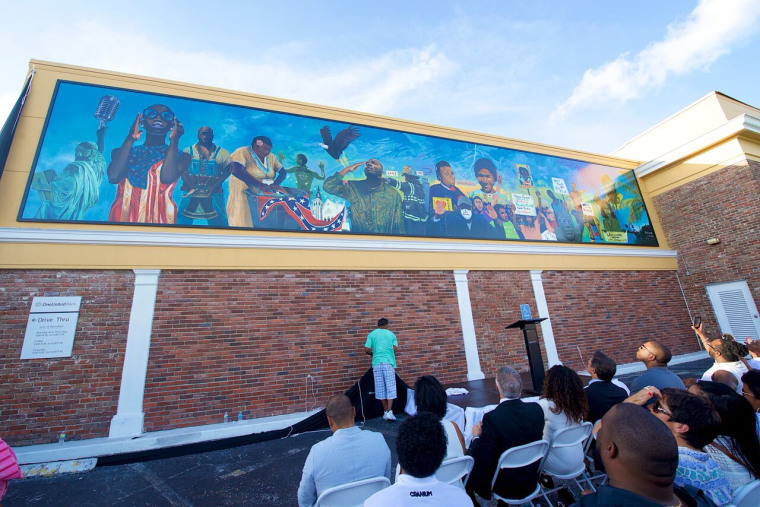 He openly shares his wisdom about art and the highs and lows of being a commercial artist. His gentleness, yet strength remind us of the importance of judging someone by the content of their character.
We took a journey with his mural Thunder & Enlightening. We gave Addonis creative control and simply requested the mural speak to the themes of freedom and hope, while providing an authentic voice for urban communities.
However, this simple request raised very complex issues. In an interview with the Miami Herald he explained, "I listened to the kids and I was sensitive about their feelings. But, then, there was the truth. I had to look at myself. Can I be an artist and be happy, go lucky? Unite all the community together and ignore reality. I can do that all day. But am I that type of artist? No, I'm not."
Along the journey, a few sneak peaks were shared with the OneUnited Bank Board of Directors and we recognized the risks and responsibility. As a financial institution that serves all communities, we asked ourselves whether we risked offending some in this community.
At the same time, we understood the importance of retaining our authenticity as we represent the communities we serve. While other communities see the green of golf, urban communities see the gray of despair with only a sliver of golden hope.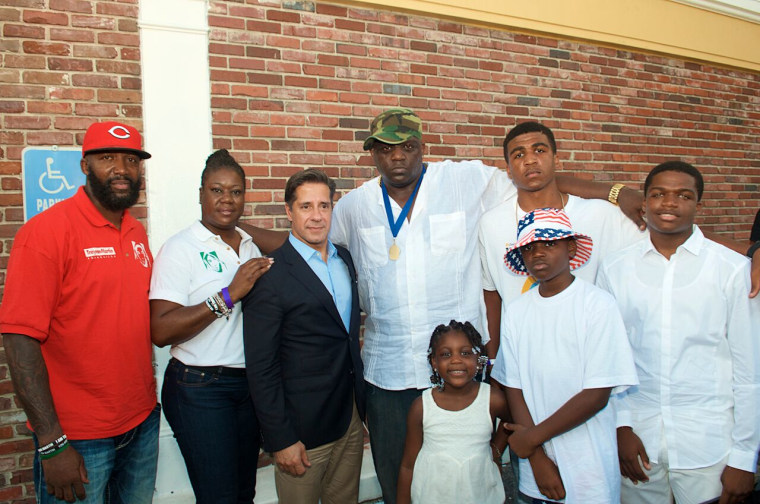 Over the course of the journey, we had to recommit to the project and, simultaneously, to our freedom to be authentic in order to promote financial literacy.
On July 11, 2015, the mural Thunder & Enlightening was unveiled in front of over 300 members of the Liberty City community including community leaders and elected officials.
The mural in its entirety touches on racism, bigotry and protest and includes the confederate flag, the massacre in South Carolina, Trayvon Martin and Michael Brown. We were especially moved by the presence of Trayvon Martin's parents, Sybrina Fulton and Tracy Martin, at the unveiling.
Thunder & Enlightening has been well received by the community. In fact, many don't see controversy, they see truth. They also see the love behind the mural. The love for our children, our community and our country.
And we see an opportunity to welcome many who have never been in a bank before. At OneUnited Bank, we continue to say, let the mural speak!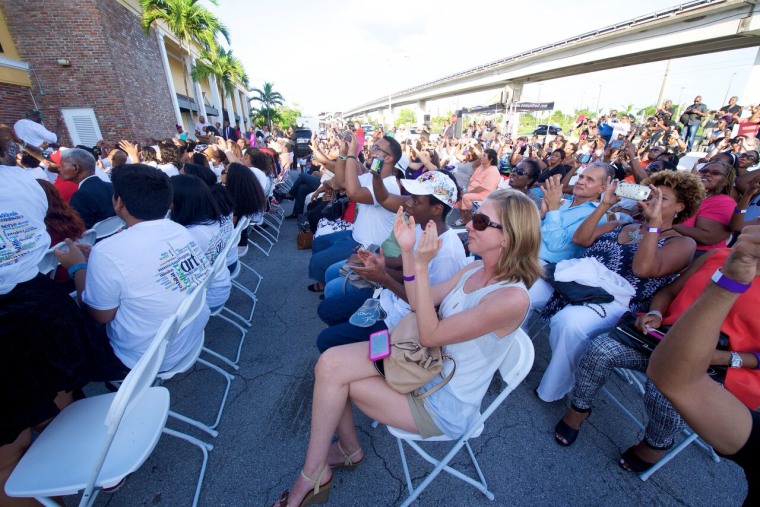 Teri Williams is President and serves on the Board of Directors of OneUnited Bank. She is responsible for implementation of the Bank's strategic initiatives, as well as the day to day operations of the bank.