Attorneys for the family of the Florida father who died last month following an argument over a handicap parking space thanked state prosecutors Monday for filing a manslaughter charge against the gunman, Michael Drejka — less than a month after the killing.
"We are very appreciative that the state moved fast in this case," Kelly McCabe, an attorney for the family of Markeis McGlockton, said at a news conference in which they supported the charge — a felony that carries up to 30 years in prison.
But while attorneys for the family of McGlockton have also decried his fatal shooting as a "cold-blooded murder," Pinellas County State Attorney Bernie McCabe told NBC News that he went with manslaughter after investigators and lawyers interviewed witnesses and studied the surveillance footage from the deadly July 19 dispute.
"I went through it all and made the legal decision that that is the charge that we could prove," McCabe added.
Legal experts agree, and say the state can already expect to face a few hurdles once the case moves through the courts and the defense mounts a likely "stand your ground" argument.
Drejka, 48, made his first court appearance Tuesday and was ordered to remain jailed on $100,000 bond. If he posts that amount, he must wear an ankle monitor, surrender any firearms and remain in Pinellas County, a judge said, according to The Associated Press.
Asked by the judge Tuesday if he could afford private counsel, Drejka replied "no sir," and the public defender's office was appointed in the case. Drejka has not previously commented publicly on the shooting.
Anthony Rickman, a Tampa criminal defense attorney who has tried "stand your ground" cases, said the state sees a manslaughter charge as a surer bet.
"When the state looks at a case, they look at whether they have a reasonable likelihood of successful prosecution," he added.
In Florida, a first-degree murder conviction can require that the state proves a homicide was premeditated, while in a second-degree murder case, they must prove the defendant acted with a "depraved mind."
Rickman said second-degree murder can be classified as "heat of passion" crimes. While the people involved didn't have to know one another, the prosecution must show the aggressor harbored ill will or hatred or some type of evil intent — descriptions that speak to one's state of mind.
In a manslaughter case, prosecutors wouldn't even have to prove Drejka acted out of premeditation or a "depraved mind."
The fatal encounter between McGlockton, 28, and Drejka began when McGlockton, his girlfriend and their three children pulled into a handicapped-accessible space at a convenience store in Clearwater.
While McGlockton and his 5-year-old son went inside, Drejka — unprompted — began examining the car to determine whether it had the correct decal, police said. He then got into an argument with McGlockton's girlfriend.
When McGlockton exited the store, surveillance footage showed him shove Drejka to the ground. Drejka pulled out his gun while still down and paused before shooting McGlockton, although it looked as if McGlockton was backing away.
Pinellas County Sheriff Bob Gualtieri later announced Drejka was not arrested because it appeared he was defending himself when he killed McGlockton. He instead passed the case on to state prosecutors to review.
Floridians are allowed under "stand your ground," which was first enacted in 2005 and backed by gun lobbyists, to defend themselves with deadly force if they believe they are in imminent danger or death. The person being threatened is not required to try and flee the scene.
Attorneys for McGlockton said he was only trying to defend his family from Drejka, and that while McGlockton may have used force in pushing Drejka, that didn't need to escalate with a firearm.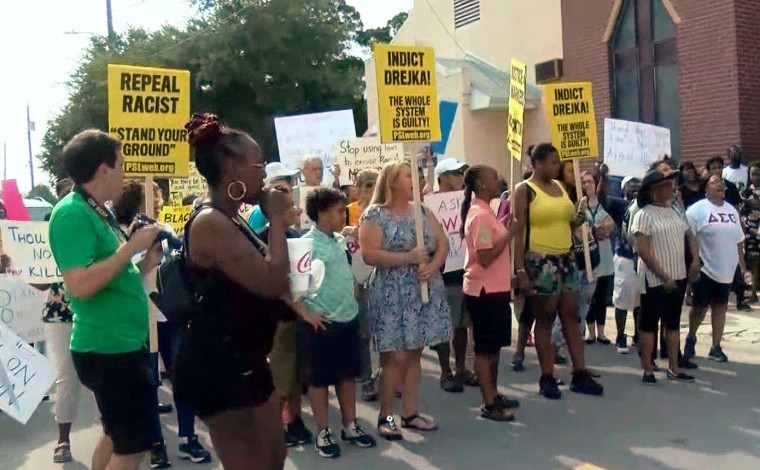 State law allows defendants to raise a "stand your ground" defense in a pre-trial hearing; if they are successful, they are granted immunity from prosecution.
The law was changed last year to put the burden on the prosecution to prove deadly force wasn't justified.
"It's a very high standard," Rickman said.
In 2016, a Florida judge dismissed a manslaughter charge against a Broward sheriff's deputy who killed a man carrying an unloaded air rifle, finding that the officer was justified in using deadly force under "stand your ground." The man who was killed, Jermaine McBean, had been wearing earbuds while he was walking home, and witnesses said he hadn't been pointing the air rifle at anyone.
The sheriff's deputy said he feared for his life.
David Harris, a professor at the University of Pittsburgh School of Law and host of the podcast "Criminal Injustice," said the prosecution in Drejka's case may focus on how he appeared to pause before shooting McGlockton.
"They will argue that it indicates that the shooter could not reasonably be in fear for his life," Harris said. "Same with the fact that the deceased just pushed him — he was not armed."
Police documents obtained by NBC News and dating back to at least 2012 have also accused Drejka of being the aggressor in other cases, and he was known previously before McGlockton's death for questioning people parked in a handicap space.
Rickman said Drejka's past actions could certainly be introduced by the prosecution in building its case that he was the aggressor, not McGlockton.
"It could show modus operandi," he added.