When First Lady Michelle Obama delivered her powerful address at the Democratic National convention this week, she deftly tackled race, American progress, and the still incomplete nature of our experiment in expansive citizenship with unalienable rights.
After Mrs. Obama acknowledged that she, an African American woman, "wake[s] up every morning in a house that was built by slaves," pundits responded by attempting to diminish the horrors of slavery.
They argued slavery wasn't so bad because some enslaved people were paid for their work or their owners took care of them and fed them well. Those pundits sadly raised tired myths about benevolent slaveholders, culling them rather directly from nineteenth and early twentieth century slavery apologists.
They remind us that we have so much work yet to do.
The White House, a symbol of American democracy and the home of the "leader of the free world," was built on land taken from Maryland and Virginia—two slave states—and much of the work was done by enslaved people. Enslaved people's labor was integral to the construction of the White House and just about any other building constructed anywhere slavery was the norm before the general emancipation in 1865.
RELATED: Michelle Obama Gives Final Commencement Speech as First Lady
Unsurprisingly, after the War of 1812, the White House was rebuilt, again largely by enslaved laborers. 12 U.S. presidents owned slaves, as did White House designer James Hoban. Thus, every First Lady wakes up in a house built by enslaved people.
Bill O'Reilly in particular responded to Mrs. Obama by attempting to whitewash the history she had so powerfully invoked. He dismissed her charge, arguing that slaves "were well-fed and had decent lodgings provided by the government, which stopped hiring slave labor in 1802." The willful and calculated historical ignorance on display here is simply breathtaking and distracts from the true meaning of the First Lady's commentary.
Yes, enslaved people literally laid the foundation for the nation's capital, both by clearing land for the capital city as early as 1791 and by forming the bulk of the White House construction team from 1795 on. In just five years, at least 122 enslaved people were rented from slaveowners in the surrounding region to work on the White House. In most cases, the owner was paid for the slave's labor—the enslaved person received no wages and was often separated from family for a year or more.
Talking about wages and the "quality" of food, clothing, and housing for the enslaved is to blind oneself to some powerful realities about our nation's past.
Talking about wages and the "quality" of food, clothing, and housing for the enslaved is to blind oneself to some powerful realities about our nation's past. Virginian Thomas Jefferson, the third President, lifelong owner of slaves, second occupant of the White House, Founding Father, and primary author of the Declaration of Independence, had crafted in 1776 the expansive and hopeful language defining what it meant to be an American.
He wrote: "We hold these truths to be self-evident, that all mean are created equal, that they are endowed by their Creator with certain unalienable Rights, that among these are Life, Liberty, and the pursuit of Happiness."
RELATED: How is Tim Kaine on African American Issues? Those Who Know Him Speak
Jefferson's early draft of the Declaration also included this condemnation of the King of England: "he has waged cruel war against human nature itself, violating its most sacred rights of life & liberty in the persons of a distant people who never offended him, captivating & carrying them into slavery in another hemisphere."
That passage was later deleted from the final draft after committee consultations, but Jefferson's message was clear—enslaving people was a violation of human nature inflicted upon people actually endowed with unalienable rights of life, liberty, and the pursuit of happiness. Embedded in our national creed, then, is an understanding of all of humanity as having inviolable rights to freedom and the full fruits of one's own labor.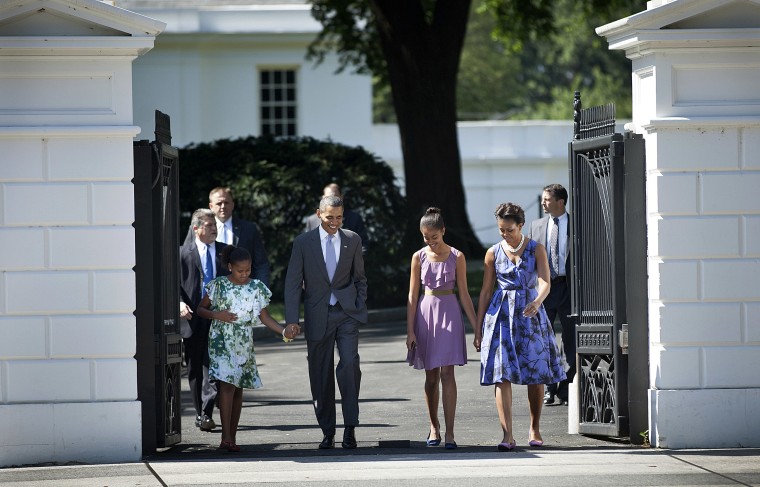 Our own history shows us rather clearly that we have consistently failed to live up to that creed's full potential. The enslavement of millions of African-Americans for over two centuries represents just one terrible episode in that story.
Enslaved people were denied legal personhood, had no citizenship rights, were routinely traded in a capitalist system as chattel, lived under the near-constant threat of terrible violence, were denied the right to wages for work, denied access to education, and lived in constant fear of permanent separation from loved ones and family.
All of this occurred in American slavery—a system of racial domination and labor expropriation that was sustained by horrific violence. The quality of the rations, housing, and clothing they were provided by the master class is irrelevant. Those are the powerful realities of American slavery.
RELATED: Harvard Agrees to Retire Law School Shield Tied to Slavery
So, Michelle Obama had it quite right—she indeed wakes up every morning in the home of the leader of the free world, but does so knowing that the house was built by hundreds of people who were decidedly not free.
She eloquently intimated that it was no longer 1800, so the nation has come a long way, but we still have yet to fully realize our American national creed of expansive and unalienable rights for all humans regardless of race, color, and sex.
As long as people like Mr. O'Reilly continue to apologize for or minimize the brutality of slavery and racism, we still have a lot of work to do.
Kirt von Daacke is an Assistant Dean & Professor of History at The University of Virginia and Co-Chair of the University of Virginia President's Commission on Slavery and the University.