Stay quiet.
That was the advice a black Mississippi mom claims she got from a sheriff's deputy when she reported that one of her son's white teammates on the high school football team had slipped a noose around his neck and yanked it tight.
"I know this boy," Stacey Payton, in an interview with NBC News, said the deputy told her. "I know his father is an ex-cop and they both have real problems."
But Payton would not stay quiet. And now, with the help of the local NAACP, she is calling for a federal hate crimes investigation — and for the alleged instigator, along with the other white Stone High School football players who were in on the sick stunt, to be charged as adults.
"I decided this was something I couldn't sit on," she said. "I cannot look my child in the eye, you know, five years from now, 10 years from now, and explain to him why I didn't stand up for him, why I did not fight for him."
Payton's son, a sophomore, was not with her when she spoke. She said she thought the days when blacks were threatened with lynching were over.
"The symbolism behind the noose…I'm terrified by it," she said.
The U.S. Department of Justice confirmed to NBC News that it is looking into the alleged incident, which is currently being probed by the Stone County Sheriff's Office. But the feds have not yet committed to launching a full investigation.
"The Justice Department is aware of the incident at Stone High School in Wiggins, Mississippi, and is working to determine whether federal action is warranted," a spokesman said.
Meanwhile, football coach John Feaster, who is also black, told the Associated Press that the offending student has been kicked off the team. And Sean Courtney, the attorney for the school district, told the AP the student has been disciplined.
Courtney did not identify the alleged noose-wielding student involved in the Oct. 13 incident, nor any of the others who were with him. So far none of the students, all of whom are under age 17, have been charged with a crime, officials said.
"I cannot look my child in the eye, you know, five years from now, ten years from now, and explain to him why I didn't stand up for him, why I did not fight for him."
The NAACP said the ringleader should have been expelled.
"The school's own policy calls for automatic expulsion of any student committing a violent act against another student," the organization said in a statement. "Yet, to our knowledge, this police has not been adhered to in this case."
Payton said her son's ordeal began that afternoon before practice and that she found out about the incident several hours later.
"He was standing behind my desk, and he turned his head and I could see his upper body shaking," she recalled. He said, "Don't panic. Whatever you do, don't call the school. It's been handled. It's okay."
"He was terrified, not nervous," she said. "He was terrified."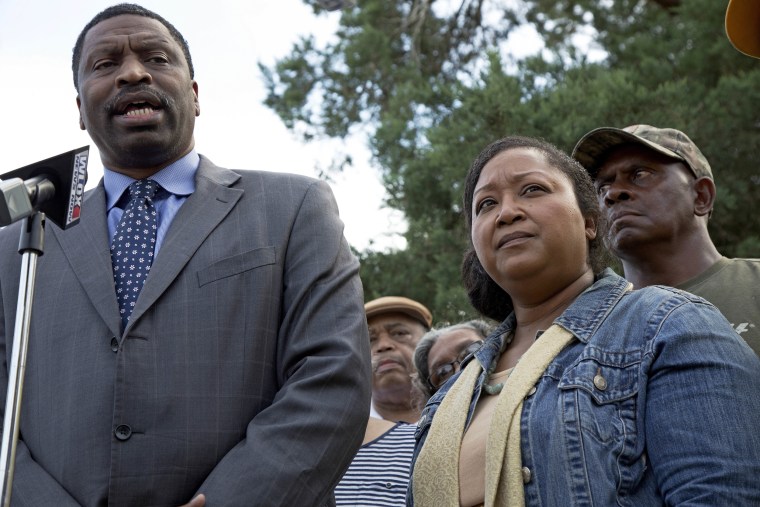 Payton said she was expecting her son to tell her "he got a bad grade on a test, or maybe he got into trouble for talking in class — but never a noose."
"I didn't have the language to even comfort him in that moment," she said.
Two hours later, Payton said, the assistant principal called and told her: "We had an incident happen at the school."
Payton said she wrestled with the decision to report the incident to the cops. And when she finally decided to go the next day, she was relieved when she was steered to Stone County Sheriff's Capt. Ray Boggs, who is also black.
But the feeling, she said, quickly passed.
"He proceeded to go into this long spiel about, you know, I'm gonna tell you something that no other deputy is going to tell you, as if he was doing me a favor," Payton said. "He said, "If you do this, your son's life is going to be ruined. If you do this, he is going to be made a public spectacle.'"
Boggs insisted he did not try to dissuade Payton from pursuing criminal charges. But he admitted to warning her that going down this road could make her son's life harder in high school.
"I found in my experience that kids can be downright mean to each other," he told NBC News. "I was trying to be fair and compassionate."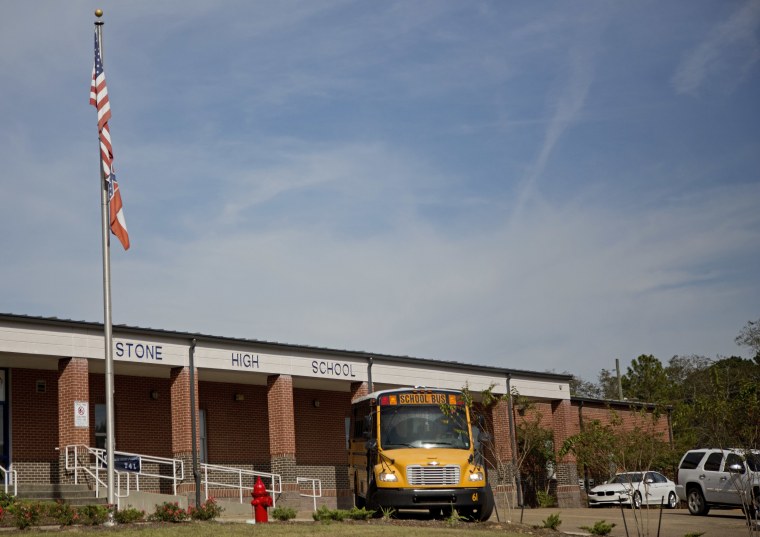 Boggs said that as soon as Payton left, he immediately contacted the FBI in Gulfport, Mississippi, and the local district attorney.
"This is not going to be covered up," said Boggs. "We have pursuing the facts since she brought this to us."
Located just north of Gulfport, Stone County is a largely rural area and just 20 percent of the nearly 18,000 people who call it home are African-American.
Asked whether he was horrified by the noose allegation, Boggs said he was.
"Oh yes, it was very shocking," he said. "I never would have expected something like this to happen at the school. I say that as both an investigator and as a black man with children and grandchildren in the school system. This could have been one of them. But I wanted this investigation to start out right and for Mrs. Payton to know what she was up against."