Misty Copeland is celebrated for smashing racial barriers in the dance world as the first African American principal ballerina with the American Ballet Theatre. She's also known for her chiseled yet curvy physique.
Now the dancer and Under Armour athlete (whose `I Will What I Want' campaign for the global sportswear brand went viral) has penned a new self-help book that shares not only fitness strategies but life lessons.
"Ballerina Body: Dancing and Eating Your Way to a Leaner, Stronger, and More Graceful You," is aimed at women who desire a strong, healthy body without dieting or gimmicks. It's also a primer on building confidence and visualizing one's goals and dreams.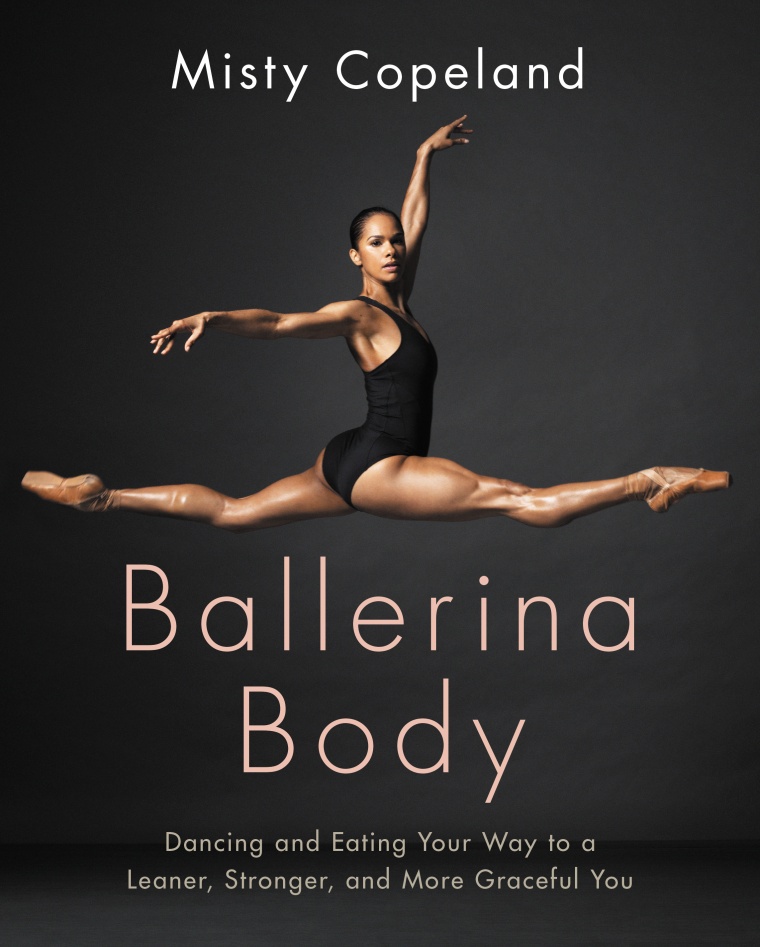 On Wednesday, NBC News was granted exclusive access on Copeland's Mercedes bus, shadowing her through the day as she and her team zipped around Baltimore, the second stop on a nine-city book tour that wraps in May.
In the coming days and weeks, she'll hit places like Chicago, Seattle, Los Angeles, Philadelphia and New York (for the second time). And she'll make her way to Cambridge to visit Harvard University.
"I'd get lots of questions about how I trained, what I ate," said Copeland when asked what inspired her third book. "I wanted to show that dancers are athletes. People see us twirling on stage and the beautiful costumes. But there's an intensity to what we do. It takes focus and dedication."
The glossy hardcover, filled with photos of Copeland, offers advice on how to find the motivation to get healthier. For those who want a lean, flexible `ballerina body' there are pages of step-by-step advice, meal plans, workout routines, and words of inspiration.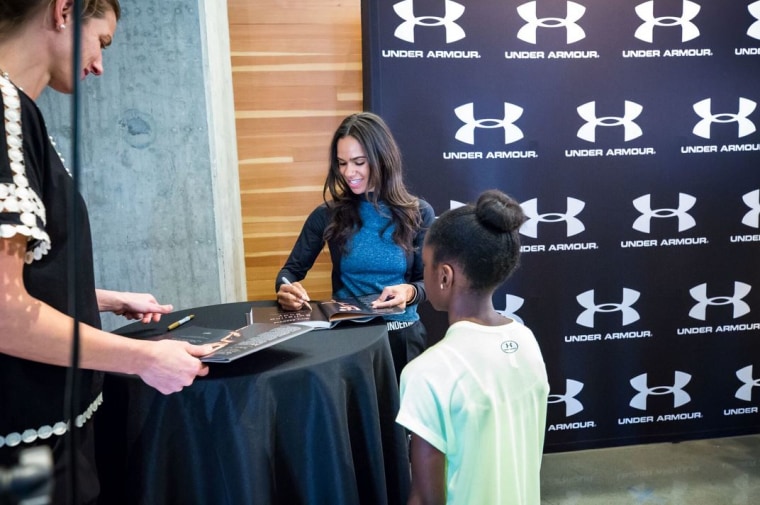 "There has been a shift in recent years in which women no longer desire the bare bones of a runway model," she writes. "Standards have changed: what women do want is a long, toned, powerful body with excellent posture.'
In person, the 34-year-old, who was dressed casually in sporty gear from her Under Armour clothing line, is petite (about 5 foot 2) and yes, her posture is erect.
Sporting glittery sneakers during her daylong blitz in Baltimore, Copeland met first with a group of girls at the UA House, a state-of-the art community center with athletic space, a recording studio, entrepreneurial classes and more.
Related: Misty Copeland Balances the Role of Ballerina Activist in Under Armour Stance
Next, she paid a visit to the Under Armour Brand House - a retail store in the city's Harbor East neighborhood - to sign books and snap photos with fans, many of whom had lined up early in the morning.
In the evening, the woman named one of Time Magazine's 100 Most Influential People spoke to a capacity crowd at the Maryland Institute College of Art (MICA) for an event hosted by the Enoch Pratt Free Library, which has welcomed her during previous visits.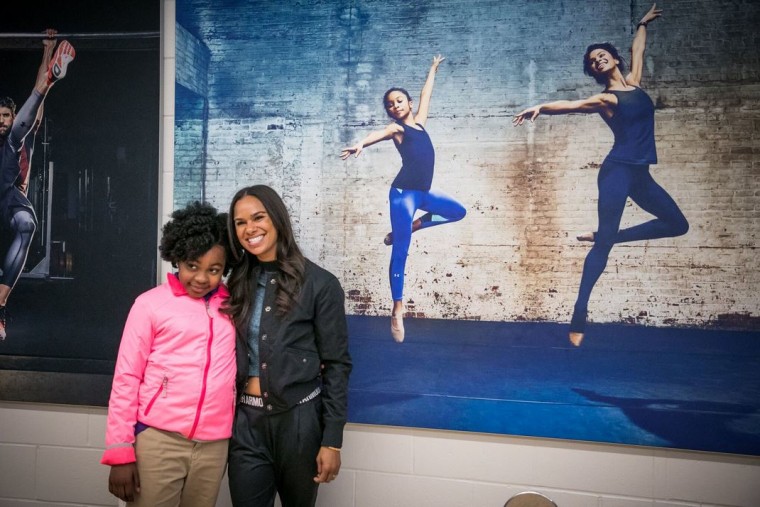 Throughout the day, Copeland smiled, gave hugs and exuded a zen calm despite the frenzy around her.
"Misty is an inspirational role model," said Wes Moore, the best-selling author and social entrepreneur who'd brought his family to see Copeland earlier in the day. "There are little African American girls, like my daughter who are dancing because of her. But what she also represents is the power of hard work and persistence."
Related: Misty Copeland: 'I'm a Black Ballerina With Black American Experiences'
Indeed, Copeland has a backstory of tenacity that underscores her talent. She's spoken often of her humble upbringing as one of six siblings raised at one point in a California motel. The woman who's danced on stages around the world, didn't put on a pair of ballet slippers until she was 13.
"When I was a child, my family often had little money, and we had to eat whatever we could afford," Copeland writes in the new book. "I used to love corn chips doused with hot sauce and glow in the dark cheese squeezed out of a bottle."
"I wanted to show that dancers are athletes. People see us twirling on stage and the beautiful costumes. But there's an intensity to what we do. It takes focus and dedication."
"We ate what was in front of us," she said on Wednesday, while chatting with a reporter in between appearances.
These days, Copeland doesn't deprive herself, but follows an eating plan focused on keeping her in top shape, able to sustain a rigorous training and performance schedule and prevent injury. "I'm often dancing eight hours or more each day," she said.
Besides chapters devoted to motion and ballet inspired exercises, the book features recipes—everything from glazed salmon to her version of hummus (called yummus) which uses fresh green peas.
"I tried to share recipes that anyone could follow," said Copeland, who said she relishes cooking for her husband, family and friends. "I was on the Dr. Oz show and he said, `Oh, you really cook?'" She chuckled. "I enjoy seeing, smelling and tasting good food. People wonder if a ballerina can really eat much, but I do."
Related: Mattel Honors Ballerina Misty Copeland As New Barbie 'Shero'
Copeland reveals that as a young dancer living in New York she used to chow down on barbecue spare ribs or inhale a dozen Krispy Kreme donuts in one sitting.
Today, she is a pescatarian who cut out red meat, chicken and junk food some years ago. Besides seafood, she loads up on veggies, fruit, dairy, nuts and healthy fats, i.e. olive oil, plus plenty of water.
Her splurges? Peanut butter cookies and dessert made without white flour, an occasional glass of wine. Periodically, she will treat herself to Red Lobster, where she'll go for crab legs and a salad on the menu.
The book also includes motivational tips and words of encouragement as well as guidance on how to keep going even when you may want to give up.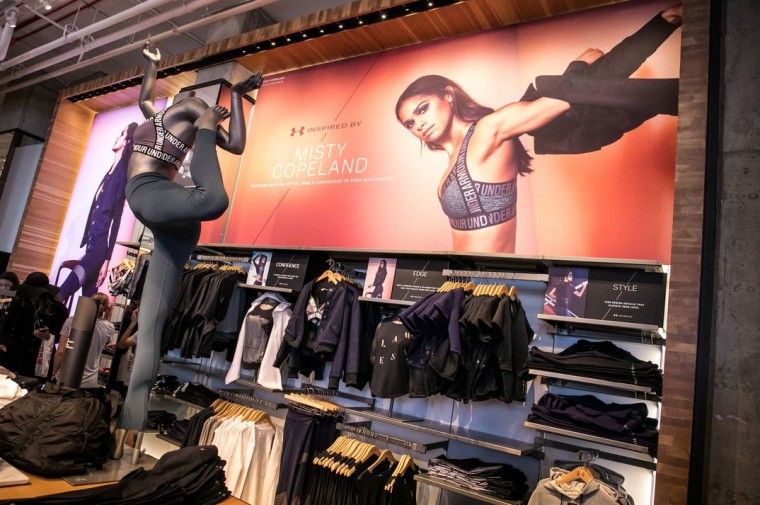 There's a section on the importance of finding mentors, and eventually being one, as Copeland is to several girls and young women. There are even excerpts from her personal journal.
One says in part: "Who am I? Am I the real deal? Am I good enough?"
Looking at Copeland, who confesses years of anxiety and low self esteem, it's clear she can now answer affirmatively.
"It's been a long journey," she said, smiling happily.