FX's hit ballroom drama "Pose" — having recently concluded season two — notably took a shift in tone from its upbeat season one, as it dug even deeper into the harsh realities that many black trans women face living their truth.
(Spoiler alert for those who haven't yet watched season two.)
In the fourth episode "Never Knew Love Like This Before," fan favorite Candy Ferocity (Angelica Ross) is murdered in a motel room, mirroring the fact that this year alone, 16 trans people — mostly black trans women — have reportedly been murdered across the United States. For Mj Rodriguez, who plays Blanca Evangelista, this on-screen loss hit her hard.
"I won't lie, this [storyline] hurt my f---ing heart. Even talking about it now makes me tear up because it hits so close. The week we shot these scenes with Candy, two black trans women had been murdered," Rodriguez told NBC News.
Rodriguez, a black trans woman, was also heartbroken for Ross, not wanting to see her leave the show, but understood why this character's demise was necessary.
"I kept saying, 'Why my sister? Why her?' But I eventually took Angelica out of it and made this about Candy the character. Once I did that, it became clear that her death would leave such a huge impact and make people care in ways that they might not have had it been someone else."
While Rodriguez acknowledges that viewers, especially those of color and LGBTQ, may be fatigued with consuming "so much black pain," she believes the show has a responsibility to "lay down the truth" for "girls like us."
"I have always advocated the show's producers to add more of the adversity we face into the show," Rodriguez said. "By putting it out there, people cannot just brush the oppression and violence we face under the rug or pretend that it doesn't exist."
She added that "it's also important for black and Latino families to see what we go through, especially the parents who have ostracized or kicked us out of their homes."
But despite this season's take on heavy issues, Blanca has always served as the show's light and hope. She is undeniably the heartbeat and oxygen of this groundbreaking drama, giving birth to the "House of Evangelista" after receiving an HIV diagnosis, which in the '80s and most of the '90s was believed to be a death sentence.
In season two — crafted by writers Ryan Murphy, Steven Canals, Janet Mock and Lady J to name a few — the Afro-Latina's tenuous journey included receiving an AIDS diagnosis, battling a racist and transphobic real estate mogul (Patti Lupone) and being rushed to the hospital uncertain if she would live. To no one's surprise, this fighter persisted.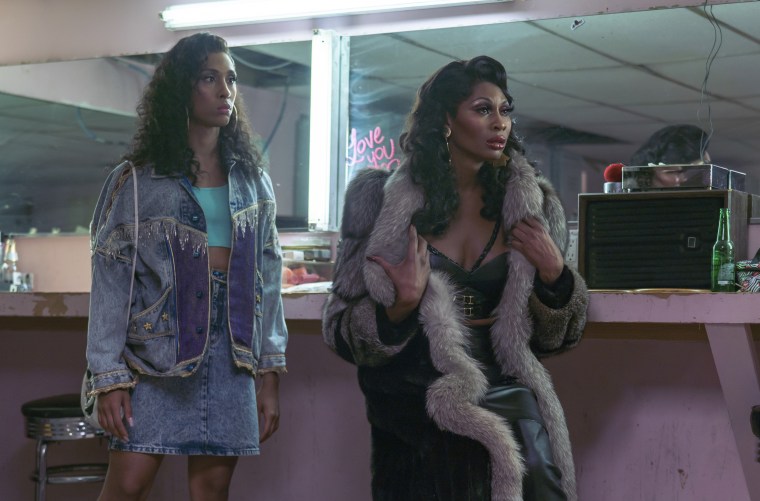 "Blanca went through a lot, but I loved seeing her grow up and grow into her power as a woman in the face of all this adversity," Rodriguez said.
"In the first season, she was so bruised coming into her new house, but now she is 30 years old, more established and has grown children that are doing things in their lives," she said. "That's because of Blanca and that fact that she is a beacon in her community and is giving them light and strength."
Speaking of light this season, Rodriguez points to a potential love interest with Adrian, a handsome lifeguard who saved her character from drowning in episode 9. She also notes the touching romance between Angel (Indya Moore) and Papi (Angel Bismark Curiel), who got engaged in the finale.
Roriguez stressed that media representations of cisgender men affirming and loving black trans women are important, especially in light of the recent suicide of Maurice "Reese Him Daddie" Willoughby who was bullied for being in a relationship with his trans girlfriend.
"There are a lot of African American men and men of color who are out there loving us and get ridiculed for loving us," she said. "So, to have these storylines matters. We need to tell the world that we deserve love, too, and we're not any different than any other woman walking this earth. This is a message the babies, especially young black trans girls, need to hear. You deserve love."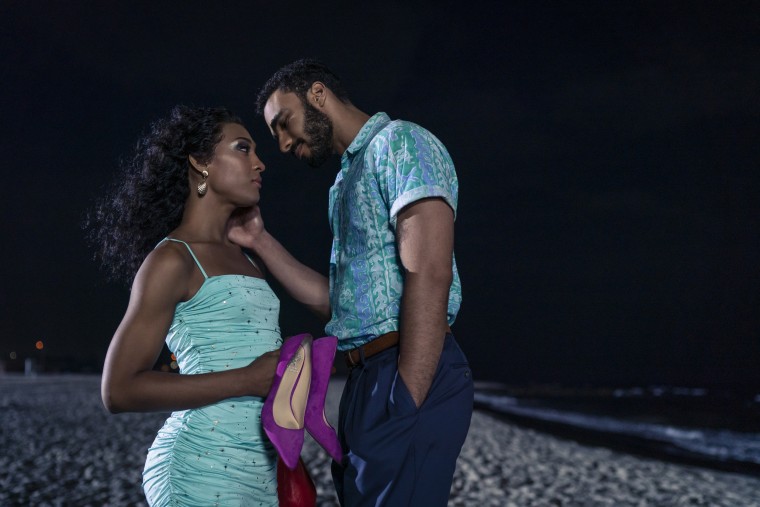 Looking to Blanca's future in the upcoming third season of "Pose," Rodriquez hopes her character's dreams and health continue to thrive.
"She is an optimistic girl who went through the biggest hurdle in her life. I would love to see her working on her health, holding down a new family, opening a new salon and building a relationship with a man she loves and loves her back," she said. "It's time for Blanca to have happiness and joy because she deserves it. We all do."
When looking at her own future, she is currently in rehearsals for the upcoming musical "Little Shop Of Horrors," gearing up for the Emmys in September ("Pose" has a historic six nominations) and taking up meetings in Hollywood in the hopes of more roles, which she admits hasn't been easy.
Yet, in true Blanca fashion, Rodriguez is also optImistic despite the barriers she faces.
"I haven't really gotten any [TV or film] roles [since "Pose"], and it hurts. But I know strong roles that speak to me are coming down the road," she said. "It's hard for women like myself in this industry, especially with casting directors telling us they don't know where to place us, but we are talented, and all they have to do is just cast us. It's that simple. But until then, I am going to keep fighting harder."
But most importantly, Rodriquez, like her beloved character, just wants to leave a legacy in this world.
"There is a reason why I was chosen to play Blanca and it's bigger than just me," she said. "I want to help change and educate people, not just in the African American and Latino community, but the world. And this is only the beginning."