FORT MONROE, Va. — Joseph Rogers started with his tie, unwinding the broad Balthus knot he'd wound that morning.
Then, he slipped out of his shined leather shoes, his slim-fit gray vest and the matching trousers he'd worn for the trip to Fort Monroe, on the Virginia coast, for a commemoration marking 400 years since the arrival of the first Africans enslaved in what would become America.
As Rogers stepped into a pair of mahogany cotton trousers, borrowed from the American Civil War Museum's replica clothing collection, this 21st-century black man — with a cloud-based calendar full of obligations and a habit of walking double-time, chest out, shoulders back — began to recede. Rogers was approaching character now, ready to embody a 19th-century slave.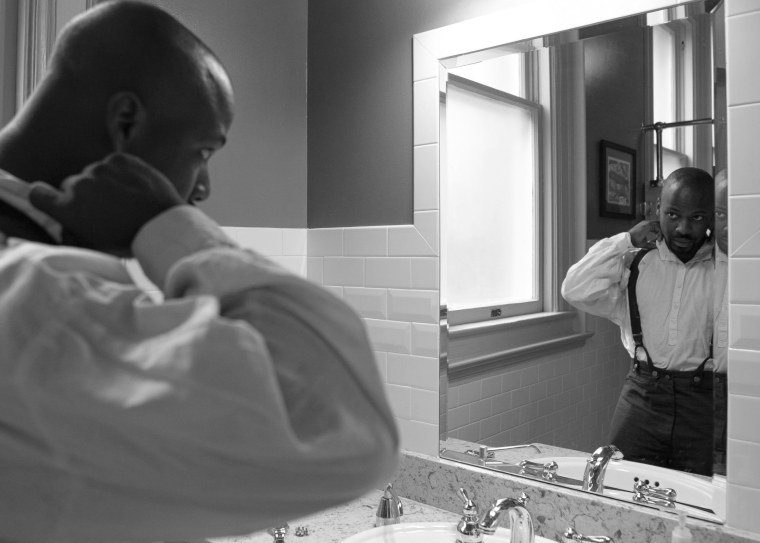 "I am James Apostle Fields," Rogers said slowly, almost haltingly, to a woman who inquired about his outfit just outside the men's room where he'd changed. Then Rogers shifted back to his own voice. "I'll be portraying Fields," he told the woman, "my ancestor, an enslaved man who during Reconstruction was elected to the Virginia Legislature."
Rogers, 28, lives in Richmond, about an hour and a half west of the coast. On Saturday, Aug. 24, he was one of about a half-dozen people stationed around Fort Monroe to provide what is known as a living history interpretation during a federal 1619 commemorative event.
Rogers works full time as a tour guide at the White House of the Confederacy, guiding groups through the three-story structure where Confederate President Jefferson Davis and his family lived during the Civil War, offering a deeper and more troubling account than often found in romanticized stories of plantation life. But he has also developed a specialty in animating the sometimes free but more often enslaved black men and women whose names and experiences, struggles and insights have been lost or intentionally excluded from common understandings of American history.
Rogers is one of at least dozens of people who do historical interpretation work by acting as slaves at public and private historical sites around the country. At Colonial Williamsburg, where more than half a million people visited last year, enslaved and free black historical figures have been a part of the experience for 40 years.
But the work is trying. Some historical interpreters at Colonial Williamsburg have described white visitors who touched them without request like animals, asked if they could be purchased, yelled racial slurs and whistled "Dixie," according to Trend and Tradition, the historic site's quarterly magazine.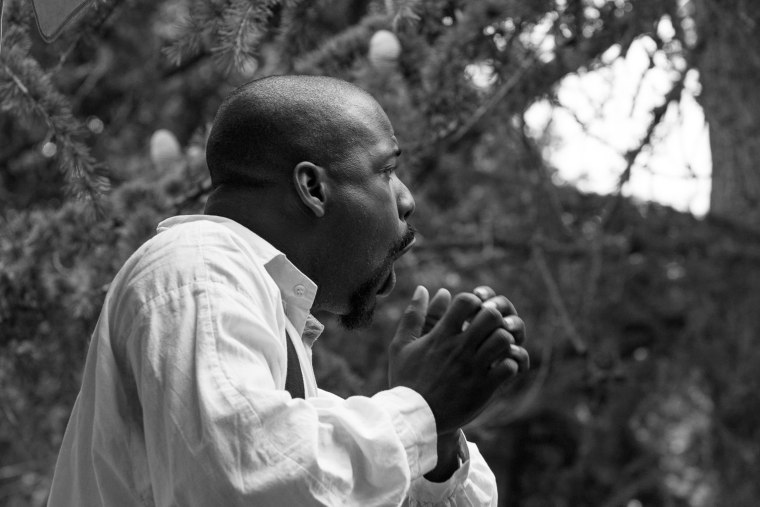 The transformation these historical interpreters undergo to embody a slave is not easy. When Rogers portrays the enslaved, his shoulders are often stooped, his head and eyes down, his hands narrowly contained within inches of his waist. He restricts himself to the rules of decorum and laws that constrained the lives of black men and women, free and enslaved.
These burdens, Rogers imagines, were heavy.
"Yes, it can be hard," he said. "But I try to push through that, because I see this work as an act of service, public service, a way to meet a very real need for a better understanding of our history. That is not going to be comfortable for some people. ... Sometimes, that someone is me."
A more complete truth
There's considerable need for more Americans to embrace the discomfort that can accompany the truth of the country's history, said James Grossman, executive director of the American Historical Association. On Monday, the organization issued a public call to reject simplistic descriptions of the American origin story because they've both obscured and fueled violent bigotry.
"I think we are in the early stages of a difficult, a very difficult transformation in public knowledge, in history education," Grossman said. "We are in the very early stages of saying we need to ask harder questions, share information that stimulates richer questions."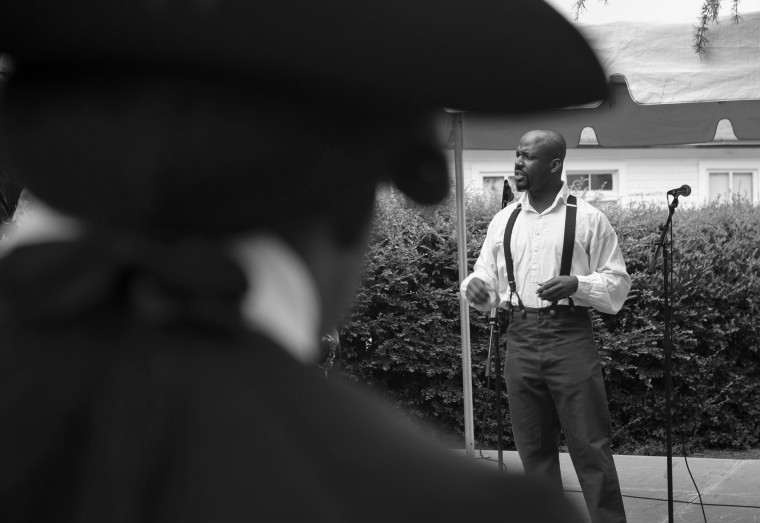 The truth about America has always been more complicated than stories about a long line of benevolent white men, said Cassandra Newby-Alexander, a historian and director of the Roberts Center for the Study of the African Diaspora at Norfolk State University in Virginia. Exploitation and dehumanization, land grabs and legal exclusion, plastered over with the language of liberty, are critical parts of the American story, she said.
Even the national anthem — with its reference to "the land of the free," written in 1814 when the nation was home to more than 1 million slaves — blots out reality.
"When you overlook that complexity," Newby-Alexander said, "you ignore that this was a society founded around the concept of a liberty only made real when those excluded pushed and pulled and fought for basic rights."
By the 1990s, most historians, including the chief historian of the National Park Service, believed in telling a more inclusive national history, Grossman said. That meant that some previously untold stories came to light, but that trend is by no means uniform. Some stories are not always welcomed.
At Thomas Jefferson's Monticello, the founding father is today described as a complex human being, one prone to contradiction, whose life reveals both serious moral failings and significant accomplishments, Grossman said. But, during a plantation tour four years ago, Grossman heard white visitors object when a tour guide used the word rape to describe sexual contact between Jefferson, a slave holder, and his slave.
In August, The Washington Post reported that online reviews of some former plantations included complaints from visitors citing too many mentions of slaves, and too few of antebellum home decor.
"The tour was more of a scolding of the old South," one reviewer wrote.
"The brief mentions of the former owners were defamatory," another added.
When it comes to telling slaves' stories, Grossman said, "some of us are doing the work and some of us are working hard to resist a more complete truth."
Embodying a slave
For Rogers, the work of complicating history and sometimes bearing the heavy weight of it is a family business.
His father serves as superintendent of the Petersburg National Battlefield in Virginia, a collection of Civil War-related sites, and his mother is acting chief ranger of interpretation for the Richmond National Battlefield and supervisory ranger of the Maggie L. Walker National Historic Site. It preserves the legacy of an African American woman who became a bank president and fought for civil rights in Jim Crow-era Richmond.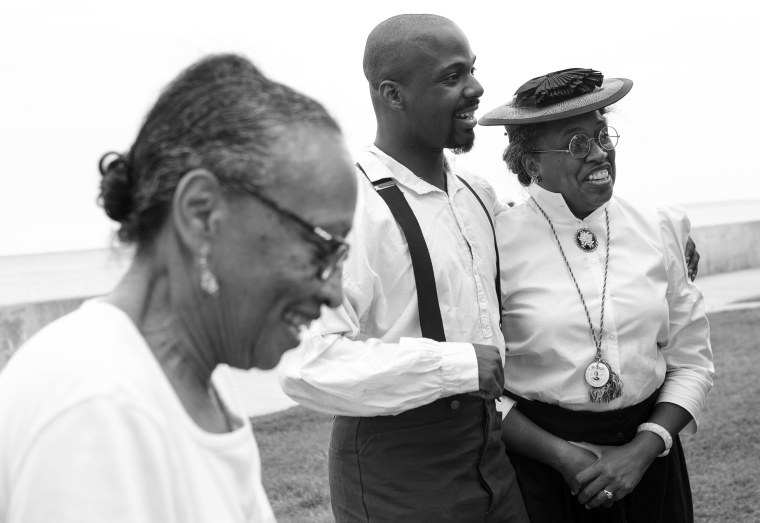 When Rogers was a child, his parents were assigned jobs at Valley Forge and Independence National Historical Park in Pennsylvania. One of Rogers' favorite childhood memories: sticking his head inside the Liberty Bell.
When Rogers was almost 4, his mother was asked to portray Jane, mother of the man who would become known as Booker T. Washington, on the Virginia plantation where Jane and her son were enslaved. Rogers' mother brought him along to portray a young Booker in the daylong, immersive presentation.
Rogers doesn't remember the details, but his mother, Ajena Rogers, tells the story of how she had to stop her son from playing with a white colleague's daughter, because that's not something a black slave boy would have freely done. She also remembers some white visitors who decided to adopt the role of slaveholder, barking orders and invasive questions.
When portraying a slave as an adult, Joseph Rogers does extensive research to unearth the specific stories of those he embodies. He also draws on his study of a 16th-century form of Italian performance art where actors cover the top half of their faces with masks and then rely on physical choices — a hunched back, a dropped jaw, an angry upper lip — to animate stories.
Even as he immerses himself in these characters, there have been times, Rogers said, when the desire to look white visitors in the eye — a violation of 19th- and even mid-20th-century racial mores — can be overwhelming. He sometimes finds himself wanting to demonstrate his command of English grammar, his appreciation for literature, art and history.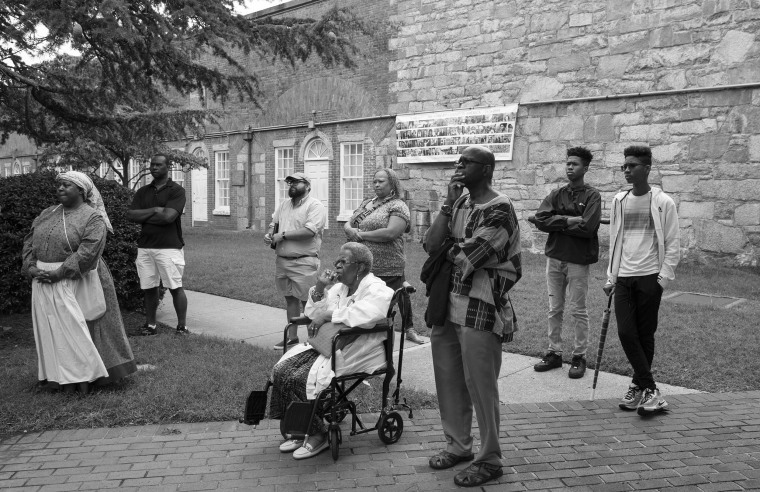 In telling the stories of runaway slaves at the White House of the Confederacy, he has been asked thoughtful questions, and he's also been asked why anyone would want to run away from "good" slaveholders like the Davis family.
A true telling of history "differs from mythology and what I would call heritage tales — the stories people may want to hear — because it is warts and all," Rogers said. "Sometimes, it is even ugly."
An ancestor's story
Growing up, Rogers had heard bits about an ancestor named James Apostle Fields, whose life story included slavery and freedom, legal exclusion, and enforcing and later making the law.
But it was only as an adult that he began to research Fields and fill in the details, discovering that he had fought Jim Crow practices and the rise of Confederate monuments in the South. And it was only recently — after news reports about another James Fields, this one a white nationalist who killed a young woman at a rally in Charlottesville, Virginia, in 2017 — that Rogers decided to bring his ancestor to life.
"I thought, this is not the time for James Apostle Fields to remain in the shadows," Rogers said.
Fields grew up enslaved on a plantation in Hanover County, Virginia, with most of his family. When he was about 17, he watched as his sister was sold on a tree stump near the county courthouse, according to his brother's autobiography. (Last month, Confederate-flag-waving members of the KKK set up a recruitment rally at the same courthouse.)
The same year his sister was sold, Fields was beaten so badly by the plantation's owner that it took him two months to recover. Fields' transgression, according to that same autobiography: He had taken rotten wood that the master ordered discarded and burned it for warmth. He ran away for the first time soon afterward, was recaptured in Richmond, but later made a second successful flight for freedom.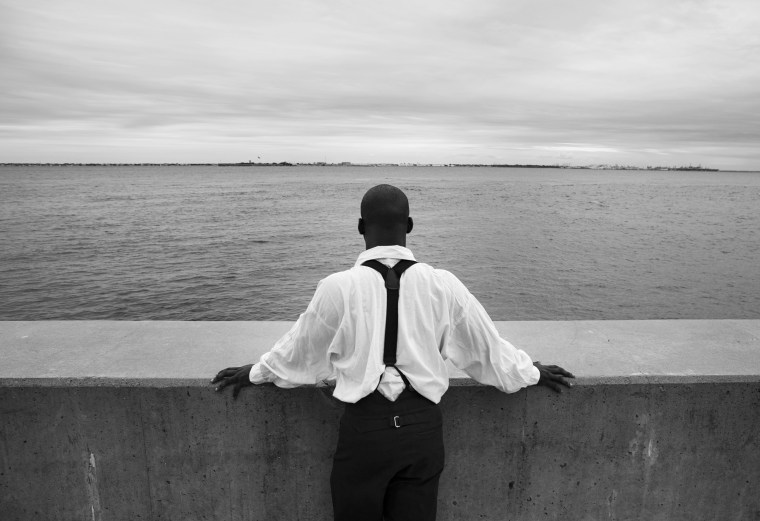 He later served as a Union Army scout and guide, reunited with all of his living siblings and parents at Fort Monroe and enrolled in what is now Hampton University and later in Howard University Law School. Fields was elected a Reconstruction-era prosecutor and to a term in the Virginia House of Delegates, before racist ballot-riggers took control of the state government in 1890, ultimately implementing Jim Crow. In his later years, he established a school to help black lawyers pass the bar and petitioned Congress to address election rigging and intimidation.
On Saturday, Rogers publicly portrayed Fields for the first time.
To embody a young Fields, he kept his shoulders low, his eyes flickering between the ground and those who engaged him in conversation. As a middle-aged Fields, he stood taller, shoulders back, eyes direct, a man of influence, as he unspooled the story of his ancestor's harrowing, accomplished life.
But when Rogers took the stage for the first of two performances on Saturday, he began simply:
"My name is James Apostle Fields. I was born in Hanover County, 1844, a slave."